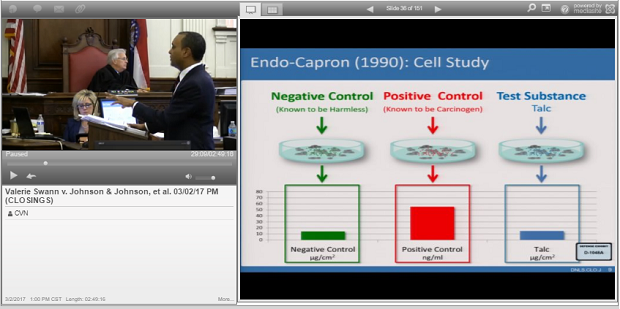 Bart Williams delivers his closing argument for Johnson & Johnson.
---
St. Louis—Jurors cleared Johnson & Johnson and its talc supplier Friday afternoon of responsibility for the ovarian cancer a woman claims was caused by years of using the consumer giant's baby powder products. Swann v. Johnson & Johnson, 1422-CC09326-01.
The jury, in Missouri's 22nd Judicial Circuit, deliberated about seven hours before finding against Nora Daniels in her claims against J&J and Imerys Talc America.
Eleven of the 12 jurors signed the verdict, which needed the agreement of at least nine members.
Daniels, 55, was diagnosed with ovarian cancer in 2013, and underwent a hysterectomy, as well as the removal of her ovaries and fallopian tubes, as part of her treatment. She claims her cancer was caused by the use of J&J's baby powder products, and the company's refusal to warn of the alleged link between its talc and ovarian cancer.
Daniels' case is one of thousands of similar lawsuits, largely concentrated in Missouri, California, and New Jersey, against J&J. While Imerys has been cleared of liability in two previous Missouri cases, this is J&J's first talc trial win in Missouri state court, which handed down three plaintiff's verdicts topping $190 million combined last year.
The three-week trial focused on the science surrounding the link between talc and ovarian cancer, as well as Johnson & Johnson's response to these studies. During his closing argument Thursday, Daniels' attorney, Allen Smith, of the Smith Law Firm, said J&J was aware of more than 30 epidemiological studies tying talc use to an increased ovarian cancer risk over the last three decades. "Thirty-five years of study, nearly every one of them shows an increased risk," Smith said. "Nearly every single one of them."
Despite these studies, and talc's "possibly carcinogenic" classification more than a decade ago by the International Agency for Research on Cancer, or IARC, Smith said J&J steadfastly refused to include a warning on its baby powder products. "The important thing is [Daniels] would not have used the product and we might not have even been here, had they just placed a warning on the product," Smith said.
Instead, Smith told jurors the company employed tactics similar to tobacco industry schemes to conceal the dangers of smoking, and he said J&J used its power to stymie regulations against talc and quiet rumblings of the powder's alleged health hazards. "Unless you make them warn, unless you make them change their behavior, they're not going to do it. It's shown over the past 35 years," Smith said. "They will influence organizations, they'll use their political influence [in] the highest office in the land to roll back regulations."
Smith did not request a specific amount in compensatory or punitive damages Thursday, but told jurors the award "has got to be something that makes them change their conduct."
However, the defense argued any link between talc and cancer shown by epidemiological studies was weak and ultimately disproven by stronger, prospective studies. During Thursday's closings, Proskauer's Bart Williams walked jurors through the science he said established that talc could not have caused Daniels' cancer. "Each and every one of the prospective studies, each and every one of them, of the ones that look forward and follow women along, has found that there is no connection between the use of talc and ovarian cancer," Williams said.
Williams reminded jurors that agencies ranging from the National Cancer Institute to the Centers for Disease Control and Prevention had reviewed the scientific data and found no cause-and-effect link between talc and cancer. While he acknowledged the IARC classified talc as "possibly" carcinogenic, he noted talc shared that so-called 2B classification with items as commonplace as pickled vegetables and, until last year, coffee. "Have you ever in your life seen, for any coffee you've ever purchased from anywhere, a warning that says that coffee may cause cancer? No, of course you haven't," Williams said. "It is ridiculous that something listed on IARC as 2B would trigger an obligation to warn."
Imerys lawyers argued the company met any duty to warn, despite the fact that it believes talc does not cause cancer. During her closing Thursday, Gordon & Rees' Nancy Erfle reminded jurors Imerys, which only supplies talc to companies like J&J, has long published the mineral's IARC classification on the Material Safety Data Sheet, or MSDS, it provides its clients. "Our MSDS tells the companies that buy our talc the safety information they need to know," Erfle said. "It's not possible for Imerys to put a warning on a final product that the talc is used in. We can't put warnings on bottles of Johnson & Johnson Baby Powder or Shower to Shower."
After the verdict, J&J said the jury's decision upheld the stronger scientific evidence. "We deeply sympathize with the women and families impacted by ovarian cancer," J&J spokesperson Carol Goodrich said in an emailed statement on behalf of the company. "The jury's decision is consistent with the science, research, clinical evidence, and decades of studies by medical experts around the world that continue to support the safety of cosmetic talc," Goodrich added, noting a New Jersey court dismissed two cases last year after rejecting scientific studies proffered by plaintiffs.
Beasley Allen's Ted Meadows, who represents Davis and other talc plaintiffs, noted his firm is disappointed with the verdict but looking ahead to the next trial, which is expected to begin in April. "We continue to maintain that the association between genital talc usage and ovarian cancer remains an issue of public health and demands that consumers be warned of the specific risks," Meadows wrote in an emailed statement. "[Nora Daniels] was among multiple possible plaintiffs selected by the defense for this trial. As always, we will learn from the experience of this trial, and we are committed to carrying the fight forward with the legal claims of thousands of innocent victims whose lives have been shattered by ovarian cancer."
Email Arlin Crisco at acrisco@cvn.com.
Related Information
Nora Daniels is represented by Beasley Allen's Ted Meadows and Allen Smith, of the Smith Law Firm.
Johnson & Johnson is represented by Proskauer's Bart Williams.
Imerys Talc America is represented by Nancy Erfle, of Gordon & Rees.
Read about the trial's opening statements.
Read a guest post on expert testimony in talc litigation.
Not a subscriber?
Learn how you can take advantage of CVN's expansive talc litigation library.