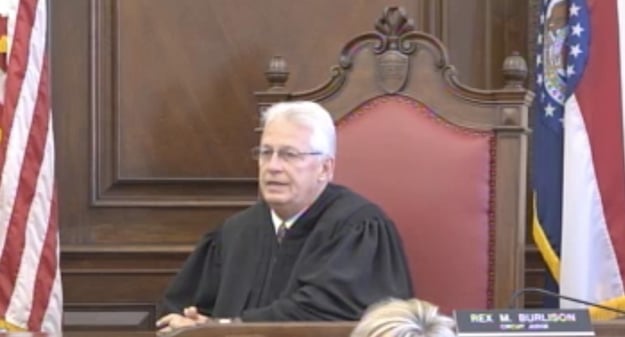 Courtroom View Network screenshot of Judge Rex Burlison informing jurors of his decision to grant a mistrial. Click here to see video from the trial.
St. Louis — A Missouri judge declared a mistrial on Monday in a lawsuit over the supposed link between Johnson & Johnson's talc-based hygiene products and ovarian cancer, after the U.S. Supreme Court ruled plaintiffs cannot file state court lawsuits in states where their alleged injuries did not occur.
Judge Rex Burlison made the decision a week into the trial, which for the first time in a talc case involved claims from the families of three deceased women being heard concurrently.J&J and co-defendant Imerys Talc America made a motion for the mistrial shortly after the Supreme Court published an 8-1 decision in the case of "Bristol-Myers Squibb Co.v. Superior Court of California."

The mistrial is a major victory for Johnson & Johnson, as most of the 1,700 pending lawsuits accusing the company of withholding knowledge from the public about talc's supposed cancer risk are centralized in Missouri. The state's lenient joinder rules make it relatively easy for nonresident plaintiffs to file lawsuits in mass tort cases, and high-profile verdicts in previous talc trials spawned numerous similar claims.

Missouri's joinder rule allows nonresident plaintiffs to become part of an existing lawsuit if their claims arise from a similar set of circumstances. One of the deceased women in the current trial lived in Missouri, but the other two allegedly developed ovarian cancer while living in Texas and Virginia. All three blamed their illness on using products like Johnson's Baby Powder and Shower to Shower for decades.

The Supreme Court decision could also wipe out more than $300 million awarded so far in four of the previous five talc trials in St. Louis, since a Missouri appeals court indicated it would wait for the Supreme Court's ruling in the BMS case before determining whether a $72 million talc award from 2016 should be upheld.

Attorneys for the plaintiffs urged Judge Burlison to allow the trial to continue on the grounds that J&J and Imerys used a Missouri-based company, PharmaTech Industries, to package and label talc products, but PharmaTech is not named as a defendant in the current case.

Judge Burlison on Tuesday expressed frustration when informing jurors of the mistrial, citing the extensive efforts by the court and parties to bring such a complex case to trial, but he said the likelihood of additional filings by the parties stemming from the BMS decision would result in delays that made continuing the proceedings untenable.

"It would be unfair to you all to have you sit upstairs or be out in the hallway or send you home and tell you to come back in two days while these things are shaping up," Burlison told jurors, according to a Courtroom View Network webcast.

J&J spokeswoman Carol Goodrich said in a statement that the company is pleased with Judge Burlison's decision.

"Johnson & Johnson consistently and repeatedly objected to the lack of jurisdiction, argued that the trials should not go forward and urged a stay of proceedings because there was no jurisdiction," Goodrich said.

Imerys spokeswoman Gwen Myers similarly stated that the talc-supplier welcomes both the mistrial in Missouri and the Supreme Court's ruling.

"This ruling does not take away anyone's day in court," Myers said. "Rather, it simply helps to ensure that the court hearing the case actually has some connection to the conduct being alleged in that specific case. None of the cases tried to date have alleged any conduct by Imerys in Missouri, and the vast majority of cases filed against us in St. Louis are by plaintiffs who similarly have no connection to St. Louis or Missouri."

Attorney Ted Meadows of the firm Beasley Allen, which represented plaintiffs in each of the previous Missouri talc trials, said his team believes the litigation can proceed in Missouri and plans to engage in additional discovery and depositions to prove that point. However he also indicated he was prepared to take the fight to J&J and Imerys in new venues if needed.

"Our trial team remains confident that the evidence and the science remains on the side of our clients," Meadows said. "We're prepared to file these cases in courts across the nation should that be necessary, and believe that jurors will continue to carefully consider the clear link between talcum powder use and ovarian cancer."

The possibility that St. Louis will no longer be the preferred venue for talc lawsuits makes a bellwether talc trial set to begin July 10 in California state court of even greater significance.

That case, filed by a California resident, is unaffected by the Supreme Court's decision and will be the first state court talc trial held outside of St. Louis. CVN plans to webcast those proceedings gavel-to-gavel, as was the case for the recent trials in Missouri.

The Missouri case is captioned Swann, et al. v. Johnson & Johnson, et al., No. 1422-CC09326-01, in Missouri's 22nd Circuit Court in St. Louis.

E-mail David Siegel at dsiegel@cvn.com.