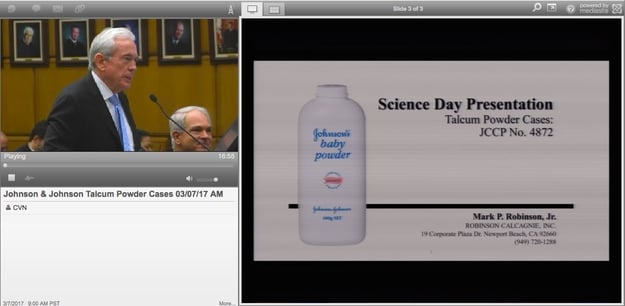 CVN screenshot of lead plaintiff attorney Mark Robinson from a talc-related hearing before Judge Maren Nelson in March.
Los Angeles — A closely watched bellwether trial in California state court over the supposed ovarian cancer risks from Johnson & Johnson's talc-based products begins on July 17 and will be webcast live by Courtroom View Network, along with a critical weeklong hearing over the admissibility of expert witness testimony that took place in June.
On June 26, Los Angeles County Superior Court Judge Maren Nelson convened a 5-day "Sargon" hearing, which is the California equivalent of a "Daubert" hearing where parties spar over which expert witnesses will be permitted to testify in a trial, and what the scope of their testimony can include.
These types of pretrial proceedings can be as significant as the trials themselves, as proven last October when a New Jersey state court judge canceled what was to be the first talc powder trial in that state after refusing to permit testimony from experts for the plaintiffs over alleged causal links between talc and ovarian cancer.
The Sargon hearing precedes what will be the first trial in California out of more than 300 lawsuits filed in that state alleging that J&J and their talc supplier Imerys Talc America had knowledge for decades about talc's alleged carcinogenic properties, but failed to warn consumers in order protect the sales of popular brand names like Baby Powder and Shower to Shower.
J&J and Imerys maintain that studies linking talc to ovarian cancer are based on flawed science, and they cite that numerous regulatory agencies have declined to require warning labels on talc-containing products.
Imerys won a summary judgment ruling dismissing them from the trial, but claims against J&J are expected to go before a jury.
This first California trial will receive additional scrutiny after a decision by the U.S. Supreme Court that limited the ability of nonresidents to file claims in state courts where they didn't suffer an alleged injury caused a mistrial in an ongoing talc powder trial in Missouri. That state has been a hub for talc cases due to the relative ease with which out-of-state plaintiffs could join existing lawsuits, but the Supreme Court ruling could result in California, the nation's most populous state, becoming the new hotbed for talc-related litigation.
Before Monday's mistrial, four of five previous trials in St. Louis resulted in plaintiff verdicts totaling more than $300 million, with the bulk of the awards consisting of punitive damages. J&J prevailed in one trial, and the sole federal talc trial resulted in a finding of negligence against J&J but no award of damages in 2013.
A consolidated talc docket in New Jersey is on hold pending an appeal of the decision to exclude plaintiff experts, and there are no trial dates set in federal multidistrict talc litigation also based in New Jersey.
This first California trial is unaffected by the Supreme Court ruling, because plaintiff Eva Echeverria is a California resident who claims she developed ovarian cancer while living in the state after using J&J's talc products since the 1950's.
Besides being the first state court talc trial outside of Missouri, Echeverria's case will also highlight a new slate of plaintiff attorneys, after the same team represented plaintiffs in each of the previous talc trials.
While all the St. Louis talc trials were handled by out-of-state plaintiff firms (Alabama-based Beasley Allen and the Mississippi-based Smith Law Firm), Echeverria's team consists entirely of local California firms.
Mark P. Robinson Jr. of Robinson Calcagnie serves as lead counsel, backed up by Helen Zukin of Kiesel Law LLP, Raymond Boucher of Boucher LLP, and Thomas Girardi of Girardi Keese as liaison counsel.
Both J&J and Imerys are represented by some of the same firms that represented the companies in St. Louis, like Shook Hardy & Bacon. Shook Hardy & Bacon is headquartered in Missouri, however J&J's other defense firm, the Ohio-based Tucker Ellis, is making its first appearance in a talc trial.
Imerys is represented by Gordon & Rees.
The trial is scheduled to take roughly six weeks to complete and will be webcast gavel-to-gavel by CVN.While there are no additional ovarian cancer talc trials scheduled for the remainder of 2017, the first trial over claims that asbestos in J&J's talc products caused a plaintiff to develop mesothelioma is set for September in California.
The consolidated California cases are captioned Johnson & Johnson Talcum Powder Cases, number JCCP4872, and the bellwether case is captioned Eva Echeverria v. Johnson & Johnson, number BC628228, in the Superior Court of California for Los Angeles County.
E-mail David Siegel at dsiegel@cvn.com.