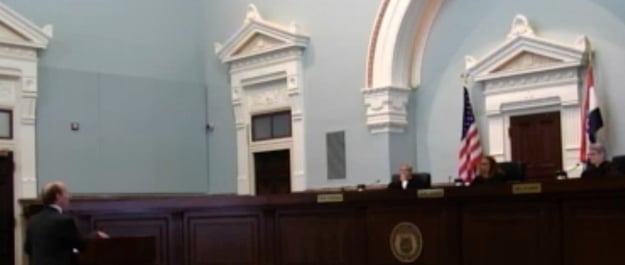 Courtroom View Network screenshot of an attorney for Johnson & Johnson speaking to a panel of appeals judges. Click here to see video from the oral argument.
St. Louis — Johnson & Johnson asked a Missouri state appeals court on Wednesday to throw out a $72 million verdict awarded in 2016 to the family of an Alabama woman who claimed talcum-based hygiene products caused her ovarian cancer, but the court said it would defer on a ruling until the U.S. Supreme Court decides a case that could impact the ability of plaintiffs to file lawsuits outside of states where they live.
The oral arguments before the Missouri Court of Appeals marked the first time a verdict in a talc case faced an appellate challenge and comes on the heels of a $110 million talc verdict delivered last week in St. Louis, the largest yet in a series of five state court trials that have left J&J saddled with four headline-grabbing verdicts and facing thousands of similar lawsuits in St. Louis and in courts throughout the country.
J&J's attorney Thomas Weaver of Armstrong Teasdale argued to the three-judge panel that a lawsuit filed by an Alabama resident against a company with headquarters in New Jersey does not belong in a Missouri court, noting that plaintiff Jacqueline Fox never bought any of the Johnson's Baby Powder or Shower to Shower that she alleges caused her cancer in that state.
"We acknowledge the Missouri court has jurisdiction over the defendant with regard to Missouri resident claims," Weaver said. "But that does not create jurisdiction over the defendant with regard to the non­resident claims, which do not arise out of or relate to the activities of the defendants in Missouri."
Missouri is known for its lenient joinder rules, which present few barriers for lawsuits filed by out-of-state residents and has made the state a hub for numerous multi-plaintiff cases.
The oral arguments, along with four of the previous talc trials in St. Louis, were recorded and webcast live by Courtroom View Network.
Fox's attorneys argued that she filed her case in the appropriate forum, because some of her co-plaintiffs were Missouri residents. However both sides and the panel seemed to agree that a pending decision from the U.S. Supreme Court in Bristol-Myers Squibb v. Superior Court of California could ultimately determine the fate of out-of-state talc lawsuits in Missouri.
The Supreme Court held oral arguments in April in BristolMyers, which involves an appeal of a California Supreme Court ruling that allows hundreds of out-of-state plaintiffs to sue Bristol-Myers over injuries allegedly sustained from the popular blood-thinning drug Plavix. The California court ruled that the company's marketing and distribution activities in the state were sufficient to establish personal jurisdiction.
"Both parties agree there is a good chance that Bristol­Meyers will address and resolve these issues," Weaver said, and Judge Angela T. Quigless indicated the court would not rule until the Supreme Court issued a decision in Scotus.
Fox's attorney Edward "Chip" Robertson made an argument that echoed many of the conclusions reached by the California Supreme Court regarding the extent of J&J's widespread marketing of their talc-based products.
"J&J put this out there for the world," he said. "It can't, in fairness, not expect to be here."
Fox died in 2015 at the age of 62 after using Johnson's Baby Powder and Shower to Shower for decades. She sued J&J and their talc suppler Imerys Talc America over claims including alleged failure to warn, negligence and conspiracy.
J&J also cited a recent February ruling from the Missouri Supreme Court in Norfolk Southern Railway v. Dolan, in which the court held that an out of state plaintiff had no standing to file a lawsuit in Missouri - an argument that Judge Robert Dowd seemed to find convincing.
"That isn't just guidance to use, it's instructions to us. We have to follow," Dowd said, though Robertson responded that the Norfolk case doesn't involve any Missouri plaintiffs, unlike the talc litigation pending in St. Louis.
Even if Missouri's lenient joinder rules survive these legal challenges, they could be upended by the state's Republican-controlled legislature, after various tort reform groups have called for changes to curtail a growing backlog of cases.
Judge Dowd, who expressed frustration during the hearing over the drain on judicial resources caused by these lawsuits, acknowledged the potential for future changes but said the court was still constrained by current law.
"Believe me we all know about that," Dowd said, after Weaver referenced possible future legislative changes. "That's not our duty. Argument is to follow the law, as it is now."
While J&J has vowed to appeal all of the verdicts reached in talc cases to date, the next significant oral argument will likely take place in New Jersey, where a state court judge presiding over hundreds of similar talc cases refused to admit testimony from key plaintiff expert witnesses who have testified in Missouri. That decision scuttled what was to be the first talc powder trial in that state last October just days before it scheduled to begin. Both sides have filed briefs related to that decision, but a date for oral arguments has not yet been set according to court records.
In the meantime, more talc trials are pending in St. Louis, in June and the first state court trial outside of Missouri is scheduled for July in California.
The panel in the Missouri hearing consisted of Judge Robert Dowd, Judge Lisa Van Amburg, and Judge Angela T. Quigless.
The case is The Estate of Jacqueline Fox, et al. v. Johnson & Johnson, et al., number ED104580 in the Missouri Court of Appeals, Eastern District.
Email David Siegel at dsiegel@cvn.com