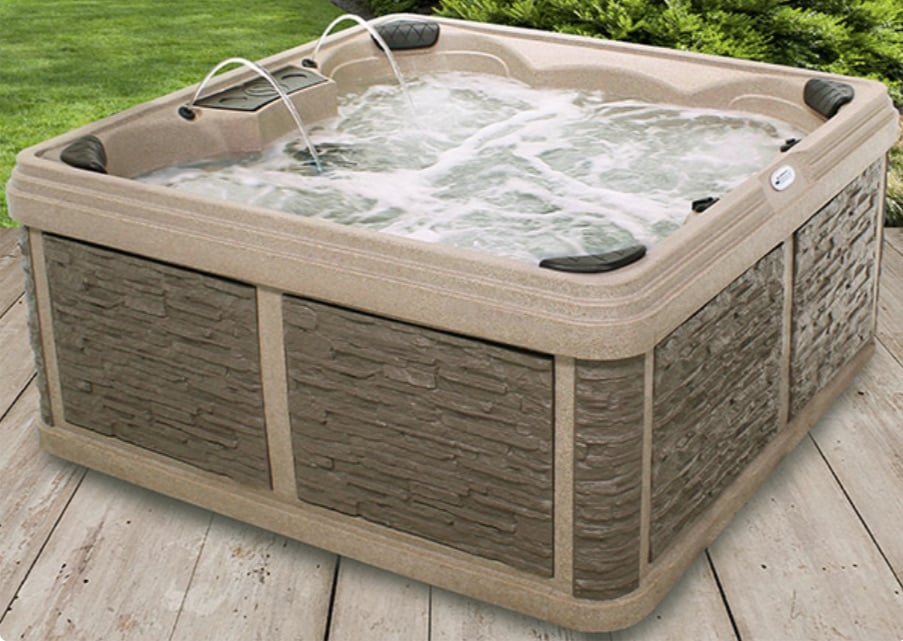 Stock image of a Jacuzzi spa
Santa Ana, CA - Jury selection is underway in California state court for an in-person jury trial stemming from a near-drowning incident in hot tub at a Howard Johnson Plaza Hotel that allegedly resulted in a six-year-old child suffering a severe brain injury, and the proceedings from opening statements forward will be webcast on-demand on a same-day delay by Courtroom View Network.
The premises liability lawsuit was filed in 2019 on behalf of Journey Hudson by her mother, after Hudson experienced a seizure while sitting in the hotel's Jacuzzi spa. Hudson's attorneys argue the seizure resulted from the hot tub's allegedly excessive temperature, but defendant Northwest Hotel Corporation, which operates the Howard Johnson, claims Hudson's injuries were caused by a pre-existing viral illness, specifically hand foot and mouth disease.
The trial will be amongst the first major in-person civil jury trials to take place in Orange County Superior Court, which in recent weeks began resuming civil trial activity with strict courtroom capacity restrictions in the wake of the Covid-19 shutdown last year.
CVN will webcast the proceedings from opening statements forward, and the gavel-to-gavel coverage from inside the courtroom will be available on a same-day delay for the duration of the proceedings, which are expected to last until mid-May. Opening statements are expected later this week or early next week.
The caliber of attorneys involved on both sides suggests the potential for a substantial award of damages in the event the jury finds the defendants liable for Hudson's injuries.
Hudson is represented by Deborah Chang of Athea Trial Lawyers LLP, along with Candice Klein and Sarah Kim of the same firm. Chang is widely regarded as one of the top plaintiff personal injury attorneys in California, having received the prestigious "Attorney of the Year" award by the Consumer Attorneys Association of Los Angeles in 2014, one of the most coveted honors for California plaintiff attorneys.
Hudson is also represented by Mark Schenkman and Shawn Lalezary of the Lalezary Law Firm LLP.
The defense is represented by Dana Fox of Lewis Brisbois, who serves as co-chair of the defense giant's general liability practice and is considered one of the go-to trial attorneys in the state for high-exposure personal injury cases.
The trial marks the first civil jury trial webcast by CVN in California since last year's Covid-19 shutdown. In addition to Orange County, Los Angeles County has also been one of the most active counties in the state in terms of resuming civil trial activity.
Later this week CVN will webcast the first in-person cosmetic talc trial to take place since the shutdown, which will also be held in Los Angeles County.
Last month CVN webcast LA's first in-person civil trial since the shutdown, a bench trial in an automobile negligence lawsuit that resulted in a $23.7 million verdict.
In-person civil trial activity is also increasing in other states. Last week CVN concluded gavel-to-gavel coverage of a negligence lawsuit against an emergency medical services company in Las Vegas that resulted in a $29.5 million verdict, and this week in Florida CVN began coverage of a vehicular negligence lawsuit involving FedEx.
All of these trials will eventually be added to CVN's one-of-a-kind online trial video library, which contains hundreds of professionally record, high quality gavel-to-gavel recordings of civil jury trials featuring some of the best trial attorneys from throughout the United States.
The current case is captioned Journey Hudson v. Great American Land Company, case number 30-2019-01052572-CU, in the Superior Court of California in Orange County. Judge Craig Griffin is presiding.
E-mail David Siegel at dsiegel@cvn.com