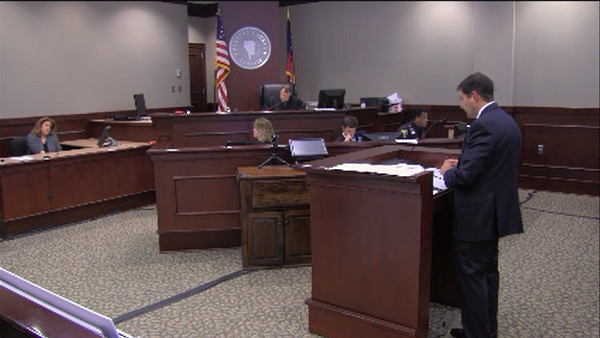 Plaintiff's attorney Terry Jackson questions a witness during the James Price v. Raju Thapa et al. tria in Clayton County State Court. Price was severely injured in a 2008 motor vehicle accident in rural Spalding County.
---
Jonesboro, GA—Testimony began today in Clayton County State Court in an automobile negligence case in which a man injured in an accident sued the drivers of two other vehicles under a joint enterprise theory, even though one of the vehicles was not involved in the accident at all. James Price v. Raju Thapa et al. (2010CV06741).
According to statements at trial and other documents in the case, the accident occurred on September 25, 2008, at the intersection of Johnny Cut and Jackson Roads in rural Spalding County. At approximately 11:00 a.m., a van driven by Vijay Shah on Johnny Cut Road ran a stop sign at a substantial rate of speed and collided with James Price's vehicle, which was traveling on Jackson Road. Although Price applied his brakes, he was also moving at a considerable speed when the accident occurred.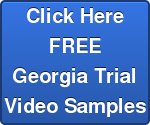 Shah's van overturned in the road, while Price's van ran off the road and through a fence before coming to a stop in a field over 150 feet away. Shah died as a result of injuries received in the accident. Among the injuries Price allegedly suffered in the accident were a fractured skull, a torn rotator cuff, permanent tinnitus in the ears, and an aggravation of a preexisting knee injury that may require a knee replacement.
At the time Shah approached the intersection, Raju Thapa was driving his car about 20 to 30 feet behind Shah's van. Thapa and Shah were headed to a nearby convenience store at the time of the accident. After the collision, Thapa was able to safely stop his car and was not involved in the actual accident. He remained on the scene until a Georgia State Patrol vehicle arrived and then gave his statement to the trooper.
Price filed the current lawsuit against Shah's estate, Thapa, and Thapa & Brothers, Inc., Thapa's company. The Georgia Court of Appeals allowed the suit against Thapa to proceed to trial under a theory of "tandem driving"; Price v. Thapa, 323 Georgia App. 628 (2013). That theory "requires that the participants be jointly engaged in driving their respective vehicles in a negligent manner, in close proximity with one another, while traveling to a common destination."
Prior to the trial, both Price and Thapa gave multiple sworn statements that contained inconsistencies and contradictions. Price has alleged that Thapa and Shah were both driving at a speed of about 60 to 70 miles per hour at the time of the accident, in excess of the 55 mile-per-hour speed limit, and that Shah made no attempt to stop his van. Price also believes that Thapa ran the stop sign as well. Thapa has denied running the stop sign, and, in addition, stated that he and Shah were only driving at a speed of about 40 to 45 mph when the accident occurred.
The parties also dispute the nature of the relationship between Thapa and Shah at the time of the accident. In his opening statement, Price's attorney Terry Jackson suggested that Thapa and Shah were in business together servicing ATM machines and were headed to the convenience store as part of that business. Both Thapa's attorney, Evan Mermelstein, and Thapa & Brothers' attorney, Darrel Sutton, denied any such relationship existed. They contended that Thapa and Shah were merely friends. Shah became aware that the convenience store might be for sale and suggested that Thapa take a look at the store. Because Thapa was unfamiliar with the area, he was following Shah's van to the store at the time of the collision.
The trial is expected to continue for the remainder of the week.
Related information:
Attorneys involved in the case includeTerry Jackson of Atlanta for James Price, Evan Mermelstein of Apharetta for Raju Thapa, Darrell Sutton of the Sutton Law Group of Marietta for Thapa & Brothers, Inc., and William Amos of Sharon Ware and Associates of Atlanta for the estate of Vijay Shah.
Watch on-demand video of the trial as soon as it becomes available.
Not a Subscriber? Learn more about CVN's unparalleled coverage of top Georgia trials.