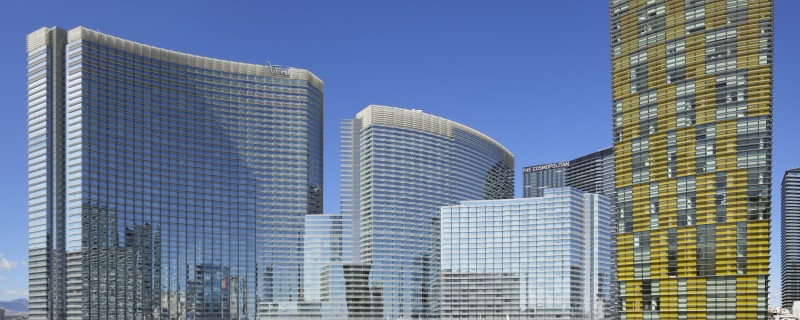 The Harmon Hotel never became the vibrant centerpiece of the $8.5 billion CityCenter development project or the Las Vegas skyline (pictured), as its owners envisioned. Opening statements are scheduled to begin Thursday in a potentially year-long trial to determine who is responsible for nearly a half-billion dollars in costs for the hotel, which has been dismantled.
---
Update 12/11/14, 11:15 a.m. Eastern: Openings, which had been scheduled for Thursday, December 11, have been postponed until Tuesday, December 16.
Las Vegas—After more than a month of jury selection, opening statements are scheduled to begin Thursday Tuesday, December 16, in a massive breach-of-contract suit involving MGM Resorts's $8.5 billion CityCenter development project. Perini Building Co. v. MGM Mirage Design Group.
The trial revolves around the ill-fated Harmon Hotel, a 48-story, luxury tower intended to be the jewel of the Las Vegas development. Construction on the Harmon stopped in 2008, with the tower only about half-finished, after inspectors declared the building structurally unsound. The building sat empty as the rest of the CityCenter opened in 2009. The Harmon was eventually dismantled, as building contractors and property owners argued over the tower's fate and who should be held responsible. Project contractor Tutor Perini Corp. and its subcontractors claim that MGM Mirage Design Group and other property owners owe them more than $492 million for design changes and construction overruns, while the defendants contend that Perini and its subcontractors are liable for defects they claim made the building a public danger .
According to reports, more than 3 million pieces of potential evidence have been recorded for the trial, which is expected to last about a year. Opening statements are expected to begin at 9 a.m. Pacific (Noon Eastern). CVN will provide live and on-demand access to the trial, as well as in-depth coverage of its proceedings.
---
Related Information
Watch live and on-demand coverage of Perini.
Not a subscriber? Click here for more information on pricing and options.