The following is a guest post courtesy of David H. Schwartz, Ph.D. of Innovative Science Solutions LLC and Nathan Schachtman, Esq.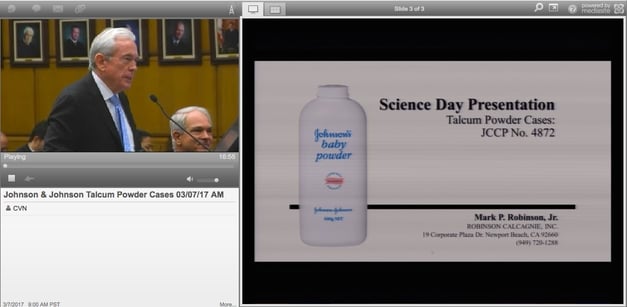 Courtroom View Network screenshot
"Science Day" hearings have become commonplace in complex state and federal litigations around the country. A California state court judge recently held such a hearing in consolidated litigation dealing with the alleged link between talcum powder and ovarian cancer. With a bellwether trial scheduled for July, the closely-watched hearing was webcast and recorded by Courtroom View Network, which has also streamed three of the previous talc powder trials in St. Louis, Missouri. Another trial scheduled to begin on April 10 will also be streamed online.
Here we provide background on the role these hearings play in mass tort litigation in general, the role they've played specifically in talc powder litigation and our analysis of how the parties broke down the science for the judge in the recent California hearing.
CLICK HERE TO CONTINUE READING...
David H. Schwartz, Ph.D. is a founding partner of Innovative Science Solutions, LLC, a consulting firm that specializes in assisting counsel with litigation involving complex scientific issues, including toxic torts, pharmaceutical and medical device cases, consumer fraud cases, and patent disputes.
Nathan Schachtman, Esq., has lectured and published widely on expert evidence issues. His interests include access to underlying research data, the use of statistical and epidemiologic evidence in court, medico-legal causation and screenings, the reliability and admissibility of scientific evidence, and historian expert testimony. He is an elected member of the American Law Institute, a fellow of the American Bar Foundation, and a lecturer-in-law at the Columbia Law School.

RELATED CONTENT: Experts On The Experts: A Deep Dive Into The Make-or-Break Scientific Testimony Deciding Talc Powder Trials