Today's CVN Engle progeny trading card features an Atlanta-based attorney who won his first three Engle trials in front of CVN cameras.
This week's featured attorney:
Tried his first CVN Engle case in 2012.
Went 2-0 in CVN Engle trials last year.
Is a defense attorney with a .750 career winning percentage in CVN Engle trials.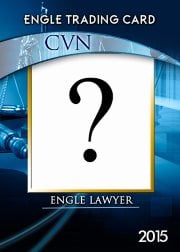 Click to see the last Engle Card attorney this season!
Our Engle trading cards honor the attorneys who have had a lasting impact on Florida's landmark tobacco litigation. Our images and statistics are taken from our unequaled coverage of Engle progeny proceedings for more than six years.
Not a subscriber?
Click here to learn more about our expansive tobacco litigation library.