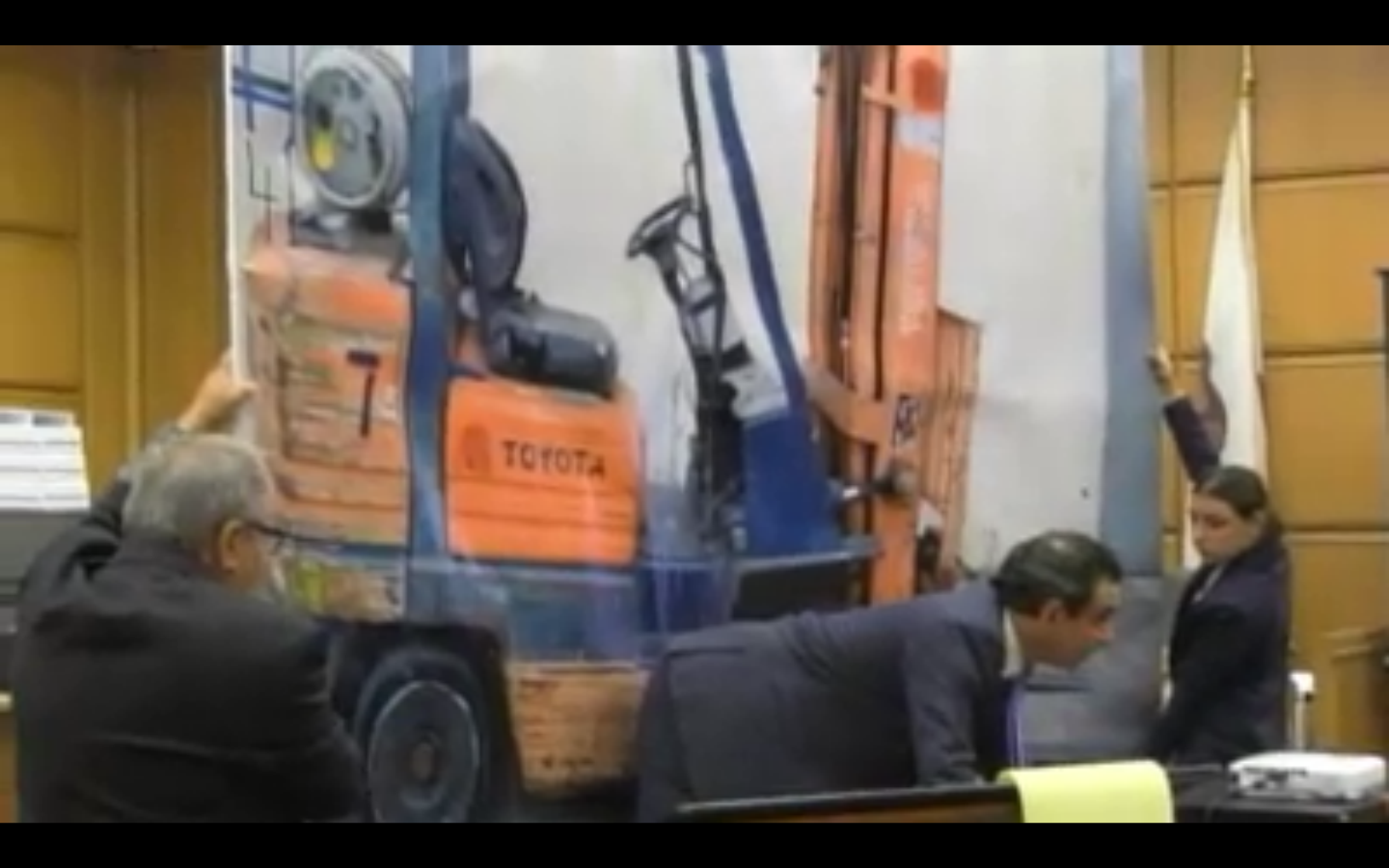 CVN screenshot of Steve Vartazarian kneeling in front of a life-size picture of a forklift that injured his client to demonstrate the angle of impact
On Friday, October 23 at 1pm Eastern/10am Pacific, Courtroom View Network will present a free webinar featuring current and former Consumer Attorney Association of Los Angeles Trial Lawyers of the Year, Steve Vartazarian of The Vartazarian Law Firm and Arash Homampour of The Homampour Law Firm, showcasing video clips from Vartazarian's trials filmed by CVN that resulted in verdicts far surpassing substantial settlement offers.
Free Zoom Registration Link:
https://remotecounsel.zoom.us/webinar/register/WN_pp13VXlFSfWGowWkLp61zw
CVN profiled Vartazarian last year shortly after he received the CAALA award, one of the most prestigious recognitions for plaintiff attorneys in the sprawling California legal community. In that interview Steve discussed his unique and aggressive approach to trial practice that gave him the confidence to dismiss settlement offers many other attorneys would urge their clients to accept - with far more successful results.
"We don't jack up life care plans. We don't create damages where they otherwise didn't exist," Vartazarian told CVN at the time. "We just bring the black and white."
The results speak for themselves. In a metal hip implant case filmed by CVN, Vartazarian landed a $4.5 million jury verdict over the defense's highest settlement offer of $455,000. In a forklift injury case filmed by CVN, Vartazarian rejected a substantial $1.5 million settlement offer and secured an $11 million verdict instead, and in a trucking crash trial filmed by CVN, Vartazarian's eventual $11 million verdict beat out a $700,000 settlement offer.
Vartazarian will curate video clips from these trials showing moments he feels were determinative in achieving these results for his clients - with the goal of showing attendees how they can have more confidence in going to trial even with difficult cases.
Joining Steve will be his longtime friend and mentor, Arash Homampour, who like Steve is one of the most accomplished plaintiff attorneys practicing in California today and shares Steve's passion for going the distance to trial if the case is worth it.
"Steve presents arguments in an easy to follow, passionate and compelling way," Homampour told CVN in last year's profile of Vartazarian. "He has the ability to take complex issues and make them very simple for jurors to understand. He also neutralizes and reverse choke-holds defendants' bogus arguments in a way that is endearing."
Following their presentation, Steve and Arash will leave ample time for Q&A from the audience. Webinar participants will also receive an exclusive discount code for access to CVN's trial video library, including trials featuring both attorneys, along with previous CAALA honorees like Nick Rowley, Brian Panish, and Maryanne Gallagher.
Registration is free and open to all participants. Don't miss this rare and valuable opportunity for direct, hands-on, practical trial advice from two widely respected trial attorneys currently at the top of their game who both practice what they preach when it comes to courtroom strategy.
Free Zoom Registration Link:
https://remotecounsel.zoom.us/webinar/register/WN_pp13VXlFSfWGowWkLp61zw
The webinar will be available on-demand to CVN subscribers shortly after its conclusion.
Email David Siegel at dsiegel@cvn.com