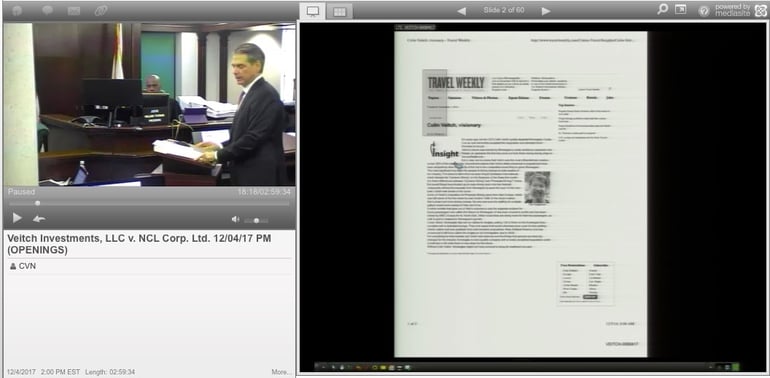 CVN screenshot of former Norwegian Cruise Line CEO Colin Veitch's attorney, Jeffrey Gutchess, delivering his opening statement
Miami - A trial that could rock the cruise industry began on Monday, as the bitter and high-stakes rivalry between two former CEO's of Norwegian Cruise Line spilled into a Florida state courtroom.
One of the ex-chiefs, Colin Veitch, asked a jury to award him $95 million, accusing his successor of hobbling his career by making allegedly defamatory statements about him to the media and preventing him from receiving profit-sharing revenue that he was contractually due.
An attorney for Veitch, who served as Norwegian's CEO from 2000 until 2008, told jurors that Kevin Sheehan, who took over as CEO until 2015, was jealous of his success and lashed out in an email to the trade publication Travel Week after it praised Veitch as a "visionary" for the steps he took to modernize Norwegian's operations.
Veitch is largely credited with conceiving of and implementing Norwegian's trademark "freestyle" cruising system, which allows passengers to dine and see shows on their own schedule as opposed to the more regimented system traditionally used by cruise lines.
Attorneys for Sheehan and Norwegian have strongly denied the allegations, arguing in court filings and during Monday's opening statements that Veitch's suit has no merit and characterizing him as a disgruntled former employee.

The trial is being webcast live gavel-to-gavel by Courtroom View Network.

During his opening statement, Veitch's attorney Jeffrey Gutchess of AXS Law Group PLLC told jurors that his client "built up the company from the verge of nothingness to something fantastic."

Veitch's complaint claims that the positive press he received in 2014 "impeded [Sheehan's] aspirations" and argues that Sheehan was motivated by jealously. Sheehan later stepped down as CEO amidst accusations of having improper sexual relationships with company employees.

In his email to Travel Week, Sheehan sharply criticized Veitch's tenure and described initiatives like Freestyle cruising as "a mess."

"There is a reason that seven years later your visionary is out of work," Sheehan wrote. Travel Week pulled their profile of Veitch from their website after receiving Sheehan's email.

Veitch also accuses Sheehan and Norwegian of breach of contract for allegedly converting company profit units in a manner that intentionally shortchanged him out of millions in profit-sharing payments and then making supposedly misleading statements in public company filings to cover their tracks.

Norwegian generated $4.87 billion in revenue in 2016, according to published reports. The company went public in 2013 while Sheehan served as CEO.

Sanford Bohrer of Holland & Knight, representing both Sheehan and Norwegian, slammed Veitch's accusations during his opening statement, arguing that Sheehan made factually accurate statement's about Veitch's tenure and that the company implemented their profit-sharing agreement in a manner consistent with Veitch's contract.

Both Veitch and Sheehan are expected to testify during the trial, which is taking place before Circuit Judge William Thomas. The trial is slated to take approximately two weeks to complete.

Gavel-to-gavel video of the full trial is available to CVN subscribers, along with hundreds of other civil jury trials from all throughout Florida and the rest of the country.

The case is Veitch Investments LLC v. NCL Corp. Ltd., case number 016-CA-030273 in the 11th Judicial Circuit of Florida.

E-mail David Siegel at dsiegel@cvn.com