Michael Reed delivers closing arguments on behalf of The Out-of-Door Academy, which was accused of causing an electrical accident that damaged Robert Goberman's heart. Jurors Wednesday found in favor of the school in a negligence suit brought by Goberman's widow, Stephanie.
---
Sarasota, FL—A preparatory school Wednesday was cleared of liability for the fatal heart damage a worker's widow claimed her husband suffered in an electrical accident on the school's property. Goberman v. The Out-of-Door Academy, 2011CA009250.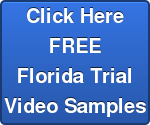 Jurors needed less than three hours to find The Out-of-Door Academy, a Sarasota-area prep school, not liable for an alleged electrical accident in 2008 as Robert Goberman installed a fire safety sprinkler in the school's boiler room. Goberman, who was diagnosed with severe heart damage after the incident, died in 2014 of a pulmonary embolism while awaiting a heart transplant. His widow, Stephanie Goberman, sued the school for more than a million dollars in damages.
Goberman, an employee of Dolphin Fire Sprinkler at the time the incident occurred, claimed prior to his death that he was electrocuted when he accidentally touched an exposed lamp prong in the school's boiler room. In addition to the school's defense that Goberman's heart troubles were related to a pre-existing condition, the six-day trial focused on whether the school or other contractors were responsible for the electrical problem.
During closing arguments Wednesday, Rosenthal, Levy, Simon & Ryles' Jonathan Levy, representing Stephanie Goberman, claimed that the school's sole control over the boiler room and its lighting rendered it liable for the exposed lamp prong. "Their janitors control the lights," Levy said. "It's their light, it's their bulb, it's their fault they had a (prong) out."
Levy reminded jurors of evidence connecting Goberman's electrocution to an exposed prong, including testimony from Richard Baxter, Robert Goberman's coworker, who claimed he noticed the exposed lamp prong after taking Goberman to the hospital and returning to the job site. "(Baxter) remembered looking up at the prong, and seeing one prong out of that fluorescent lamp," Levy said. "He's the first one to tell you that there was a prong out of that fluorescent lamp. That (lamp's condition) is negligence."
However, the defense contended there were too many holes in the plaintiff's evidence to prove the school was responsible the incident. During Wednesday's closings, Wicker Smith's Michael Reed noted differences in the events as recounted by both Baxter and Robert Goberman, whose videotaped deposition was played during trial. Reed noted that Baxter and Goberman's accounts differed as to exactly what Goberman was doing and where he was in relation to the light at the time of the incident, raising questions about whether Goberman himself may have accidentally exposed the lamp's prong.
Reed also attacked the credibility of a key plaintiff's witness, Mark Cyphers, a contractor who had worked with the boiler room lights days before the incident. Cyphers testified school employees may have worked with the lamp shortly before the accident because he noticed bulbs in the boiler room's lamp were different sizes from the bulbs he installed. However, Reed contended that Cyphers' recollection was potentially colored by his desire to avoid liability himself. "Regardless of the believability of witnesses, you have every right to think about that man's motivation as to what he had to say about a light bulb being different in size," Reed told jurors.
Reed noted that other witnesses, including an experienced electrician who saw the light after the incident, contradicted Cyphers' testimony. "Why didn't the electrician see the same thing (as Cyphers recounted)?" Reed asked. "It's because it's not true."
The parties' attorneys could not be immediately reached for comment.
Email Arlin Crisco at acrisco@cvn.com.
---
Related information
The trial's attorneys include Rosenthal, Levy, Simon & Ryles' Jonathan Levy, representing Stephanie Goberman, and Wicker Smith's Michael Reed, representing The Out-of-Door Academy.
Watch gavel-to-gavel video of the trial.
Not a subscriber?
Learn how you can watch CVN Florida's unparalleled coverage of the state's key trials.