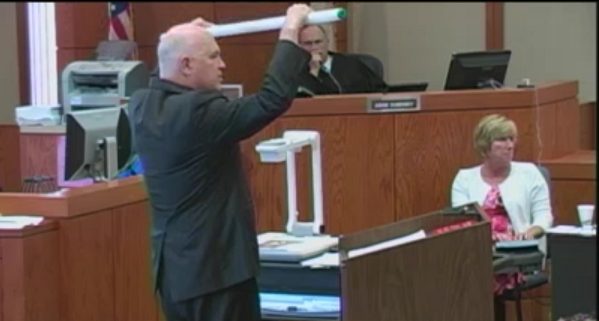 Michael Reed describes the light fixture of a school boiler room in which Robert Goberman claimed he was electrocuted when he touched an exposed lamp prong. Reed represents the school, The Out-of-Door Academy, in a suit by Goberman's widow, Stephanie. Click to watch opening statements.
---
Sarasota, FL—As trial opened Thursday in a widow's suit against the school she claims is responsible for an electrical accident that damaged her husband's heart, attorneys sparred over whether Robert Goberman's ultimately fatal heart problems were caused by electrocution or a pre-existing condition. Goberman v. The Out-of-Door Academy, 2011-CA-009250.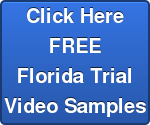 "If someone told you out on the street, (that a) 27-year-old man claims he's working, gets an electric shock, 27, (then) has a heart problem he never had before, lives for about six years then passes away, the question you're going to be faced with is: Is it related to this event, or (is) that a natural cause?" Rosenthal, Levy, Simon & Ryles' Jonathan Levy, representing Stephanie Goberman, asked jurors. "What's your initial impression and common sense tell you?"
Goberman is suing The Out-of-Door Academy, claiming her husband, Robert, suffered irreparable heart damage when he was electrocuted while installing a fire safety sprinkler at the school in 2008. Robert Goberman, who worked for Dolphin Fire Sprinkler at the time of the incident, died from a pulmonary embolism six years later, at 33.
During openings Thursday, Levy told jurors that Richard Baxter, Goberman's coworker on the 2008 job, would describe Goberman being thrown two feet across the room after allegedly bumping an exposed lamp prong in the school's boiler room. Levy said Baxter would testify that Goberman was semi-conscious and "white as a ghost" immediately after the incident. An electrocardiogram taken after the incident, Levy said, revealed significant heart damage that left Goberman unable to work or engage in physicial activity and awaiting a heart transplant until his death.
However, The Out-of-Door Academy's attorneys contend Goberman's heart problems were caused by a pre-existing condition rather than an electrical accident. During opening statements Thursday, Wicker Smith's Michael Reed, representing the school, told jurors that Dr. Stephen Factor, a cardiologist, would testify that Goberman's heart damage could not definitively be tied to electrocution. "We'll put the images up, and you'll be able to see that there's no evidence of cell injury or death as a consequence of electricity," Reed said.
Reed noted Goberman had suffered from heart issues, including an enlarged heart, throughout his life, and long before the 2008 incident. "This is a condition that Mr. Goberman had been living with for a long time," Reed said. "And the reason we know that is it's defined (by X-ray) in the pre-accident period, and his (electrocardiogram results) confirm it in the post-accident period."
Reed also challenged plaintiff's claims of how the 2008 incident occurred, questioning Richard Baxter's credibility. Reed told jurors that Baxter had previously claimed to have been electrocuted by the light fixture as well, before changing his story. "You're just going to have to ask yourselves the weight to be given to what the witnesses that plaintiff calls deserves," Reed said. "Because these accounts simply can't be reconciled."
Levy acknowledged that Goberman had been diagnosed with enlarged heart atriums, which are the heart's two upper chambers, but claimed that condition had nothing to do with Goberman's fatal heart problems. Instead, Levy argued that the defense was merely attempting to deflect responsibility by denying the incident or blaming another party.
"What the defense is going to ask you to do is point the finger of blame at anyone but them," Levy said.
Trial is expected to last through the middle of next week.
The parties' attorneys did not respond to requests for comment.
Email Arlin Crisco at acrisco@cvn.com.
---
Related Information
Jonathan Levy, of Rosenthal, Levy, Simon & Ryles reepresents Stephanie Goberman. Michael Reed, of Wicker Smith, represents The Out-of-Door Academy.
Watch gavel-to-gavel video of the trial.
Not a subscriber?
Learn how you can watch CVN Florida's unparalleled coverage of the state's key trials.