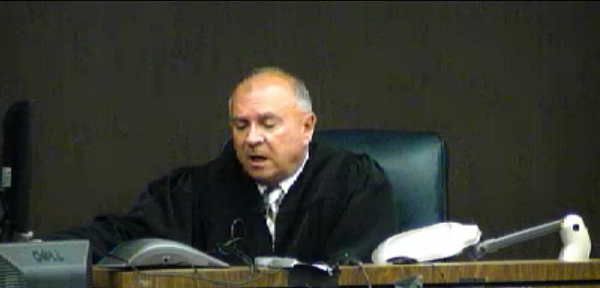 Judge Jack Tuter declares a mistrial in Ryan v. R.J. Reynolds, hours after two Florida State Supreme Court decisions making it easier for Engle progeny plaintiffs to establish fraudulent concealment claims. Watch Judge Tuter's address to the jury here.
---
Ryan v. R.J. Reynolds Tobacco Co.
Fort Lauderdale, FL—Judge Jack Tuter declared a mistrial Thursday in Thomas and Bettye Ryan's suit against tobacco manufacturer R.J. Reynolds, marking one of the first aftershocks to Thursday's Florida Supreme Court decisions that remove the state's statute of repose as a barrier to thousands of Engle fraudulent concealment claims.
Thursday morning, the state's high court issued opinions in Elaine Hess v. Philip Morris USA Inc. and Philip Morris USA Inc., et al. v. Tina Russo, finding that Engle plaintiffs were not required to prove individual reliance on tobacco defendants' conduct after May 5, 1982 in order to prove fraudulent concealment and defeat Florida's statute of repose.
Hours later, Judge Jack Tuter declared a mistrial in Ryan, telling jurors that the Florida Supreme Court's holding "completely throws an unexpected ringer into the case because the lawyers have already presented their arguments."
"There's nothing I can do," Judge Tuter explained. "We've tried every avenue we can to try to save this case."
The decisions that caused the mistrial clarified the requirements for establishing a fraudulent concealment claim in thousands of the state's Engle progeny cases and delineated the role of the state's 12-year statute of repose to such claims. In Thursday's Hess decision, the supreme court concluded "it is not necessary that the smoker relied during the twelve-year repose period. Where there is evidence of the defendant's wrongful conduct within the repose period, the statute of repose will not bar a plaintiff's fraudulent concealment claim."
The decisions also settled a split between the state's appellate courts. In 2013, the state's Third District Court of Appeal, in Russo, found that Engle progeny plaintiffs were not required to prove individual reliance. By contrast, the Fourth District Court of Appeal, in Hess v. R.J. Reynolds, concluded that specific reliance after the repose date was required to defeat a repose defense.
The supreme court opinions change the law for the 17th Judicial Circuit, where Ryan was tried. Prior to Thursday's decisions, the 17th Circuit was bound to follow the Fourth District Court of Appeals holding in Hess. Thursday's rulings will now make it easier for the Ryans to establish their fraudulent concealment claims on retrial.
The Ryan suit stems from Thomas Ryan's chronic obstructive pulmonary disorder, which he contends was caused by his cigarette addiction. Ryan smoked up to four packs of cigarettes a day for 41 years before quitting in 1997. He contends that he was unaware of the health effects of cigarettes when he began smoking in the 1950s. Under the new case law, Ryan will only have to prove reliance on fraudulent conduct at some point in his life, rather than after May 5, 1982.
---
Related Information:
Read Florida Supreme Court Rulings Deal Blow to Big Tobacco Defense in Engle Progeny Claims.
CVN offers unmatched coverage of Florida's Engle litigation.
Not a subscriber?
Click here to learn more about our expansive tobacco litigation library.