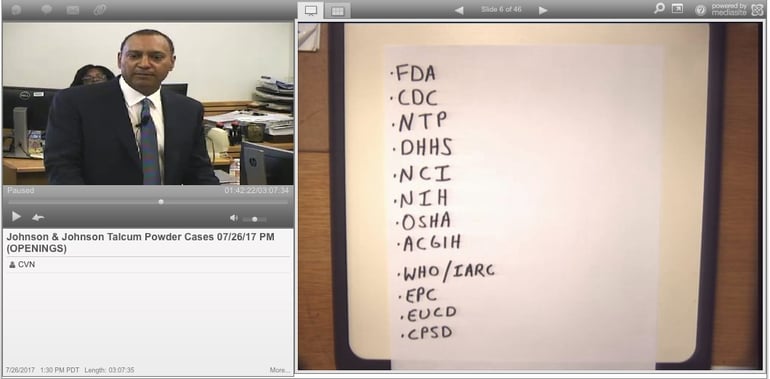 Johnson & Johnson attorney Bart Williams shows jurors a list of agencies he argues declined to label talc a carcinogen during his opening statement
Los Angeles - A closely watched and highly anticipated bellwether trial began Wednesday in California state court over the alleged ovarian cancer risks from Johnson & Johnson's talc-containing hygiene products, in a case that could open up a new front in the sprawling litigation.
Plaintiff Eva Echeverria's case is the first ovarian cancer talc trial in state court outside of St. Louis, Missouri, where six previous plaintiffs verdicts out of seven trials over the last two years saddled J&J with $300 million in damages and generated headlines that spawned thousands of similar lawsuits.

While St. Louis had been the principal hub for talc cases, with thousands of lawsuits pending due to lenient joinder rules that allowed out-of-state plaintiffs to file cases, a recent U.S. Supreme Court ruling put the brakes on that litigation based on jurisdictional grounds.

In a 9-0 ruling released in June in Bristol-Myers Squibb v. Superior Court of California, the high court said plaintiffs must file lawsuits in states where they actually suffered an alleged injury. The ruling resulted in the granting of a mistrial in a talc trial that had been in progress, and J&J removed 1,300 cases to federal court, where it either sought their dismissal or transfer to a federal talc MDL based in New Jersey.

However Echeverria, 63, is a California resident who claims she developed ovarian cancer as a result of using J&J products like Johnson's Baby Powder and Shower to Shower while living in the state, so the ruling did not apply to her. While the 300 talc cases currently centralized in Los Angeles represent a much smaller docket than the thousands of cases pending in Missouri, a high-profile plaintiffs verdict in the nation's most populous state could expose J&J to another wave of new lawsuits.

The trial is being webcast live and recorded gavel-to-gavel by Courtroom View Network, which similarly covered the previous talc trials in St. Louis.

Like previous plaintiffs, Echeverria claims J&J had internal knowledge for decades of scientific studies that showed talc used on the genital area could cause particles to travel up the fallopian tubes and cause cancer. She alleges J&J knowingly withheld that information from the general public to protect the sales of popular brands, even as the company began to sell safer cornstarch-based powder products.

J&J maintains that talc is no more dangerous than red meat or alcohol, neither of which require a cancer warning label, and cites that numerous regulatory agencies have declined to label talc a carcinogen. They claim the scientific studies plaintiffs rely on are based on outdated research and flawed methodology.

Besides taking place before a new judge in a new state (all the previous talc trial in St. Louis took place before the same judge), Echeverria's case faces the added twist of a pretrial summary judgment ruling that released J&J's talc supplier, Imerys Talc America, from the case.

In that ruling, Judge Maren Nelson held that the bulk supplier of a raw material that is legal for sale has no duty to warn consumers about the possible dangers of the buyer's finished product containing that material. All of the previous talc trials in St. Louis included Imerys as a defendant, however only one resulted in any liability being assigned to the company.

Echeverria's trial was scheduled to begin earlier this month, but was delayed by days of argument over Imerys summary judgment motion and by motions related to a lengthy "Sargon" hearing (California's equivalent of a Daubert hearing) where attorneys clashed over the admissibility of expert witnesses for the plaintiffs.

That hearing was also recorded by CVN, and all of the disputed plaintiffs experts, some of whom also participated in the St. Louis trials, will be permitted to testify. A similar hearing last year in New Jersey resulted in the exclusion of those witnesses, which scuttled what was set to be the first bellwether talc trial in that state. That decision remains on appeal.

The opening statement delivered by Allen Smith of the Mississippi-based Smith Law Firm largely mirrors the ones he delivered in St. Louis. Smith served as lead counsel in all of the previous talc trials, and J&J's sole trial victory to date occurred after Smith fell ill in court, and his co-counsel unexpectedly had to deliver the plaintiff's opening statement.

"This case is simple," Smith told the 12-member Los Angeles jury. "It's about the defendant's corporate image over human life."

Smith is backed up by Mark Robinson of Robinson Calcagnie Inc., a prominent California litigator who handled the majority of argument in the previous Science Day and Sargon hearings before Judge Nelson. Also sitting at the plaintiffs table is Michelle Parfitt of the Virginia firm Ashcraft & Gerel, who serves as co-lead counsel in the federal talc MDL.

J&J is represented by Bart Williams of Proskauer Rose, who along with his co-counsel Manuel Cachán successfully landed the first and only defense verdict for J&J in an ovarian cancer talc case.

A lone federal trial in 2013 resulted in a finding that J&J was negligent, but no damages were awarded to the plaintiff, whose cancer was in remission at the time.

Williams blasted the studies cited by plaintiffs as "incomplete" and an "inaccurate reflection of the evidence" and repeatedly referenced the list of regulatory agencies that had declined to label talc as a carcinogen.

"It's about plaintiffs' lawyers and their consultants trying to get you scared," he said.

The trial is expected to run through mid-August, and the full proceedings will be webcast gavel to gavel by CVN.

The case is part of the consolidated Johnson & Johnson Talcum Powder Cases, case number JCCP4872, in the Superior Court of California for Los Angeles County.

E-mail David Siegel at dsiegel@cvn.com