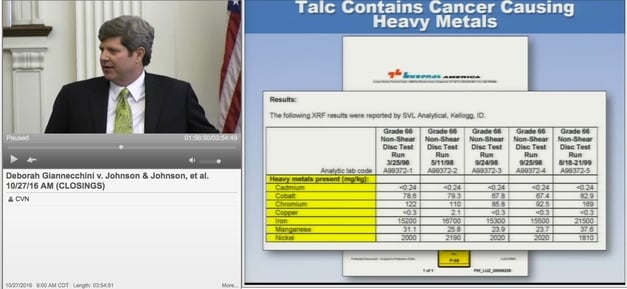 Attorney Allen Smith, who became ill during his opening statement on Monday, delivers his closing argument in another talc powder trial last October.
St. Louis — A Missouri state court judge ordered the selection of a new jury on Monday after the attorney for a woman claiming that Johnson & Johnson's talc-containing personal hygiene products cause cancer suffered a medical episode during his opening statement.
Allen Smith of the Mississippi-based Smith Law Firm became unsteady at the podium approximately five minutes into the start of his opening statement. Judge Rex Burlison immediately asked the jury to leave the courtroom, and the Courtroom View Network camera that had been webcasting the trial was deactivated.
Barry Pound, a spokesman for Smith's legal team, told CVN without elaborating on his condition that as of early Monday afternoon Smith was still receiving medical attention but that his prognosis was good. Pound said the court planned to proceed with the selection of a new jury, and that opening statements could begin as soon as this Thursday or Friday.
Smith is the same attorney who, along with the firm Beasley Allen, successfully argued three consecutive trials in 2016 against Johnson & Johnson and their talc supplier Imerys that resulted in massive verdicts of $72 million, $55 million and $70 million. The current trial, which is just the fourth talc powder lawsuit out of thousands filed to go to before a jury in state court and the fifth case to go to trial overall, is being closely watched to see if Johnson & Johnson can break a plaintiffs' winning streak that has exposed the pharmaceutical giant to massive damages.
Plaintiffs allege J&J for years ignored compelling scientific evidence that talc powder applied to the genitals could travel to the ovaries and cause cancer, and that the company wanted to protect the profits generated by brands consumers had purchased for decades even as safer cornstarch-based body powders became available.
Nora Daniels, 56, filed the pending case after using J&J's talcum powder for 36 years, but J&J and Imerys maintain her ovarian cancer wasn't caused by talc. They cite that the U.S. Food & Drug Administration held hearings in the 1990's on the risks of talc and concluded it was safe, and that there is no conclusive evidence of a link between talc-powder-based hygiene products and ovarian cancer.
Nearly 1,000 talc-related cases are pending in St. Louis alone, and consolidated talc dockets in New Jersey state and federal court and a batch of cases centralized in state court in Los Angeles continues to grow. While a New Jersey state court judge last Fall scuttled what would have been the first talc trial in that state, the judge in Los Angeles recently set a July date for the first talc trial in California.
CVN planned to provide a gavel-to-gavel webcast of the Daniels trial and expects to resume coverage when the newly selected jury begins hearing opening statements.
The pending case is captioned Valerie Swann, et al. v. Johnson & Johnson, et al. case number 1422-CC09326-01 in Missouri's 22nd Judicial Circuit Court.
Email David Siegel at dsiegel@cvn.com