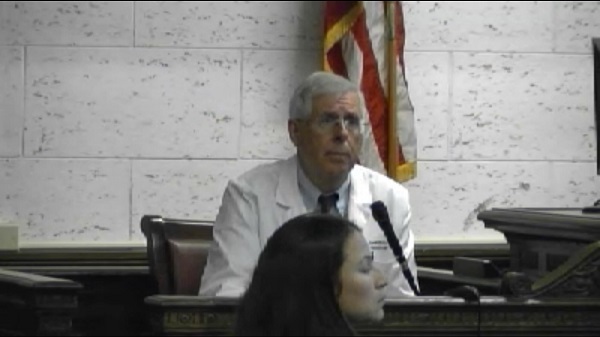 Dr. Jarrard Goodwin testifies that cigarette smoking, rather than another cause such as the humpan papilloma virus, caused Jose Vila's layngeal cancer.

---
The second full week of trial in Jose Vila's suit against tobacco giant Philip Morris featured his attorneys' attempt to link Vila's decades of smoking with the laryngeal cancer that cost him his voice box in 1996.
During testimony Thursday, Dr. Jarrard Goodwin, an otolaryngologist at the University of Miami, testified that the combination of Vila's alcohol use and decades of smoking likely had a "synergistic effect" that led to Jose Vila's cancer. However, while Goodwin said that Vila's alcohol use increased the odds of his development of laryngeal cancer, his smoking history served as the most likely cause of his cancer cancer.
Vila, who says he began smoking when he was 15 and living in Spain, smoked for more than 24 years until he was diagnosed with laryngeal cancer in 1994. He underwent radiation therapy following his diagnosis. Two years later, after a recurrence of the cancer, physicians removed Vila's larynx.
On cross-examination, however, Goodwin, who reviewed Vila's medical records but never personally treated Vila, acknowledged that records indicated Vila did not comply with recommended care following his 1994 radiation treatments. When asked under cross examination whether the records implied that Vila never returned to his doctor after his completing radiation therapy, Goodwin answered "It's compelling."
Nonetheless, "The cancer was caused by his smoking, and it just didn't get cured," Goodwin said. However, Goodwin acknowledged that doctors may have been able to save Vila's larynx if he had completed recommended follow-up care.
Earlier in the week, psychiatrist and addiction specialist Dr. Richard Seely testified that Vila's records indicated he was unaware of the dangers of tobacco when he began smoking and was likely heavily addicted to nicotine by the time he moved to the United States, where he ultimately learned of the adverse health effects of the habit.
"He has the disease of addiction. His brain has changed. His physicology has changed," Seely said. "There's a molecular memory in his brain, that, as soon as nicotine is introduced, it will precipitate a cascade of behaviors that will demonstrate that psychoactive drug, nicotine, will control Mr. Vila."
Seely told jurors that Vila did not seriously attempt to stop smoking until he was first diagnosed with throat cancer in 1994, but that it took him two years, and multiple attempts, and that Vila only quit when "he finally, literally couldn't smoke anymore because of pneumonia and (related health problems).
On cross examination, Seely acknowledged that his diagnosis of tobacco addiction was based in large part on Vila's answers to him, such the length of time it took Vila to quit smoking, rather than on medical records that indicated that Vila had successfully quit smoking in 1994. However, Seeley added that "I find it incomprehensible that an individual can speak so graphically about the struggle to bear smoking five or six cigarettes after the radiation (treatments for his 1994 cancer): that it was like an atomic bomb going off, a fire, an exploded plane Hiroshima. I got the picture very directly of an individual who was suffering greatly as he suffered with his nicotine addiction after the radiation," Seely said. "And I don't feel it's credible to think that he just made that up."
Next week: Trial is expected to conclude next week.
---
Our weekly review is curated from our unequaled gavel-to-gavel coverage of Florida's Engle progeny cases.
Not a subscriber?
Click here to learn more about our expansive tobacco litigation library.