Each Friday, CVN reviews the week's key moments from its unparalleled coverage of Florida's Engle progeny tobacco cases.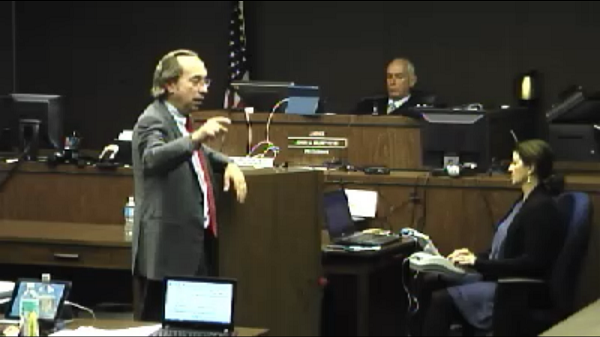 Jonathan Stern, representing Philip Morris, tells jurors in opening statements that Theodore McKeever, the smoker at the center of Vickie McKeever's Engle progeny suit, lied to his wife regarding his attempts to quit smoking because he did not want to stop. Click here to view his opening statement.
---
Fort Lauderdale—Opposing counsel sparred over the cause of Ted McKeever's smoking history as trial opened this week in McKeever's wife Vickie's suit seeking to recover for the respiratory disease and lung cancer she claims her husband suffered because of a six-decade tobacco addiction.
Kelley Uustal's Todd McPharlin, representing Vickie McKeever in her suit against Philip Morris, told jurors in opening statements that Ted McKeever's nicotine addiction was a clear-cut matter. McPharlin said McKeever smoked up to three packs of cigarettes a day for about 60 years, which included what McPharlin described as "countless quit attempts," and told jurors that Mckeever's addiction is "not a complicated subject, it's not a complicated issue. Looking back now, and knowing what (Vickie) knows now, it's not complicated to her either. Ted was addicted."
McKeever, who was born in 1930, began smoking when he was 13. By 1996 he was diagnosed with emphysema. He was subsequently diagnosed with lung cancer in 2005 and had one lung removed a year later. McKeever died in 2013.
During openings Monday, McPharlin told jurors that McKeever's nicotine addiction was fueled by a culture in which smoking was widely accepted, as well as by a tobacco industry conspiracy designed to hide the dangers and addictiveness of cigarettes.
McPharlin said one of McKeever's many attempts to quit smoking included drinking soup as a substitute for cigarettes. "It shows you what the level of understanding is about the product that he was so attached to. He thought soup would help him," McPharlin said.
However, the defense countered with claims that McKeever smoked out of choice rather than because of addiction, and that many of McKeever's quit attempts were shams to placate his wife. Arnold & Porter's Jonathan Stern, representing Philip Morris, told jurors that McKeever "lied to his wife (about trying to quit smoking) more times than he could count, according to the testimony in his deposition. And why did he lie to her?" Stern asked. "He said that if he told his wife the truth, he'd have to give up smoking, and he didn't want to."
Stern also challenged opposing counsel's contention that McKeever started smoking because of a tobacco conspiracy, telling jurors that McKeever began smoking prior to alleged tobacco industry schemes to conceal smoking's health effects. "Mr. McKeever didn't start smoking because of some tobacco industry agreement, or tobacco industry conspiracy," Stern said. "The plaintiff's own paid expert witness (Robert Proctor) is going to tell you that, when Mr. McKeever started smoking, no such conspiracy existed."
Next Week: Plaintiff's attorneys are expected to move into the focus of their case, proving that McKeever was addicted to nicotine.
---
Punta Gorda, FL—On Tuesday, pathologist and cancer expert Dr. Luis Villa testified that he believed it was "highly likely, based on the information that we have," that Barbara McMannis' fatal brain tumor originally stemmed from smoking-related lung cancer.
"With this type of malignancy, that particular history, and the history we have of her use of tobacco products, I don't think there's any doubt that it's highly likely that her cigarette smoking caused the cancer of the lung and the metastasis to the brain," Villa said.
The testimony fueled what may be the key issue in the case: whether there is sufficient evidence to prove that McMannis' died because smoking-related lung cancer spread to her brain. McMannis, who smoked as many as three packs of cigarettes a day for more than 40 years, died from a brain tumor in 1995. In 2007, her widower, Donald McMannis, sued R.J. Reynolds and Philip Morris. However, the destruction of many of the medical records related to McMannis' cancer make causation a key issue at trial.
In arguments outside the jury's presence, Shook Hardy Bacon's William Geraghty, representing Philip Morris, took issue Tuesday with Judge Sherra Winesett's decision to admit into evidence, under hearsay exceptions, medical records referring to the possible origin of McMannis' brain tumor. Geraghty argued that their admission would mislead the jury, particularly during closing arguments. "I accurately told the jury that none of the treating doctors were going to testify in this case; that's what I said in my opening. That's not a misleading statement," Geraghty said. "Now what we're going to hear is a very misleading statement in closing by plaintiffs that all of her treating doctors believed she had lung cancer because... you've essentially allowed the jury to see these three records."
"When (plaintiff's counsel) makes his argument, if you object to it, I'm sure that you will let me know," Winesett replied.
During defense questioning as to the foundation supporting Villa's testimony, the pulmonologist acknowledged the limits of the challenged records. Villa conceded that there was nothing indicating how the individual who completed the records arrived at the conclusion that McMannis' brain cancer had metastasized from her lungs. "The person who wrote this obviously believed that that's the correct diagnosis," Villa said. "But there's no details on how they arrived to that."
Next week: Plaintiff's attorneys are expected to continue their case-in-chief.
---
Fort Lauderdale—Plaintiff's pulmonology expert testified Thursday that Ed Caprio, the smoker at the center of this Engle progeny suit, suffered from chronic obstructive pulmonary disease and lung cancer caused by a powerful smoking addiction that even those two diseases could not break
Dr. David Mannino testified that Caprio's inability to quit smoking, even after becoming ill with respiratory disease and being diagnosed with cancer, was a tell-tale sign of the strength of his nicotine addiction. "Based on the fact that, even after he was diagnosed with COPD, which continued to progress, and lung cancer, that he continued to smoke, that really tells me he was heavily addicted,"
Caprio 72, is suing Philip Morris, R.J. Reynolds, Lorillard, and the Liggett Group, makers of the cigarettes he argues led to his chronic obstructive pulmonary disease and eventual lung cancer. Caprio currently relies on an oxygen machine 24 hours a day for his COPD symptoms.
Mannino testified that, even if Caprio had quit smoking when he was first diagnosed with COPD in 1996, his respiratory disease likely would have progressed to where he needs constant oxygen supplementation. "In '96 when he was initially diagnosed his lung function was already bad," Mannino said. "He actually would have qualified for oxygen then."
On cross examination, however, Mannino acknowledged that Caprio was not prescribed long-term supplemental oxygen until at least 2002, and did not receive full-time supplemental oxygen until 2005. Mannino also conceded that Caprio's pulmonologist described Caprio with "mild to moderate" COPD in 1996 and did not prescribe medication for Caprio when he was initially diagnosed with COPD.
Next week: Plaintiff's attorneys are expected to conclude their case-in-chief.
---
Our weekly review is curated from our unequaled gavel-to-gavel coverage of Florida's Engle progeny cases.
Not a subscriber?
Click here to learn more about our expansive tobacco litigation library.