Stock image.
---
Ten years ago, the first Engle progeny tobacco trial opened. Over the next decade, Engle progeny cases, among thousands of lawsuits spun from a decertified class action against the nation's tobacco companies, have featured the best lawyers in the country. And 2018 was no exception.
CVN's Engle Plaintiff's Attorney of 2018 earned the award by notching an impressive five wins, highlighted by the largest jury verdict in nearly three years.
CVN's Engle Plaintiff's Attorney of 2018
Gordon & Doner's Gary Paige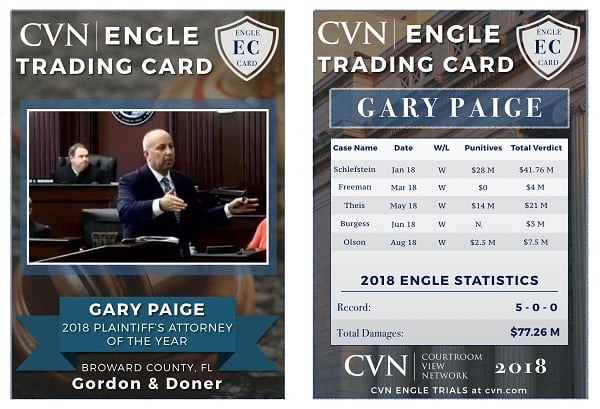 ---
The Trials: Schlefstein v. R.J. Reynolds, Freeman v. Philip Morris, Theis v. R.J. Reynolds and Philip Morris, Burgess v. R.J. Reynolds, and Olson v. R.J. Reynolds.
The Details: The year started off with a blockbuster $41.7 million total verdict for Paige in Schlefstein, a suit over RJR's role in the respiratory disease that forced a Florida woman to undergo a lung transplant. Paige, along with The Alvarez Law Firm's Alex Alvarez, successfully countered the defense contention that a condition unrelated to smoking caused Schlefstein's respiratory disease. "You will not find one doctor anywhere, outside of court or inside of court, nobody who is trained to diagnose emphysema, nobody in the entire world, ever has said that she has Alpha-1 antitrypsin deficiency," Paige said.
The verdict, which included nearly $27.8 million in punitives, was the largest in 2018 and the largest in three years.
Paige followed that blockbuster win by teaming with Dolan Dobrinsky & Rosenblum's Randy Rosenblum to spearhead a $4 million verdict in Freeman, a trial against Philip Morris over the lung cancer death of a building contractor. The verdict found Philip Morris liable on both fraud and conspiracy claims, ensuring the award wouldn't be reduced by proportionate fault.
Paige's second eight-figure verdict on the year came in May with a $21 million total award in Theis, over the lung cancer that killed a 54-year-old man just months after he quit smoking. Both Philip Morris and Reynolds were defendants in the case, which Paige tried with Searcy Denney's T. Hardee Bass.
"At every point of the way, [Fred Theis] was entitled to the truth. He was entitled to know what they knew, and he was entitled not to have filters that didn't work," Paige told jurors in closings of the trial's first phase. "He was entitled not to have light cigarettes that were a fraud."
Just one month later, Paige notched a $3 million win in Burgess, for the role jurors found Reynolds played in the cancer death of a long-time Florida smoker. Paige teamed with Rosenblum again to successfully counter defense arguments that Johnny Burgess smoked by choice and succeeded in his first concerted effort to stop smoking. "Imagine if he didn't succeed [at quitting smoking]. What do you think [the defense] would be saying? 'Well he didn't try hard enough. He didn't quit,'" Paige told jurors. "Millions and millions of addicts overcome their addiction; that doesn't mean that they're not an addict. That doesn't mean that they're not a[n Engle] class member."
Paige closed out his stellar year alongside Rosenblum again for a $7.5 million total verdict against Reynolds over the lung cancer death of a long-haul trucker who favored the company's Camel brand of cigarettes. The jury's award in Olson included $2.5 million in punitives.
The masterful courtroom work and spectacular five-trial run delivered more than $77 million in total CVN-covered Engle verdicts for Paige. And it earns him the distinction as CVN's Engle Plaintiff's Attorney of the Year. This is Paige's second time winning the award, which he also earned in 2016.
Email Arlin Crisco at acrisco@cvn.com.
Related Information
Watch all of Gary Paige's CVN-covered trials.
CVN delivers unequaled coverage of Engle progeny litigation as well as tobacco trials across the country.
Not a subscriber?
Learn how you can watch high-stakes cases around the country.