Last year, CVN cameras captured 40 Engle progeny trials, with hundreds of millions of dollars at stake in tobacco litigation involving some of the nation's best attorneys. The high-stakes cases are among thousands that stem from a Florida class action suit that the state's high court ultimately decertified, allowing individual plaintiffs to rely on the original class action's jury findings and recover damages if a plaintiff proves that the smoker at the heart of their case suffered from nicotine addiction that led to a smoking-related disease.
CVN's Engle Plaintiff's Attorney of 2016 distinguished himself with an undefeated record and more than $80 million in damages awarded on the year.
CVN Engle Plaintiff's Attorney of 2016
Gary Paige
Gordon & Doner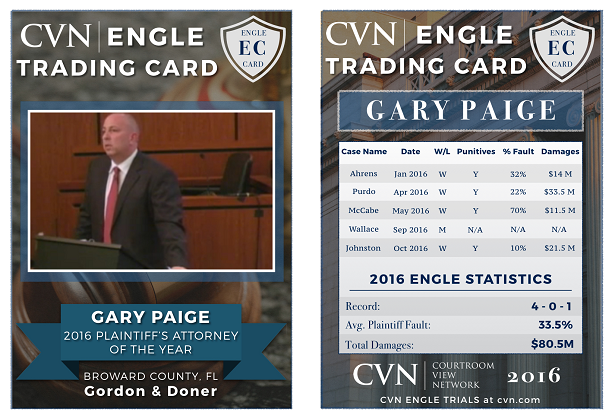 The trials: Ahrens v. R.J. Reynolds and Philip Morris, Purdo v. R.J. Reynolds and Philip Morris, McCabe v. R.J. Reynolds, Wallace v. Philip Morris and R.J. Reynolds, and Johnston v. R.J. Reynolds.
The verdicts: Gary Paige went undefeated across five trials in 2016. The only case that did not go to verdict was Wallace, which was declared a mistrial in October as Hurricane Matthew shut down courts along Florida's coast. Paige's four trial wins won $80.5 million in unreduced damages during the year.
The Details: Paige, an Engle veteran dating back to the first Engle progeny trial in 2009, opened 2016 by securing a $14 million verdict, including $5 million in punitives, in Ahrens, a trial over the lung cancer death of a 56-year old, whose smoking habit spanned more than three decades. Central to the trial was whether Karl Ahrens, the smoker at the case's center, was addicted to nicotine. In his closing argument, Paige told jurors Ahrens' smoking behavior, as well as two commonly accepted tests for diagnosing nicotine addiction, proved he was a nicotine addict. "No matter how you cut it," Paige said, "he was someone who was (considered) highly addicted."
Three months later, Paige followed the Ahrens win by earning the year's biggest CVN-covered Engle verdict, a $33.5 million award in Purdo. That decision included a $21.5 million compensatory award and $12 million in punitives against the nation's two largest tobacco companies for the death of a Florida attorney who smoked up to three packs a day for more than 20 years. With the origin of Thomas Purdo's deadly cancer in dispute, Paige argued numerous records, including Purdo's death certificate, proved the disease started in his lungs. "All the medical records from every single doctor who saw him at three different hospitals 20 years before a lawsuit was filed; the doctors who had the films; the doctors who had the tissue; the doctors who didn't care about the tobacco companies, or Linda, or her children; every one of them found that this man had lung cancer," Paige said. "And it wasn't even a question in anybody's mind until several months [before trial]."
The $11.5 million verdict in McCabe would prove to be the smallest Engle award for Paige on the year. The award included $6.5 million in punitive damages against Reynolds for its role in the death of a former nurse and addiction counselor who smoked for more than a half century.
Although Hurricane Matthew washed out the Wallace trial, Paige wrapped up his blockbuster Engle litigation year with a $21.5 million win in Johnston. The decision included $14 million in punitive damages for the death of an Army veteran who began smoking as a teenager. In his closing argument of the trial's compensatory phase, Paige argued the teenaged Franklin "Jim" Johnston, who had a 10th grade education, represented the bulls-eye of the tobacco industry's target market. "They knew how many of their consumers were less educated. It wasn't a secret to them," Paige told jurors. "The base of their business is the high school student. It always has been and it always will be until a civil jury in a civil society does something about it."
Paige's powerful courtroom work and his stellar record in 2016 earned him CVN's honor as the Engle Plaintiff's Attorney of the Year.
Email Arlin Crisco at acrisco@cvn.com.
Related information
Read about CVN's Engle Defense Attorney of 2016.
Watch all of Gary Paige's CVN-covered trials.
Not a subscriber?
Click here to learn more about our unrivaled tobacco litigation library.