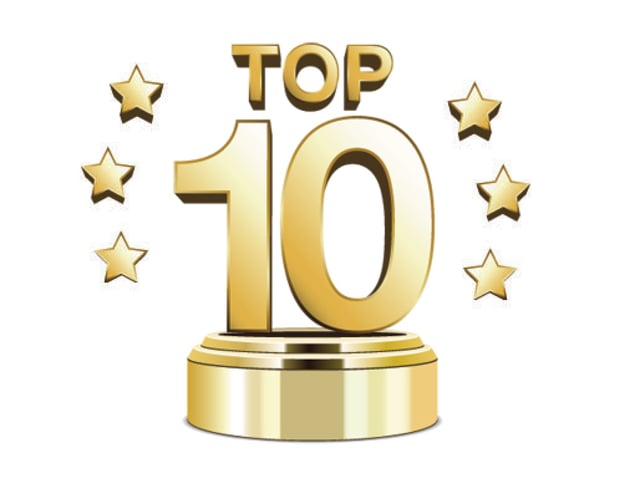 2015 was a busy year for CVN! We covered everything from medical malpractice to asbestos to bellwether product liability cases all over the country from Seattle to Miami. To close out the year, here are our picks for the top 10 plaintiffs verdicts we covered in 2015. These aren't ranked solely by the verdict amount, but also take into consideration the specific facts of the case and the verdict's broader impact.
Check out our selections below, including free video clips from each trial, along with our top 10 ranking of 2015 defense verdicts! Get access to gavel-to-gavel video of all these trials and more by becoming a CVN subscriber for as little as $99/month.
1. Walden v. Chrysler - $150 million verdict in first Jeep fuel tank trial
Plaintiff attorneys: Jim Butler and David Rohwedder of Butler Wooten & Fryhofer LLP, Jeb Butler of Butler Tobin LLC, George Floyd of Floyd & Kendrick LLC and attorney L. Catharine Cox
Link to video of the trial:
http://cvn.com/proceedings/walden-v-chrysler-group-llc-trial
Why it made the cut:
Earning the top spot on our list is the first case to go to trial anywhere in the country over supposedly defective fuel tanks in older Jeep Cherokee sport utility vehicles that allegedly can explode in a low-impact collision, despite the award being reduced to $40 million from $150 million.
This case was the first to make it to trial after Fiat Chrysler settled numerous other claims related to fuel tanks in older Jeeps. The verdict, which was the largest of its kind ever returned by a Georgia state court jury, helped spur renewed calls for a broader recall of Jeep Cherokees, and federal regulators later slammed Chrysler with a record $105 million fine over the company's failure to recall millions of older-model Jeeps with rear-mounted fuel tanks.
"Chrysler consciously chose to put American families at risk and gambled that juries would not figure it out," Jeb Butler of Butler Tobin LLP told CVN in April. "A jury in Bainbridge, Georgia proved them wrong."
***
2. Warner v. Wright Medical Technology - $4.5 million verdict in defective hip implant case
Plaintiff attorneys: Steve Vartazarian of The Vartazarian Law Firm and George McLaughlin of the Warshauer-McLaughlin Law Group PC
Link to video of the trial:
http://cvn.com/proceedings/alan-warner-et-al-v-wright-medical-group-trial-2015-05-14
Why it made the cut:
This case earned the number two slot on our list for being the first time Wright Medical Technology has ever had to defend one of its metal hip implants before a jury anywhere in the country, with nearly 1,200 other lawsuits involving the company's hip implants pending.
The jury in this case decided that the stem piece in a senior citizen's implant broke due to being weakened by a laser during the manufacturing process, though a new trial on damages is pending after the judge reduced the award to $1 million from $4.5 million.
Lead plaintiffs' counsel Steve Vartazarian of The Vartazarian Law Firm told CVN in June that Wright's highest pre-trial settlement offer was $455,000, and that his highest settlement demand was $4 million.
"Nobody has ever gone up against [Wright] in trial, and I finally decided that I'm going to do it, and we did, and we won," Vartazarian said at the time. "It's possible to take them down."
***
3. FutureSelect v. Ernst & Young - $10.15 million award over Bernie Madoff accounting audits
Plaintiff attorneys: Steven Thomas, Emily Alexander and Mark Forrester of Thomas Alexander Forrester LLP and Gordon Tilden Thomas & Cordell LLP.
Link to video of the trial:
http://cvn.com/proceedings/futureselect-portfolio-management-inc-et-al-v-ernst-young-llp-trial-2015-10-05
Why it made the cut:
Coming in at number three on our list is the first case to go to trial over the role accounting audits played in Bernie Madoff's historic $17 billion Ponzi scheme.
A Washington State court jury sided with investors who lost $112 million dollars in Madoff's scam in their lawsuit against Ernst & Young LLP, finding that the accounting giant was negligent by signing off on audits of billions in assets that didn't exist.
The jury awarded approximately $20.3 million in damages to FutureSelect Portfolio Management Inc. while also finding the investment firm to be 50 percent responsible for its own losses. The actual damages amount will be reduced to $10.15 million, though FutureSelect's attorney Steven Thomas told Courtroom View Network in November that pre-judgment interest will push the amount back above $20 million.
"It's such a significant victory and hopefully will help bring about the change in this auditing system that is broken." Thomas said at the time. "In the largest fraud in human history the jury found that Ernst & Young was negligent."
***
4. Perry v. Ethicon - $5.7 million verdict in pelvic mesh case
Plaintiff attorneys: Thomas Cartmell of Wagstaff & Cartmell, Richard Freese of Freese & Goss PLLC and Peter De La Cerda of Edwards & De La Cerda PLLC.
Link to video of the trial:
http://cvn.com/proceedings/perry-v-luu-trial-2015-01-12
Why it made the cut:
With tens of thousands of pelvic mesh cases pending throughout the country, less than 20 have gone to trial, making each case that goes before a jury especially significant. This case was the first time Johnson & Johnson's Ethicon unit went to trial in California state court, and the first time any jury considered whether or not Ethicon's "TVT-Abbrevo" product was defective.
The inclusion of $700,000 in punitive damages helped land this key pelvic mesh trial in the number four slot on our list.
Richard A. Freese of Freese & Goss, who represented plaintiff Coleen PerryPerry, told CVN in January that the jury returning a punitive damages verdict at a case involving Ethicon's newest and supposedly safest pelvic mesh product, which the company characterized as the "gold standard" durings its opening statements, could have significant implications on the tens of thousands of similar cases pending throughout the country involving Ethicon's pelvic mesh products.
"Ethicon cannot even defend its newest product," Freese said at the time. "This product has only been on the market since 2010."
***
5. Beber v. MDVIP Inc. - $8.5 million medmal verdict against concierge medical firm
Plaintiff attorneys: Jack Scarola, Karen Terry and Andrea Robinson of Searcy Denney Scarola Barnhart & Shipley PA
Link to video of the trial:
http://cvn.com/proceedings/beber-v-metzger-et-al-trial-2015-01-12
Why it made the cut:
Concierge medical services, which offer cushy perks like house calls for a premium fee, have exploded in popularity in recent years. MDVIP currently dominates the concierge healthcare market, and this verdict is one of the first ever against the company for malpractice and false advertising.
MDVIP claimed in their promotional materials to offer "exceptional doctors, exceptional care, and exceptional results," which the jury said plaintiff Joan Beber relied on in choosing a doctor that she thought would adhere to a reasonable standard of care. Instead Beber, who had her leg amputated due to a misdiagnosed blood clot, received treatment that fell well below a reasonable standard of care, let alone an exceptional level, her widow's attorneys successfully argued.
"This was a case about marketing deception and valueless illusory promises," attorney Karen Terry told CVN in February. "We are thrilled that a jury of six of Joan Beber's peers understood and appreciated the significance of this case."
***
6. Reimers, et al. v. Everest Indemnity Insurance Co. - $4.5 million verdict in class action bad faith insurance case
Plaintiff attorneys: Robert Maddox of Robert C. Maddox & Associates and Patrick Leverty of Leverty & Associates Law Chtd.
Link to video of the trial:
http://cvn.com/proceedings/elizabeth-reimers-et-al-v-everest-indemnity-insurance-co-trial-2015-02-02
Why it made the cut:
Getting a class action all the way to a jury trial is no small feat, but a class action that (almost) goes to a punitive damages phase is certainly enough to land this case arising from a bad faith insurance dispute on our Top 10 list. The class consisted of hundreds of homeowners who suffered flood damage after a levee collapse, which Everest denied coverage for under an earth movement exclusion.
The case settled on the eve of a punitive damages phase after the jury returned a $4.5 million compensatory award. Prior to the settlement being announced, plaintiffs' attorney Bob Maddox told CVN his team would be pursuing a "substantial" punitive damages award but declined to comment on the potential amount.
Everest's close call with a class action punitive damages award could have an impact on when other insurers similarly invoke earth movement exclusions to deny coverage.
***
7. Cote v. Five Star Quality Care Inc. - $19.2 million verdict in nursing home negligence case
Plaintiff attorneys: Arthur Lloyd of Lloyd & Robinson PLLC and Michael Wright of Udall Shumway PLC.
Link to video of the trial:
http://cvn.com/proceedings/doris-lucille-cote-et-al-v-five-star-quality-care-inc-et-al-trial
Why it made the cut:
Nursing home operator Five Star Quality Care Inc.'s highest pre-trial settlement offer in this elder abuse case was $500,000, but the company ended up being sacked with a $19.2 million verdict, $16.7 million of which consisted of punitive damages.
Doris Cote's family sued Five Star in 2012, claiming that while convalescing in a Five Star nursing home, she was overmedicated with painkillers, allowed to fall multiple times, malnourished and eventually developed a bedsore that became infected with Methicillin-resistant Staphylococcus aureus, known as MRSA.
***
8. Ledoux v. R.J. Reynolds, et al. - $35 million verdict in Engle tobacco case
Plaintiff attorneys: Adam Trop of The Trop Law Group and Gary Paige of Gordon & Doner PA
Link to video of the trial:
http://cvn.com/proceedings/ledoux-v-rj-reynolds-trial-2015-11-30
Why it made the cut:
CVN has covered nearly every Engle progeny tobacco trial to date. Each trial is a huge undertaking for both sides given the amount of discovery, expert testimony and sheer in-court advocacy involved, but trials like this one involving more than one tobacco company are especially complex.
Plaintiff Patricia Ledoux, a long-time airline industry employee, allegedly began smoking at 14, and continued to smoke up to two packs of cigarettes a day until her 1995 death from lung cancer. Her husband, Roland Ledoux, claims R.J. Reynolds and Philip Morris hid the dangers and addictiveness of smoking for decades, fueling Ledoux's nicotine addiction and eventually causing her cancer.
In this case the award, which includes a $25 million punitive damages verdict, was split evenly between Philip Morris USA and R.J. Reynolds.
***
9. Dennis Seay v. Celanese Corp. - $14 million verdict in asbestos case
Plaintiff attorneys: Chris Panatier of Simon Greenstone Panatier Bartlett PC
Link to video of the trial:
http://cvn.com/proceedings/dennis-seay-v-3m-company-et-al-trial-2015-09-28
Why it made the cut:
Any asbestos case going to trial is a comparatively rare event, but asbestos trials involving an employee of an independent contractor going to verdict against the premises owner are rarer still. That's what happened in this suit brought by the family of a maintenance worker exposed to asbestos in a polyester fiber plant owned by Celanese Corp. in the 1970's.
The family of Dennis Seay, who died of mesothelioma in 2014 at the age of 70, was awarded $12 million in compensatory damages and $2 million in punitive damages following a 13-day trial. A second defendant in the case, gasket seller John Crane Inc., was cleared of all liability.
"You don't see a lot of premises cases tried," Panatier told CVN in October.
***
10. Tina Wilcox v. BNSF Railway Co. - $2.9 million verdict in FELA wrongful death case
Plaintiff attorneys: Anthony Petru and Kristoffer Mayfield of Hildebrand McLeod & Nelson Inc., and Don St. John and Jason Romero of St. John & Romero PLLC.
Link to video of the trial:
http://cvn.com/proceedings/tina-wilcox-v-bnsf-railway-company-trial
Why it made the cut:
CVN covered three FELA trials in 2015, and this trial resulted in the largest verdict of the three. Plaintiff Tina Wilcox, the widow of a BNSF conductor struck and killed by an oncoming train, was awarded the full $2.9 million despite her husband being found 20 percent liable for his own death.
Michael Wilcox was attempting to release hand brakes alongside a train that had stopped on a mainline track during a crew change in Holbrook, Arizona - a situation that attorney Anthony Petru compared to stopping a truck in the middle of a freeway - when the accident occurred. Wilcox was conscious following the collision but died approximately two hours later after being airlifted to an area hospital.
Of the $2.9 million awarded, the jury allocated $600,000 for Wilcox's conscious pain and suffering during those two hours
"The jury gave the maximum amount that we were able to prove," Petru told CVN in May, noting that BNSF's highest pre-trial settlement offer was $250,000.