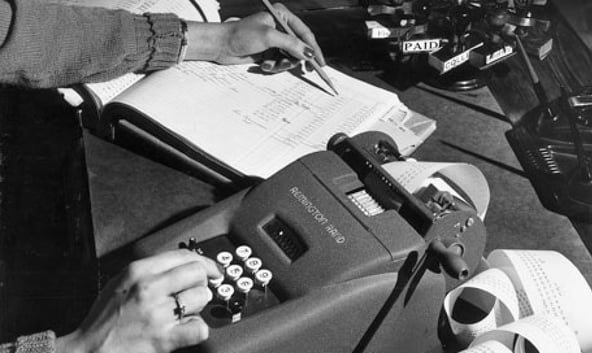 Stock photo of adding machine
Miami - The largest accounting negligence lawsuit ever to go to trial begins August 1 in a Florida state courtroom, where Big Four firm PricewaterhouseCoopers LLP will defend against claims it should pay over $5.5 billion for performing allegedly faulty audits of the defunct Colonial BancGroup, and the full trial will be webcast gavel-to-gavel by Courtroom View Network.

The lawsuit was filed in 2013 by a trust established as part of Taylor Bean & Whitaker Mortgage Corp.'s bankruptcy plan. Before being raided by federal agents in 2009 and then declaring bankruptcy, Taylor Bean & Whitaker was one of the largest mortgage lenders in the United States. The trust's lawsuit claims Taylor Bean & Whitaker incurred billions of dollars in debt as a result of PwC - which served as Colonial's external auditor - signing off on fraudulent mortgage-related assets that didn't exist.
Prior to their 2009 collapse, Taylor Bean & Whitaker was the largest customer of Colonial's Mortgage Warehouse Loan Division. According to the trust's complaint, as far back as 2002 Taylor Bean executives began shifting money between the company's Colonial bank accounts as quick fixes for overdrafts and shortfalls. The scheme snowballed and helped lead to Colonial's collapse, with former Taylor Bean Chairman Lee Bentley Farkas being sentenced to 30-years in federal prison and the FDIC's Deposit Insurance Fund having to spend roughly $3 billion cleaning up the sixth-largest bank failure in United States history.
The trust's lawsuit claims that not all directors at Taylor Bean were involved in the fraud, and that if PwC had alerted them to billions in fake asserts being moved around various Colonial accounts, that the scam could have been stopped and the company's collapse prevented. It seeks over $5 billion in compensatory damages and unspecified punitive damages, making it by far the largest negligence claim ever brought against an auditor to go before a jury.
PwC has argued in court filings that its audits of Colonial accounts were adequate. They claim collusion between Taylor Bean executives and Colonial made any fraud particularly difficult to detect, even by properly-performed audits, and that illegal conduct by Taylor Bean executives bars the trust from seeking damages under Florida law.
A similar lawsuit filed by the FDIC against PwC is scheduled to go to trial next year in Alabama federal court.
The trust's lead counsel, Steven Thomas of Thomas Alexander Forrester LLP, told Courtroom View Network that this is the only case where a jury will say whether a public auditor can be held responsible for certifying billions of dollars of fake mortgages as part of the housing crisis.
"PriceWaterhouseCooopers is a public auditor of a public company, what the U.S. and Florida Supreme Courts define as the 'public watchdog,'" Thomas said. "Public auditors are responsible in our country when they certify fraudulent assets."
Despite the inherent risks in taking any case to a jury trial, let alone one potentially worth billions of dollars, Thomas expressed confidence that a jury of laymen would be able to decide a case that will take a deep dive into the complex minutia of accounting, finance and banking operations.
"That is what the Constitution and our democracy requires, and it is the way it should be," Thomas said. "Our experience is that citizen juries not only understand these cases they are well-equipped to decide them."
Thomas has experience breaking down these types of arguments for laymen jurors. Last November he landed a $10.15 million verdict for investors at the first trial over Ernst & Young LLP's allegedly negligent auditing of a Bernie Madoff feeder fund, although he had sought damages in excess of $100 million.
PwC's lead trial counsel Elizabeth Tanis of King & Spalding LLP told CVN that the accounting firm did not audit or perform any other services for Taylor Bean, and that she was confident the jury would find in favor of PwC.
"With regard to the services performed for Colonial Bancgroup, one of the targets of Taylor Bean's fraud, PricewaterhouseCoopers did its job," Tanis said. "As the professional audit standards make clear, even a properly-designed and executed audit may not detect fraud, especially in instances when there is collusion, fabrication of documents, and the override of controls, as there was at Colonial Bank."
Given the stakes of the case, both sides are represented by veritable battalions of high-powered law firms from across Florida and the United States, and seating will likely be scarce in Miami-Dade County Circuit Judge Jacqueline Hogan Scola's courtroom. However CVN's camera will be there, and gavel-to-gavel video of the full trial will be available both live and on demand.
The plaintiffs are represented by the California-based Thomas Alexander Forrester & Sorensen LLP and Texas firm Ackels & Ackels LLP, along with local Florida firms Gamba Lombana & Herrera, Gonzola Dorta PA, and Berger Singerman LLP.
PwC is represented by King & Spalding attorneys from New York, Washington DC, Georgia, California and North Carolina, along with local Florida counsel from Sedgwick LLP, Kenny Nachwalter PA, and White & Case LLP.
The case is Taylor Bean & Whitaker Plan Trust v. PricewaterhouseCoopers LLP, case number 2013-33964-CA-01, in the Circuit Court for the Eleventh Judicial Circuit of Florida.
E-mail David Siegel at dsiegel@cvn.com.