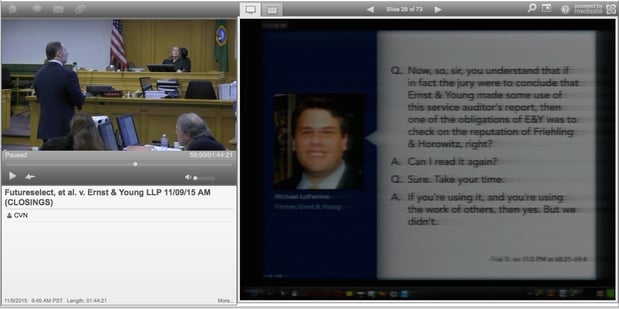 Plaintiffs' attorney Steven Thomas read jurors testimony from an Ernst & Young partner during his closing argument. (Click here to see video from the trial.)
Seattle — A Washington State court jury sided with investors on Friday who lost $112 million dollars in Bernie Madoff's historic Ponzi scheme in their lawsuit against Ernst & Young LLP, finding that the accounting giant was negligent by signing off on audits of billions in assets that didn't exist.
Friday's verdict marks the first time a jury has weighed in on the role accounting practices played in contributing to losses suffered by investors who sank money into Madoff-controlled funds. The jury awarded approximately $20.3 million in damages to FutureSelect Portfolio Management Inc. while also finding the investment firm to be 50 percent responsible for its own losses. The actual damages amount will be reduced to $10.15 million, though FutureSelect's attorney Steven Thomas told Courtroom View Network that pre-judgment interest will push the amount back above $20 million.
Thomas had asked for an award of $112 million during his closing arguments in a trial that began October 19, but the jury returned a smaller amount after clearing Ernst & Young of claims brought under a Washington State securities statute and only finding in favor of FutureSelect on its negligent misrepresentation claims. An Ernst & Young spokeswoman told CVN the company is considering an appeal.
The trial was webcast and recorded gavel-to-gavel by CVN. (Click here to see video from the trial.)
FutureSelect sued Ernst & Young in 2010, two years after Madoff's $17 billion scheme collapsed. They claimed the "Big Four" accounting firm had failed to adequately audit a Madoff feeder fund the firm invested in, Tremont Group Holdings, and instead took Madoff's word about the existence of securities that had been completely fabricated. FutureSelect alleged that Ernst & Young did not adequately vet the qualifications of Madoff's accounting firm Friehling & Horowitz, which Thomas told jurors was located in a small office in a strip mall and was using practices that should have raised a "huge red flag."
Had Ernst & Young looked more closely at how the audits they certified were conducted, Thomas said they would have discovered that the audits relied on fraudulent documents, like a financial statement claiming the existence of $853 million in fictional U.S. Treasury bills. If Ernst & Young didn't sign off on Tremont's activities, Thomas said FutureSelect never would have invested with the fund.
Thomas told CVN that Friday's verdict was "extremely gratifying" and represented a "tremendous day for the public."
"It's such a significant victory and hopefully will help bring about the change in this auditing system that is broken." Thomas said. "In the largest fraud in human history the jury found that Ernst & Young was negligent."
Ernst & Young spokeswoman Amy Call Well told CVN in an e-mailed statement that the company does not believe it was responsible for any investor losses in Madoff's scam.
"EY was not the auditor of any Madoff entity; we were among the many auditors of funds that chose to use Madoff as their investment advisor," Call Well said. "While we regret the investors' losses, no audit of a Madoff-advised fund could have detected this Ponzi scheme."
During the trial Ernst & Young's attorneys argued that Madoff's Ponzi scheme went undetected for years by law enforcement and regulatory agencies at both the state and federal level, and that FutureSelect bore responsibility for putting money into funds with returns the investment firm should have known "were too good to be true."
Tremont, the second-largest feeder fund in Madoff's scheme after Fairfield Greenwich Group, struck a $1 billion deal in 2013 with investors to settle litigation over Madoff-related losses. Redmond-based FutureSelect opted out and sued Ernst & Young in 2010 under the Washington State Securities Act, which offers more stringent investor protections than many other state or federal statutes.
A trial court threw the case out, but it was later revived by an appeals court in 2013. In 2014 the state's supreme court affirmed that decision, finding that the Act gives special emphasis to protecting investors from fraudulent schemes, and that FutureSelect had adequately plead that its investments were influenced by Ernst & Young's audits.
Tremont, its parent Oppenheimer Acquisition Corp. and Oppenheimer parent Massachusetts Mutual Life Insurance Co. were originally listed as defendants, but they were all eventually dismissed after reaching confidential settlements with FutureSelect, according to court records.
The trial took place before Judge Beth Andrus.
FutureSelect is represented by Thomas Alexander Forrester LLP and by local counsel Gordon Tilden Thomas & Cordell LLP.
Ernst & Young is represented by Morrison & Foerster LLP and by local counsel Davis Wright Tremaine LLP.
The case is FutureSelect Portfolio Management Inc. v. Ernst & Young, case number 10-2-30732-0, Superior Court of the State of Washington for King County.
E-mail David Siegel at dsiegel@cvn.com.