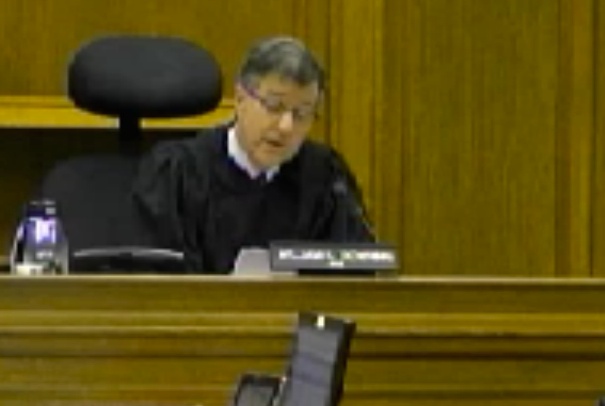 Judge William Downing delivers his ruling from the bench finding Comcast is not responsible for a brutal assault on a teenager in 2013 after installing a home security system without a basement window sensor. Click here to see video from the trial.
Seattle — Cable giant Comcast Corp. did not install a defective security system that two homeowners said failed to stop attackers from entering their basement and torturing their son with a machete, a Washington state court judge ruled Monday, finding that the system functioned properly and that the boy's father didn't take time to read the instruction manual.
Judge William Downing delivered his ruling from the bench following a two-week non-jury trial, saying that although 18-year-old Deep and his parents Leena and Manoj endured a horrific experience, the "Xfinity Home" security system installed by Comcast contractor Pioneer Cable Inc. could have prevented the attack had Manoj chosen to arm a basement motion detector.
The Rawats sued Comcast for negligence and breach of contract after their son was assaulted in 2013 and the alarm system failed to go off due to being set to "stay" mode. They claimed a Pioneer installation technician misrepresented to Leena that a basement motion detector would be armed in "stay" mode, and that there was no need to install an additional sensor on the basement window.
Their attorneys asked Judge Downing to award the Rawat family $9.5 million for their pain and suffering as a result of the attack and Deep's lingering injuries.
However Judge Downing said that orientation documents provided to the Rawats explicitly directed them to review a glossy user's manual that included instructions on how to arm the basement motion sensor by setting the system to its "away" mode, saying that Manoj disregarded that advice and put the manual in a drawer without reading it.
"This was sound advice that any prudent consumer of a new waffle iron, laptop computer, vehicle or security system should be expected to follow," Judge Downing said, according to a Courtroom View Network webcast of the trial.
Judge Downing rejected arguments that it was too counterintuitive to expect Manoj to set the alarm system to "away" mode while remaining in the house, noting that many widely used products include similarly confusing instructions. He pointed out that the Windows operating system designed by Manoj's employer Microsoft Corp. asks users to turn off their computer by going to the "start" menu.
Manoj armed the system in "stay" mode on October 11, 2013 and went to sleep, according to his complaint. During the early morning hours he heard a noise in the house and checked the status of the security system on his remote keypad from an upstairs bedroom, but the system didn't indicate any problems. He went back to sleep thinking the noise was from nearby construction.
Meanwhile Vincent Sisounong and Blessing Gainey, who prosecutors later said wanted to kill someone purely for pleasure, had entered the house through the basement window and grabbed Deep from his bedroom and tried to hack off his limbs. Deep managed to trigger a car alarm with a remote control, which caused the attackers to flee. His parents then awoke and found him in the basement with severe injuries.
Deep was rushed into surgery at a nearby hospital, and his attackers were later each sentenced to 25 years in prison.
The Rawats had claimed that Pioneer's technician was responsible for the configuration of the security system selected by Leena, including the decision not to include an additional window sensor, but Judge Downing said contract documents signed by Leena showed she approved the system as installed.
"Each of these documents was duly signed by Ms. Rawat and by these signatures she confirmed that she was authorized to make installation decisions and that the installation work had been satisfactorily completed at her direction," Judge Downing said.
He added that while consumers could reasonably be expected to rely on the advice of company technicians, that doesn't mean they aren't responsible for ensuring the product they purchase meets their needs.
"[Tradesman reliance] does not by itself relieve the customer of the responsibility of making an informed purchase decision, and after the purchase following up reasonably," Judge Downing said. "Mere reliance does not serve to graft new vague terms onto every contract for a transaction."
Comcast spokeswoman Jenni Moyer told CVN that the company is satisfied with the court's decision.
"We continue to express our sympathies to the Rawat family, and are grateful that the criminals who committed this horrible crime were brought to justice," Moyer said. "While no home alarm system from any provider can prevent a crime, experts on both sides agree that our home security system functioned properly the night of the attack."
Attorneys for the Rawat family did not immediately respond to a request for comment.
The case is Rawat v. Comcast Broadband Security LLC, et al., case number 14-2-05344-4-SEA, in King County Superior Court.
The Rawats are represented by Ken Friedman and Roger Davidheiser of Friedman Rubin.
The defendants are represented by Sally Metteer of Wilson Smith Cochran Dickerson, Jeffrey Daly of Preg O'Donnell & Gillett PLLC, and by Timothy Pastore and Megan Uhle of Duval & Stachenfeld LLP.
E-mail David Siegel at dsiegel@cvn.com
Previous Coverage:
Comcast's Security System Blamed At Trial For Near-Fatal Home Invasion