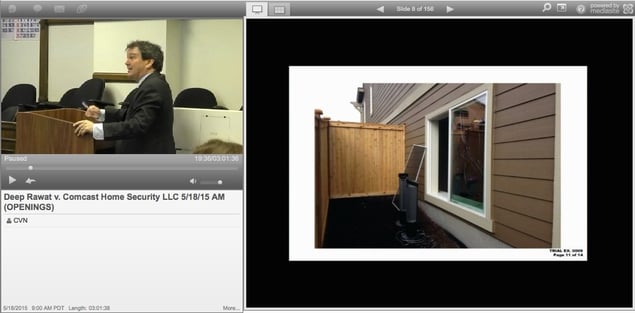 Plaintiffs' attorney Ken Friedman shows an image during his opening statement of the Rawats' basement window, that he said Comcast should have equipped with sensors. Click here to see video from the trial.
Seattle — A family accused cable giant Comcast Corp. of negligence on Monday in a Washington state courtroom for providing them with a faulty security system, that they claim allowed intruders to break into their home and brutally torture their teenage son, in a trial the family's attorney called the first of its kind.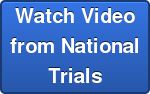 Leena and Manoj Rawat purchased an "Xfinity Home" security system installed by Comcast contractor Pioneer Cable Inc. shortly after buying a new home in September 2013. The next month, the alarm didn't go off when two attackers broke into the Rawat's home via a basement window, seized 18-year-old Deep Rawat from his bedroom and attempted to cut off his arm and leg with a machete.
The security system was in "stay" mode during the intrusion, meaning that a basement motion detector was not active as it is in "away" mode. The Rawats claim Comcast promised them a "secure network" that offered "total" home protection, and that the company told them the system's basement motion detector would protect the home in both modes.
During his opening statement on Monday, the Rawats' attorney Ken Friedman of Friedman Rubin told Judge William Downing, who is hearing the case without a jury, that Comcast's installation technician convinced Leena Rawat to purchase a security system that did not include sensors for the basement window.
"The only reason Ms. Rawat accepted the configuration [the technician] suggested was because he affirmatively told her that sensors on the basement windows were not necessary, due to the fact that he'd installed a motion detector that would catch any intruder," Friedman said, according to a Courtroom View Network webcast of the proceedings.
Manoj Rawat armed the system in "stay" mode on October 11, 2013 and went to sleep, according to his complaint. During the early morning hours he heard a noise in the house and checked the status of the security system on his remote keypad from an upstairs bedroom, but the system didn't indicate any problems. He went back to sleep thinking the noise was from nearby construction.
Meanwhile Vincent Sisounong and Blessing Gainey, who prosecutors later said wanted to kill someone purely for pleasure, had entered the house through the basement window and grabbed Deep Rawat from his bedroom. He managed to trigger a car alarm with a remote control, which caused the attackers to flee. His parents then awoke and found him in the basement with severe injuries.
The family sued in 2014, accusing Comcast of gross negligence, breach of contract and of violating Washington state consumer protection laws. The attackers were each sentenced to 25 years in prison.
Comcast has argued that the Rawats' contract shields the company from all liability for the attack, and that the security system functioned as it was designed to. They claim the Rawats had a right to test and inspect the system they purchased, and that had the basement motion detector been armed the assault on Deep Rawat could have been prevented.
"Unfortunately no home alarm system can guarantee the prevention of a crime," Comcast spokeswoman Jenni Moyer told CVN. "We will continue to pursue our defense vigorously."
Friedman told CVN that Comcast's decision to get into the home security business means the company, which is the largest cable and internet service provider in the United States, has a much greater responsibility to its customers than when it sells television subscription packages for entertainment purposes.
"A negligent assessment or installation of a security system can have life or death consequences," Friedman said.
Friedman didn't say how much he would ask Judge Downing to award the Rawats, but he told CVN the family has sustained substantial damages. He suggested a ruling for his clients would send a clear message to home security providers like Comcast about their obligations to consumers.
"This lawsuit will clearly define the duty and care Comcast owes to its security service customers, ensure that the Rawats are adequately compensated for the horrific attack they endured because of Comcast's negligence and breach of contract, and make sure that future customers of Comcast don't suffer the same fate," Friedman said.
The trial is expected to last up to two weeks and is being webcast and recorded gavel-to-gavel by CVN.
The case is Rawat v. Comcast Broadband Security LLC, et al., case number 14-2-05344-4-SEA, in King County Superior Court.
The Rawats are represented by Ken Friedman and James Hertz of Friedman Rubin.
The defendants are represented by Sally Metteer of Wilson Smith Cochran Dickerson, Jeffrey Daly of Preg O'Donnell & Gillett PLLC, and by Timothy Pastore and Megan Uhle of Duval & Stachenfeld LLP.
E-mail David Siegel at dsiegel@cvn.com
Click here for a copy of the complaint.