Courtroom View Network is excited to launch our annual 'Summer Special' discount offer, which allows even more affordable access to the world's only video library of civil jury trials featuring the top plaintiff and defense attorneys in the country in action in front of real juries in real courtrooms.
Summer beach novels are great, but for attorneys both new and veteran who want to sharpen their skills and learn from the very best advocates practicing today, nothing beats watching the pros handle real-world, high-stakes trials. CVN provides gavel-to-gavel coverage and unlimited on-demand access, so you can see firsthand every part of the trial from the openings through to the verdict.
CVN's online video library features hundreds of trials, so whether you're interested in major mass tort cases or more "everyday" cases like slip-and-falls, a CVN subscription provides tremendous value for almost any attorney involved in trial practice in state courts.
Here is a (very) small representative sample of the trials included with a subscription, and why you should check them out. Instead of driving to the courthouse to see top-shelf attorneys in action, save your gas money for that summer trip to the lake and use CVN's Summer Special discount to subscribe today! Have any questions? E-mail us any time at hello@cvn.com
***
Automotive product liability trials
CVN's archive has a wide range of product liability trials involving a variety of automotive components from seat backs to seat belts to airbags to gas tanks.
One example of a major plaintiff verdict that CVN covered took place in Georgia state court, where jurors returned a landmark $150 million verdict (later reduced to $40 million) against FCA US, LLC (Chrysler) in a first-of-its-kind case involving an allegedly defective gas tank that exploded following a rear-end collision.
For a defense win, watch the arguments that lead to a South Carolina jury clearing Michelin North America Inc. in a potentially $17 million trial over a supposedly defective motorcycle tire that was blamed for a serious crash.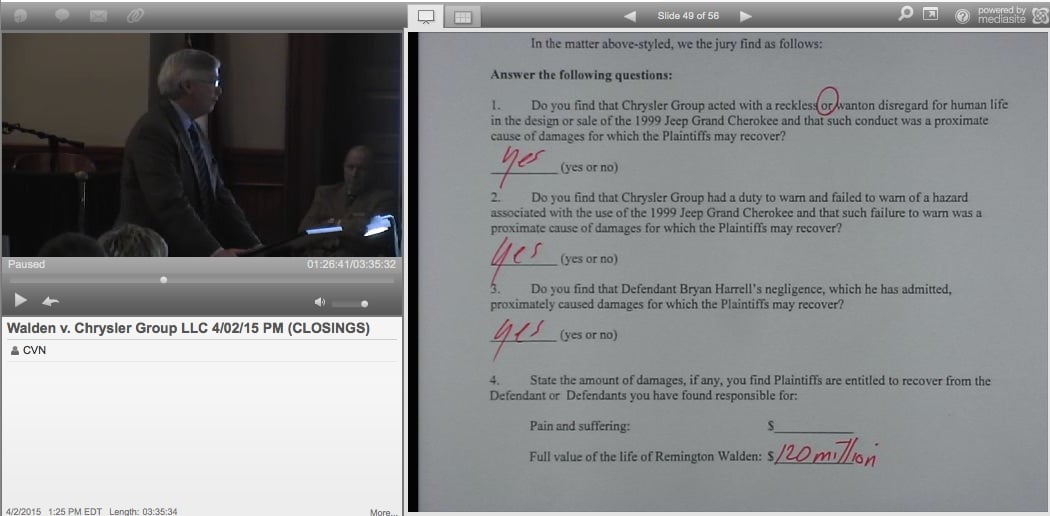 Plaintiff attorney Jim Butler of Butler Prather LLP delivers his closing argument

Defense attorney Michael O'Donnell of Wheeler Trigg O'Donnell closes
Medical malpractice trials
Many medical malpractice trials don't get any media coverage until after a verdict, but these cases make up one of the most well-represented practice areas in CVN's archive.
For a plaintiff win, watch how a Texas state court jury returned a $10.2 million verdict (beating out a $450k settlement offer) for a woman and her husband alleging that a hospital's unnecessary delays in treating bleeding around her spine caused permanent paralysis.
On the defense side, see how attorneys secured a win in California state court at a potentially $120 million trial involving claims that a prominent neurosurgeon's decisions left a patient with an ear tumor with permanent facial paralysis.

Plaintiff attorney Michael Lyons of the firm Lyons & Simmons LLP closes

Defense attorney Duke DeHaas of LaFollette Johnson DeHaas Fesler & Ames
Premises liability trials
These cases make up one of the largest areas of recurring litigation in state court, and CVN is the only news media organization in the country that regularly covers them.
On the plaintiff side, watch a Nevada state court deliver a $16.4 million verdict for a woman who suffered a serious head injury after slipping on a wet spot while shopping for palm trees in a Lowe's store.
For a defense win, see how attorneys for Wal-Mart obtained a win for the retail giant in Florida state court in a potentially $5.75 million case filed by a woman who said water from umbrellas brought into the store on a rainy day caused her to slip and suffer serious back injuries.

Plaintiff attorney Sean Claggett of Claggett & Sykes closes his case

Defense attorney Gregory Reed of Simon Reed & Salazar delivers his closing
Automotive negligence trials
Automotive negligence cases also make up a huge portion of the trial activity in state courtrooms, but in an era of shrinking newsroom budgets CVN is usually the only news media outlet covering them gavel-to-gavel, even with the potential for substantial monetary damages on the line.
For a plaintiff win, watch what led a California state court jury to award $21.6 million (beating a $4.9 million settlement offer) to the parents of a teenager struck and killed on her bike in a crosswalk by a metro bus.
On the defense side, watch a Nevada state court jury clear a tourist transport company of all liability in a potentially $3.2 million trial over an RV driver's spinal injuries following a highway collision.

Plaintiff attorney Garo Mardirossian of Mardirossian Akaragian closes

Defense attorney Tom Winner of Winner & Booze delivers his closing argument
Mass tort trials
These complex, lengthy cases that often rely highly technical and scientific arguments are among the most challenging for attorneys and jurors, and CVN is the industry leader in covering them.
For a plaintiff win, watch a Missouri state court jury send back a $20 million verdict against Ford Motor Company in an asbestos exposure case.
For a defense win, check out another Missouri state court jury clear agrochemical giant Monsanto in a key trial over exposure to the company's popular Roundup herbicide.

Plaintiff attorney Daniel Blouin of Simmons Hanly Conroy delivers his closing

Defense attorney Manuel Cachán of Skadden Arps closes his case
Remember that these 10 trials represent a tiny slice of CVN's massive video library. Your subscription gets you access to hundreds more trials like these and more. For a good bird's eye view of what else is available, try perusing CVN's annual top 10 lists of top plaintiff and defense verdicts.
With our summer special pricing, your front row seat to the courtroom is more affordable than ever. Sign up today and learn from the best without ever having to leave your home or office.
Have a great summer!