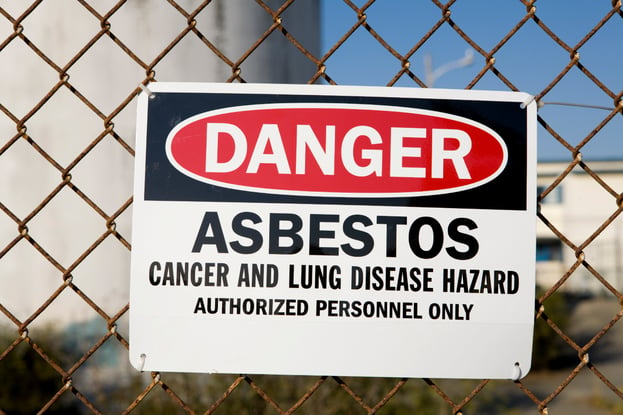 Stock image of asbestos warning sign.
Miami — A painter who may have less than a year to live has taken Georgia-Pacific LLC and Union Carbide Corp. to trial in Florida state court, claiming the companies are responsible for exposing him to products containing asbestos that caused him to develop terminal cancer.
James Ferraro of the Ferraro Law Firm, representing plaintiff Roy Taylor, told jurors in a trial that began August 4 the companies should pay damages, because they supposedly concealed the dangers of asbestos in products like joint compound that Taylor was around while working as a painting supervisor in Saudi Arabia in 1978 and 1979. Taylor claims that he would be covered in white dust after work each day as a result of workers sanding down walls to create smooth surfaces.
One of Taylor's physicians told the jury that he has fatal mesothelioma, a type of cancer affecting the lining of the lungs that has been linked to inhalation of asbestos fibers, according to a Courtroom View Network webcast of the trial (Click here to see video of the trial.) The cancer has spread to his heart, and the doctor said Taylor may have less than a year to live.
During his opening statement Ferraro did not name a specific amount of damages he would ask the jury to award, but plaintiffs' verdicts in asbestos cases frequently run into the millions of dollars.
However attorneys for the two companies told jurors that Taylor's cancer could not be definitively linked to his time spent in Saudi Arabia. They said Taylor ran a painting business for 30 years and that he could have been exposed to asbestos from other products during that time that caused his cancer.
The defense arguments are similar to the ones used by heavy equipment giant Caterpillar Inc. and auto parts manufacturer Dana Co. LLC in another asbestos trial that wrapped up on August 3 in Miami. Jurors in that potentially $19 million case rejected claims from a mechanic's son that his mesothelioma was caused by asbestos in equipment like brakes and gaskets.
A key factor in that trial was that the plaintiff died before the case was filed and never had the chance to provide testimony. His lung tissue also wasn't preserved after his death and tests were never performed to determine if he actually has asbestos fibers embedded in his pulmonary tissue. While Taylor has been able to testify in his current case, attorneys for the defendants say his recollections of his work history in Saudi Arabia are not accurate.
Taylor's trial before Judge William Thomas is being webcast gavel-to-gavel by CVN, and the other recently concluded Miami asbestos trial was also recorded and is available for viewing online.
Ferraro and representatives for Georgia-Pacific and Union Carbide did not respond to requests for comment.
Taylor is represented by James Ferraro of the Ferraro Law Firm.
Georgia Pacific is represented by Mel Bailey of Bailey Crowe Kugler & Arnold LLP.
Union Carbide is represented by Angela Puentes-Leon of Carlton Fields Jorden Burt PA.
The case is Taylor v. Georgia Pacific, case number 2014-CA-022141, in the 11th Judicial Circuit of Florida.
Click here to see more asbestos trials in CVN's one-of-a-kind online video archive.