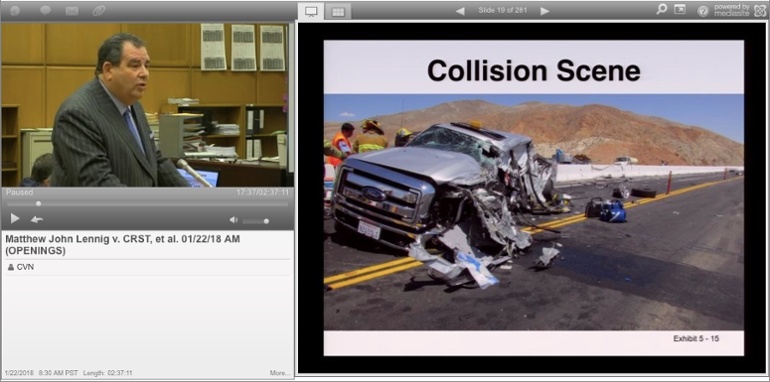 CVN screenshot of Brian Panish delivering his opening statement in a 2018 trial that resulted in a $52.84 million verdict
Santa Monica, CA - The Inner Circle of Advocates, an elite invitation-only group of 100 plaintiff attorneys, inducted a new president earlier this month when it selected California attorney Brian Panish of Panish Shea & Boyle LLP to lead the organization.
The Inner Circle of Advocates is widely considered to be the most exclusive plaintiff attorney association in the country. Founded in 1972, the group only invites select attorneys who have secured at least one million-dollar verdict in a case involving death or physical injury, and their stated mission is "to promote the highest standards of courtroom competence and the mutual fellowship and exchange of knowledge among outstanding trial lawyers."
Panish and several other Inner Circle members are among the hundreds of nationally recognized trial attorneys found in Courtroom View Network's one-of-a-kind online video archive. As the only news media organization focused on gavel-to-gavel coverage of civil trials, CVN subscribers get the unique opportunity to see firsthand how these advocates deliver results in front of real juries.
Cases featuring Panish in CVN's video library include, among others:
- A $52.84 million verdict in a lawsuit filed by two brothers who suffered traumatic brain injuries when a big rig truck crossed a road's centerline and hit their car head-on
- A $15.3 million verdict in a lawsuit filed by a woman thrown from her seat while riding a public bus
- A $8.3 million verdict in the first trial in the country involving DePuy metal hip implants
Other notable verdicts secured by Panish include a $4.9 billion award in the landmark products liability case Anderson v. General Motors over a defective designed fuel system, and a $41.8 million verdict and subsequent $46 million settlement from Southern California Gas Co. in a suit filed on behalf of a seriously injured motorcyclist.
"It's an honor to have been selected as President of the group," Panish said in a statement. "The members of this organization are exceptional trial lawyers who do extraordinary work helping others and I look forward to being of service to the members." He first joined the organization in 2005 and previously served as its Vice President.
Panish, who will serve a two-year term as president, succeeds Joseph A. Power Jr. of Power Rogers & Smith as president. Judith Livingston of the New York firm Kramer, Dillof, Livingston & Moore will serve as the group's new Vice President.
Click here to see which other members of the Inner Circle of Advocates also appear in CVN's video library and become a CVN subscriber for as little as $99/month with no contract.
Email David Siegel at dsiegel@cvn.com