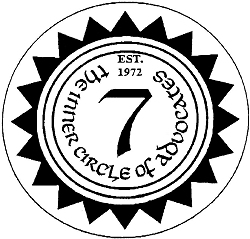 Watching an attorney in court from The Inner Circle of Advocates, an invitation-only group of 100 of the best plaintiff attorneys in the country, used to be a rare privilege. With Courtroom View Network, seeing some of these elite advocates in action before real juries is just a click away.
Launched in 1972, The Inner Circle selects from attorneys with at least three verdicts in excess of $1 million to their name, or at least one verdict in excess of $10 million, with the most recent verdict being no more than five years old. The organization was founded to allow top plaintiff attorneys to learn from each other and perfect their craft.
According to the group's website, "The Inner Circle looks for cutting edge lawyers in their jurisdiction who are active courtroom lawyers with a willingness to learn and teach about our craft and to be part of a close-knit, sharing group of professional colleagues. Membership in The Inner Circle of Advocates is not just an accolade, it is a commitment to participate in a unique laboratory of professional advancement."
A number of attorneys from The Inner Circle appear in Courtroom View Network's one-of-a-kind online video archive of civil jury trials. CVN is the only news media organization in the world exclusively focused on providing video coverage of civil trials of interest to the legal, business and professional communities, and over the years CVN has covered some of the most important trials in the country in practice areas ranging from products liability to medical malpractice to slip-and-falls.
Below are the current members of The Inner Circle that appear in CVN's archive. Subscribers get to see firsthand how attorneys of this calibre craft an opening or closing statement, how they cross-examine a witness, and what skills they've used in the courtroom that landed them a spot in such a selective group.
Click on any of the names below, and with a subscription for as low as $99/month, you can see gavel-to-gavel video of the trials they've been involved in, along with hundreds of other high-stakes civil trials featuring top firms and attorneys from throughout the United States. It's the only video collection of its kind.
Stakeholders or opposing counsel sometimes fly across the country to watch these advocates in action, but with CVN you can do so from home, the office or anywhere else. Sign up today, and start learning from the best.
Scott Schlesinger (Florida) - Schlesinger Law Offices PA
Lloyd Bell (Georgia) - Bell Law Firm
Richard Friedman (Washington State) - Friedman Rubin
Christian Searcy (Florida) - Searcy Denney Scarola Barnhart & Shipley
Steven Yerrid (Florida) - The Yerrid Law Firm
Zoe Littlepage (Texas) - Littlepage Booth
Brian Panish (California) - Panish, Shea & Boyle
Shanin Specter (Pennsylvania) - Kline & Specter, PC
Michael Kelly (California) - Walkup, Melodia, Kelly & Schoenberger
Robert Spohrer (Florida) - Spohrer & Dodd
Browne Greene (California) - Greene Broillet & Wheeler, LLP
Thomas Girardi (California) - Girardi & Keese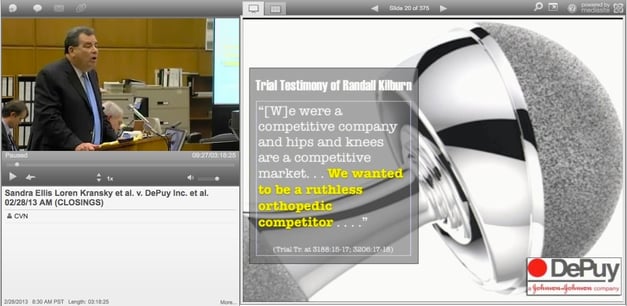 Courtroom View Network screenshot of Inner Circle member Brian Panish delivering his closing argument in a bellwether product liability trial involving a metal hip implant manufactured by a Johnson & Johnson company.