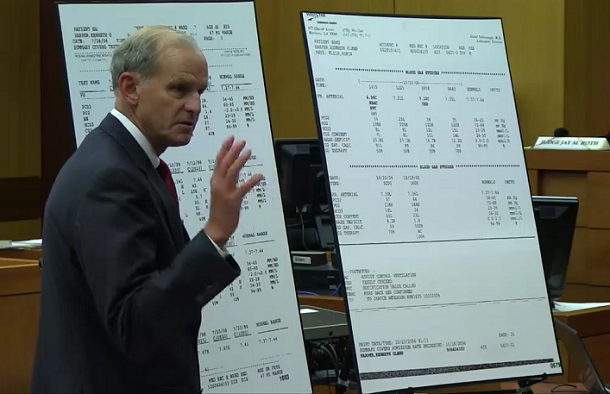 Henry Green delivers his closing argument for the Dr. Michael Vick. Jurors cleared Vick and Dr. Paul Zolty of negligence in the treatment of Kenneth Harper.
---
Atlanta—Jurors Thursday cleared two doctors of liability for the death of a hospital patient who went into cardiac arrest hours after being seen by the doctors for severe swelling in his neck. Harper v. Vick, 08EV005552.
The Fulton County State Court jury needed less than two hours to find Drs. Paul Zolty and Michael Vick were not negligent in treating Kenneth Glenn Harper at Wellstar Kennestone Hospital in October 2006. Harper, 56, had been admitted for severe swelling in his neck that stemmed from a bacterial infection. Zolty, a pulmonologist, and Vick, an ear, nose, and throat specialist, examined Harper hours before he suffered critical breathing difficulties and cardiac arrest. Harper's wife, Sandra, claims the doctors could have prevented her husband's heart failure and ultimately his death by intubating him or otherwise ensuring his airway remained open and protected immediately after they examined him.
Sandra Harper's attorney, the Bird Law Group's William Bird, requested "not less than $1 million," on the wrongful death claim and several hundred thousand dollars on the claim for pain and suffering.
The seven-day trial centered on whether Harper's infection or the doctors' decision not to intubate Harper when they examined him led to his death. Days before his final hospital admission, doctors diagnosed Harper with myelodysplasia, a terminal bone marrow disorder that destroys the body's immune system and renders it more susceptible to infections such as the one Harper suffered.
During Wednesday's closings, Bird told jurors medical protocol required intubating or surgically protecting the airway of someone with Harper's symptoms before an emergency situation developed. "[The defense] talked about hindsight, and [how] it's not a case about hindsight. And we agree. It's a case about foresight," Bird said, highlighting portions of a medical journal article detailing the procedures for protecting the airway of a patient with Harper's symptoms. "You need an artificial airway; that's either an intubation or surgery. And to do it safely you need to attempt the intubation while you've got the surgical team right there with you with all the equipment necessary so there is no time lost whatsoever. That's not hindsight."
But the defense contended Harper died because his myelodysplasia weakened his body's immune system so severely even the medicine he was given could not stop a bacterial infection that spread throughout his body. On Monday, Dr. Daniel Musher, an infectious disease specialist and expert for the defense, told jurors he believed the infection likely killed Harper.
During Wednesday's closings, Vick's attorney, Green & Sapp's Henry Green walked jurors through Vick's medical notes and argued Harper's symptoms did not warrant a potentially risky procedure to protect his airway. "Dr. Zolty and Dr. Vick talked. They agreed: no intervention. It was too risky. Mr. Harper's sitting up and breathing. He's alert. Don't do (an airway procedure)," Green said. "Don't cause harm."
Zolty's attorney, Swift Currie's Roger Harris agreed, arguing Harper's condition and symptoms worsened drastically in the hours after Zolty and Vick examined him. Noting Harper's oxygen saturation levels, or the amount of oxygen in Harper's blood, when the two doctors examined him was adequate, Harris told jurors "He is getting adequate oxygenation throughout the morning. There is no evidence to take away his airway."
Harris added "The standard of care applicable to Dr. Zolty in this case required that he exercise the better judgement by not intervening."
The parties' attorneys could not immediately be reached for comment.
CVN recorded the trial and will offer gavel-to-gavel video as soon as it is available.
Email Arlin Crisco at acrisco@cvn.com.
Related Information
Read more about the trial's opening statements.
Read about key expert testimony in the trial.
Sandra Harper is represented by the Bird Law Group's William Q. Bird and Alexandria Kash, as well as KurleLaw's Jennifer Kurle and Steven Justus.
Dr. Michael Vick and the Wellstar Physicians Group are represented by Green, Sapp & Moriarty's Henry Green and Daniel Moriarty.
Dr. Paul Zolty and Georgia Lung Associates, P.C. are represented by Swift, Currie, McGhee & Hiers, LLP's Roger Harris and Drew Timmons.
CVN will offer gavel-to-gavel video of the trial as soon as it is available.
Learn how you can watch trial in this case and other critical medical malpractice litigation, in Georgia and throughout the country.