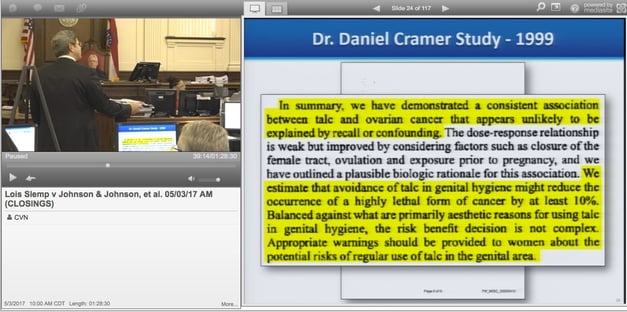 Plaintiff's attorney Allen Smith reviews scientific studies linking talcum powder use and ovarian cancer during his closing argument. Click here to see video from the trial.
St. Louis — A Missouri state court jury on Thursday awarded over $110 million to a woman claiming she developed ovarian cancer after using Johnson & Johnson's talcum powder-based products on her genitals for decades, marking the largest verdict yet after five previous trials.
The award comes after J&J scored their first talc-related defense verdict in March in St. Louis, where thousands of additional cases are pending and involves a case selected for trial by the defense. A major plaintiff's victory under those circumstances suggests attorneys representing women bringing similar claims will likely press ahead with additional trials scheduled for later this year.
Jurors deliberated for just over a full day after first hearing opening statements on April 11. They awarded 62-year-old Virginia resident Lois Slemp $5.4 million in compensatory damages and $105 million in punitive damages. Imerys Talc America, J&J's talc supplier, was also assigned one percent responsibility and hit with a $50,000 portion of the punitive verdict.
Slemp, who used products like Johnson & Johnson's Baby Powder and Shower to Shower for decades, is currently undergoing treatment after her ovarian cancer spread to her liver. Her case was given expedited consideration due to her declining health.
Courtroom View Network webcast and recorded the full trial gavel-to-gavel.
In a statement released after the verdict was delivered, Slemp's attorney Ted Meadows of the law firm Beasley Allen accused the defendants of putting profits over people.
"Once again we've shown that these companies ignored the scientific evidence and continue to deny their responsibilities to the women of America," Meadows said. "I hope this verdict prompts J&J to acknowledge the facts and help educate the medical community and the public about the proper use of their products."
J&J spokeswoman Carol Goodrich said the company sympathized with women suffering from ovarian cancer but would immediately begin the process of appealing Thursday's verdict.
"We are preparing for additional trials this year and we will continue to defend the safety of Johnson's Baby Powder," Goodrich said.
Imerys spokeswoman Gwen Myers told CVN the company is disappointed in the verdict but remains confident that numerous regulatory agencies have deemed talc to be safe.
"This verdict serves to undermine efforts by the scientific community to determine the true causes of ovarian cancer and help lead us to a cure for this tragic disease," Myers said.
Both Goodrich and Myers cited the fact a New Jersey judge last year threw out testimony from key experts that have testified for plaintiffs in St. Louis about the supposed links between cancer and talc powder. That decision, which is being appealed, scuttled what was to be the first talc trial in in the state just days before it was scheduled to begin.
RELATED: Analysis of recent talc "Science Day" hearing in Los Angeles from Innovative Science Solutions
During the trial Slemp's attorneys accused J&J and Imerys of failing to warn consumers about the potential cancer risks from talc-containing products despite being aware for decades of numerous scientific studies suggesting the mineral is a carcinogen. J&J and Imerys maintained those arguments were based on flawed and outdated science, and that talc is no more dangerous than alcohol or red meat, neither of which carries a cancer warning label.
Slemp's attorneys also claimed the talc powder she used was contaminated with asbestos, an argument that had not been made at the previous four trials in St. Louis and that both J&J and Imerys rejected.
The award is worth nearly half of all the money awarded to date in St. Louis in talc-related cases. Three trials in 2016 resulted in plaintiff verdicts of roughly $72 million, $55 million and $70 million. The lone talc trial to date in federal court resulted in a finding of negligence by J&J but no awarding of damages.
The trial took place before Judge Rex Burlison, who also presided over the four previous state court trials. Missouri law makes it possible for out-of-state plaintiffs to file claims within the state, and thousands of talc lawsuits from women all over the country have been centralized in St. Louis, making it the largest hub for talc cases in the country. Next month Judge Burlison will preside over another talc trial that will involve claims from five plaintiffs being heard concurrently. CVN will also be webcasting that trial.
While highly visible verdicts like this one have caused the number of talc lawsuits across the country to explode, none has yet survived a challenge on appeal. On May 10 the Missouri Court of Appeals will hold oral arguments challenging the first talc verdict reached last year in St. Louis, when jurors awarded Jacqueline Fox $72 million. CVN plans to webcast those proceedings, too.
In June the judge overseeing a consolidated docket of talc cases in California state court will convene a weeklong series of hearings to determine the admissibility of expert testimony in a bellwether trial scheduled for July. That same month another trial is scheduled to begin before Judge Burlison. Another trial that had been scheduled for July in Washington D.C. has now been continued with no new date set, according to court records.
Slemp is represented by Ted Meadows, Danielle Mason and David Dearing of Beasley Allen and by Allen Smith of the Smith Law Firm PLLC.
J&J is represented by Orlando Richmond of Butler Snow LLP and by Paul Schmidt and Phyllis Jones of Covington & Burling LLP.
Imerys is represented by Jane Bockus of Dykema Cox Smith and by Kenneth Ferguson of Gordon Rees.
The case is captioned Valerie Swann, et al. v. Johnson & Johnson, et al. case number 1422 CC09326-01 in Missouri's 22nd Judicial Circuit Court.
Email David Siegel at dsiegel@cvn.com