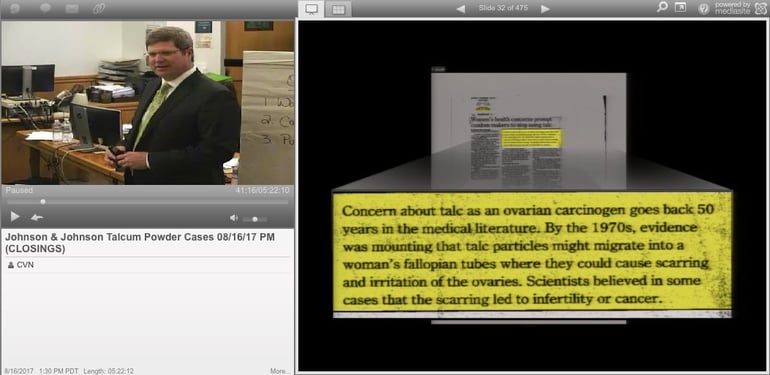 CVN screenshot of plaintiff's attorney Allen Smith delivering his closing argument
Los Angeles - A California state court jury slammed Johnson & Johnson with a $417 million verdict on August 21, including $347 million in punitive damages, at the first trial in California over claims that popular talc-based hygiene products like Johnson's Baby Powder can cause ovarian cancer.
Jurors deliberated for two days following a four-week trial before delivering the largest verdict in a talc trial to date. It is greater than all $300 million in combined damages awarded so far in talc trials in St. Louis, Missouri, the largest of which resulted in a $110 million verdict.
J&J vowed an immediate appeal.
The groundshaking verdict could make California, the country's most populous state, a new hotbed for talc cases after a recent U.S. Supreme Court decision restricted the ability of plaintiffs to file lawsuits outside of the state where their alleged injuries occurred. St. Louis had been the hub for thousands of talc cases, but many claims filed by non-residents could be dismissed or wrapped up in federal multidistrict litigation consolidated in New Jersey.
Plaintiff Eva Echeverria's case served as a bellwether amongst the roughly 300 other talc-related lawsuits consolidated in Los Angeles County. However that number is likely to explode in coming weeks, as publicity from the verdict prompts other women to file similar claims, as was the case when talc litigation first made headlines with an initial verdict in Missouri in 2016.
J&J now faces approximately 4,800 talc-related claims consolidated mostly in Missouri, New Jersey and California.
Echeverria is a California resident and claimed she developed cancer while living in the state, so she was not affected by the Supreme Court's ruling. Her case received expedited consideration given that her cancer is in a terminal phase. She was too ill to testify in person, so jurors had to rely on her deposition testimony.
The trial was recorded and webcast gavel-to-gavel by Courtroom View Network.
Echeverria, 63 and other women who used talc products for decades accused J&J of witholding knowledge from the public that talc particles in products like Johnson's Baby Powder and Shower to Shower can travel up the falopian tubes after being used on the genitals and cause ovarian cancer. They claim J&J knew about scientific studies linking talc use to ovarian cancer, but J&J maintains those studies are based on outdated science and has consistently argued that numerous government agencies have declined to label talc a carcinogen.
"We are grateful for the jury's verdict on this matter and that Eva Echeverria was able to have her day in court," Echeverria's attorney Mark Robinson of Robinson Calcagnie said in a statement. "These cases are about fighting for justice for women all over California who are suffering from ovarian cancer because of Johnson & Johnson's covering up the truth for so many years."
J&J spokesperson Carol Goodrich said in a statement that in addition to appealing Monday's verdict the company would continue with plans for additional trials, suggesting that any kind of large scale settlement in what could be one largest mass torts in decades may still be a long way off.
"We will appeal today's verdict because we are guided by the science, which supports the safety of Johnson's Baby Powder," Goodrich said.
During the trial the plaintiffs focused on a 1982 study that they argued shows women who used talc on their genitals were at a 92 percent increased risk for ovarian cancer, and a 1999 study that states "avoidance of talc in genital hygiene might reduce the occurrence of a highly lethal form of cancer by at least 10 percent."
J&J argued in this trial and others that numerous regulatory agencies, ranging from the International Agency for Research on Cancer to the FDA to the CDC to OSHA have all declined to require cancer warning labels on talc products. J&J's attorneys argue that talc is no more dangerous than alcohol or red meat, products that have been linked to cancer in some studies but that do not require warning labels.
The verdict breaks down to $68 million in compensatory damages and $340 million in punitive damages against Johnson & Johnson, and $2 million in compensatory damages and $7 million in punitive damages against Johnson & Johnson Consumer Inc.
Unlike the previous trials in Missouri, this trial did not include J&J's talc supplier, Imerys Talc America, as a defendant. Imerys prevailed on a summary judgment motion before the trial began, with presiding Judge Maren Nelson ruling that the bulk supplier of a raw material that is legal for sale has no duty to warn consumers about the possible dangers of the buyer's finished product containing that material.
Aside from that notable difference, the trial was largely a rematch of the six previous trials in St. Louis, which resulted in four plaintiffs verdicts and one defense verdict. A sixth case ended in a mistrial shortly after the Supreme Court issued its ruling on out-of-state plaintiffs.
Besides Robinson, Echeverria was represented by Allen Smith, a Mississippi-based attorney who delivered opening and closing arguments as he'd done at each of the trials in Missouri, along with the Alabama-based Beasley Allen Law Firm and Maryland-based Ashcraft & Gerel LLP.
Given the stakes of the case, J&J turned to trial pro Bart Williams out of Proskauer Rose's Los Angeles office. Williams successfully defended J&J at the one talc trial in which the company prevailed, and he employed the same calm but relentless assault on the credibility of the plaintiffs expert witnesses in this trial as he used in the previous case in St. Louis.
Additional talc trials could take place later this year in St. Louis, as out-of-state residents fight to amend their claims in order to pass muster under the Supreme Court ruling, in addition to possible trials involving Missouri residents.
Of perhaps even greater significance is a trial set for September in Los Angeles County that will be the first trial over claims that J&J's talc products caused mesothelioma, a type of cancer affecting lining around the lungs that is normally associated with exposure to asbestos. All of the talc-related trials involving J&J to date involved plaintiffs suffering from ovarian cancer.
The full Echeverria trial is available to CVN subscribers, in addition to the previous talc trials in St. Louis and hundreds of other gavel-to-gavel civil jury trials from throughout California and the rest of the country.
The case is part of the consolidated Johnson & Johnson Talcum Powder Cases, case number JCCP4872, in the Superior Court of California for Los Angeles County.

E-mail David Siegel at dsiegel@cvn.com