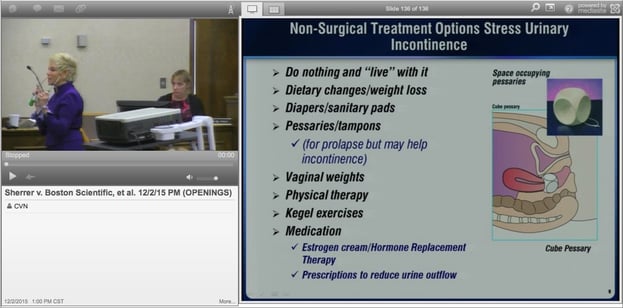 Defense attorney Lori Cohen shows jurors the type of pelvic mesh implant that plaintiff Eve Sherrer claims was defectively designed and caused her injuries. Click here to see video from the trial.
Kansas City — Opening statements took place Wednesday in a product liability lawsuit filed in Missouri state court by a woman claiming pelvic mesh implants manufactured by Boston Scientific Corp. and C.R. Bard Inc. were defectively designed and caused her to suffer severe chronic pain.
Plaintiff Eve Sherrer's case is the first time a jury has simultaneously heard arguments about mesh products designed by different manufacturers during the same trial. Out of the tens of thousands of pelvic mesh lawsuits pending in state and federal courts throughout the country, only a handful have been decided by juries, with 16 verdicts favoring plaintiffs and 5 favoring various mesh manufacturers.
Sherrer's attorneys told jurors that Boston Scientific's Solyx product and Bard's Align product both used a type of polypropylene mesh that should not be implanted in humans, because it can react to bodily fluids and become stiff and brittle. They claim both companies knew the mesh's pores were too small for it to properly integrate with human tissue but failed to give adequate warnings about the potential difficulties in removing the mesh if complications occurred.
Sherrer, a retired nurse, had the Solyx mesh implanted in 2010 to treat pelvic organ prolapse, a condition in which internal organs in the abdomen shift from their normal position, according to her attorney Grant Davis of Davis Bethune & Jones. The implant failed and caused her to become incontinent, so 67 days later most of the Solyx was removed and the Align implant was put in.
The stiffness of the mesh and its reactions with her bodily fluids caused Sherrer to develop chronic pain, Davis argued, and subsequent surgery has been unable to fully remove the mesh from her body.
Davis showed jurors a document called a material safety data sheet prepared by Chevron Phillips Chemical Co., which manufactured the Marlex-brand polypropylene mesh used in the two devices, stating that Marlex is not suitable for permanent human implantation.
"Do not use this Chevron Phillips Chemical Company LP material in medical applications involving permanent implantation in the human body or permanent contact with internal body fluids or tissues," the document presented in court states.
"Unfortunately for Eve Sherrer the same Marlex mesh that shouldn't be implanted into human beings was used in the Boston Scientific product Solyx and the Bard product Align," Davis said, according to a Courtroom View Network webcast of the trial.
Tom Cartmell of Wagstaff & Cartmell, also representing Sherrer, told the jury that while Bard had manufactured mesh for use in treating abdominal hernias for years, the company had little experience with transvaginal mesh before putting the Align product on the market. As the use of pelvic mesh became more prevalent, Cartmell said Bard chose not to disclose the potential risks of the Align device, and that internal company documents would prove this during the trial.
"Bard knew about this way back in 2007, three years before Eve Sherrer ever had polypropylene permanently implanted in her body....they actively concealed that they were using this," Cartmel said. "You're the first jury in America with respect to the Align product that has seen these documents."
Boston Scientific's attorney Robert Adams of Shook Hardy & Bacon LLP told jurors that the Solyx device is safe and effective, and that it offered patients like Sherrer better outcomes than surgical treatment of conditions like pelvic organ prolapse and stress urinary incontinence.
Adams argued that Sherrer, who had undergone a hysterectomy prior to her first mesh implantation, had a "complicated medical history" and couldn't directly trace her pain to the Solyx implant. He suggested her pain could be caused by osteoarthritis in her hip and an abdominal hernia.
The Solyx failed because Sherrer's physician didn't position it properly within her pelvis, Adams claimed. He told jurors that polypropylene mesh has been used in medical devices for years and had been approved for use by the U.S. Food and Drug Administration.
"There are no medical devices that are risk-free. There are no doctors that are risk-free. Devices can cause complications, and doctors can make mistakes," Adams said. "The Solyx has been given clearance for sale by the FDA."
Bard's attorney Lori Cohen of Greenberg Traurig LLP made similar arguments, telling the jury that the Align had been extensively tested before going on the market and represented the "gold standard" for pelvic mesh products.
She said the warning on the Marlex mesh's material safety data sheet was included to address legal liability issues and not actual safety concerns, noting that the Align remains approved for use in the United States.
A plaintiff's complex medical history has been successfully used at previous trials as the basis for verdicts favoring mesh manufacturers. In October a Texas state court jury cleared Johnson & Johnson's Ethicon unit in a $9.5 million lawsuit alleging the Prosima pelvic mesh system was defectively designed and caused injuries similar to Sherrer's.
Sherrer's case is just the second time Bard has defended their mesh products before a state court jury, after a California jury in 2012 awarded $5.5 million to a woman implanted with the company's Avaulta Plus mesh.
Boston Scientific has taken 4 previous cases to trial in state court, notching two wins in Massachusetts in 2014 at trials involving their Pinnacle and Obtryx meshes while losing a $73 million case in Texas also involving the Obtryx. In May a Delaware jury slammed the company with a $100 million verdict in a trial involving the Pinnacle and Advantage Fit systems, while Boston Scientific's Uphold mesh system was cleared by a North Carolina federal jury in October.
The current Missouri trial is taking place before Judge Robert M. Scheiber and is being webcast and recorded gavel-to-gavel by CVN.
The case is Eve Sherrer v. Truman Medical Center Inc., et al., case number 1216-CV27879, in Missouri's 16th Judicial Circuit Court.
E-mail David Siegel at dsiegel@cvn.com