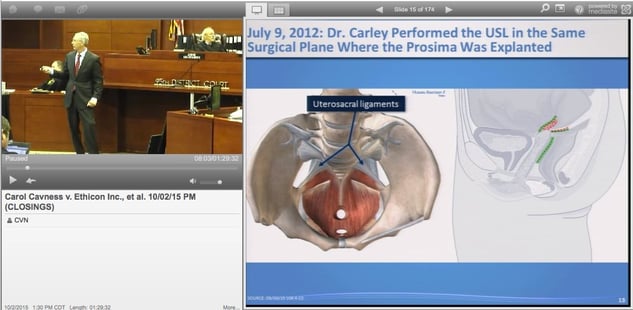 Defense attorney William Gage tells jurors during his closing argument that Ethicon's Prosima pelvic mesh system was not defectively designed and didn't injure Carol Cavness. Click here to see video from the trial.
Dallas — Johnson & Johnson scored a major win Monday in a $9.5 million products liability suit over its Prosima pelvic mesh system, when a Texas state court jury rejected a woman's claim that the device was defectively designed in the first case over the implant to go to trial.
The jury reached a 10-2 verdict after beginning deliberations on Friday following a two-week trial during which attorneys for plaintiff Carol Cavness argued that J&J's Ethicon unit knew the Prosima mesh was too stiff and could cause vaginal tissue to degrade, but failed to adequately warn patients and doctors of the risks. Cavness, 60, had the Prosima mesh implanted in 2012 to treat a condition called pelvic organ prolapse, and claimed since then she's suffered pain, infections and undergone multiple surgeries in an effort to remove the mesh.
Her attorneys sought $9.5 million for past and future medical expenses and pain and suffering, and an unspecified amount of punitive damages. Video of the trial was recorded from the start of witness testimony onward by Courtroom View Network, and is available for viewing here, along with three prior pelvic mesh trials.
Monday's verdict marks the first time a case involving the Prosima mesh made it all the way to a jury out of tens of thousands of mesh cases pending throughout the country, and the first time Ethicon has been cleared by a state court jury at a trial involving its pelvic mesh products. The company notched a win in federal court in 2014 at a trial involving a different mesh product, but juries in New Jersey, California and Texas delivered verdicts against Ethicon at three earlier state court trials. A fourth in Missouri settled mid-trial.
Ethicon's attorneys argued throughout the trial that Cavness had a lengthy and complex medical history, and that her pain could have been caused by injuries sustained while working as an aircraft mechanic. Cavness' attorneys blasted this as an attempt to paint her as "damaged goods," but William Gage of Butler Snow LLP maintained during his closing argument that Cavness' medical and work history was relevant.
"The reason we went into her past medical history was to demonstrate that in her job, which is a very difficult job, she has repeatedly injured herself," Gage said, according to a Courtroom View Network webcast of the trial. He told jurors Cavness had abdominal pain before the Prosima was implanted, and that her pain persisted even after it was removed.
Ethicon spokesman Matthew Johnson said in a statement that the jury's decision "reflects the facts in this case," and that Ethicon acted appropriately and responsibly in the research, development and marketing of the Prosima mesh.
"We empathize with all women suffering from pelvic organ prolapse, which can be a serious and debilitating condition, and we are always concerned when a patient experiences adverse medical events," Johnson said. Ethicon has maintained the Prosima offered better outcomes for pelvic organ prolapse patients than other surgical procedures.
Ethicon halted sales of the Prosima in 2012, roughly a week after Cavness received the implant, amidst mounting suits over the device and increasing scrutiny from the U.S. Food & Drug Administration. Cavness' attorneys argued the company withdrew the Prosima to avoid a costly recall. Ethicon said at the time that the decision wasn't based on safety concerns but was instead motivated by "changing market dynamics."
While mesh manufacturers like Ethicon and Boston Scientific have taken numerous cases to trial, other companies have chosen to settle their pelvic mesh cases en masse rather than risk being saddled with massive jury verdicts. Endo International PLC subsidiary American Medical Systems Inc. struck an $830 million deal in 2014 to settle most of the 22,000 suits overs its mesh products.
Plaintiffs' verdict against Ethicon have ranged between $1.2 million and $11.1 million, according to court records. Boston Scientific has notched more wins in state court, but been hit with substantially larger verdicts. A trial in 2014 before the same judge who presided over the Cavness trial resulted in a $73 million verdict, later reduced to $34 million, and in May a Delaware state court jury rocked the company with a $100 million verdict.
Cavness' legal team will soon get another chance to convince a Texas jury that Ethicon's mesh products are defective. An October 26 trial is scheduled in state court in Austin over the company's TVT-O and Prosima mesh systems.
"We continue to think this was and is a dangerous product," David Matthews of Matthews & Associates told CVN. "We will continue to go to verdict against this manufacturer until resolution is accomplished for our clients."
Cavness is represented by Tim Goss and Rich Freese of Freese & Goss PLLC, Bill Blankenship of William F. Blankenship III PC,, Richard Capshaw of Capshaw & Associates, Kevin Edwards and Peter de la Cerda of Edwards & de la Cerda PLLC, and Julie Rhoades and David Matthews of Matthews & Associates.
Ethicon is represented by William Massie Gage and Helen Kathryn Downs of Butler Snow LLP and Kathleen Gallagher of Beck Redden LLP.
Cavness' physician Teresa Kowalczyk is represented by Philipa Remington and Cathryn Paton of Thiebaud Remington Thornton Bailey LLP.
The case is Cavness v. Kowalczyk et al., case number DC-14-04220, in the 95th District Court of Dallas County, Texas.
E-mail David Siegel at dsiegel@cvn.com.