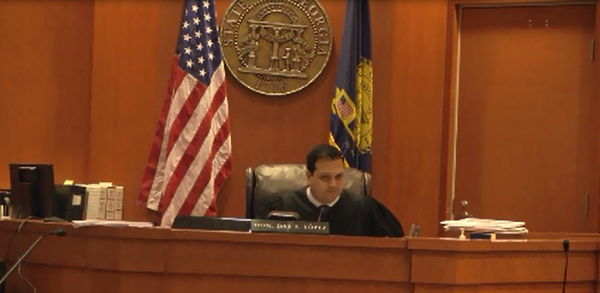 DeKalb County State Judge Dax Lopez charges the jury in the case of Zarina Ali and Sheneeka Bradsher v. Stan Watson. The jury awarded the women over $150,000 in total damages in their lawsuit against the DeKalb County Commissioner.
---
Decatur, GA—A DeKalb County State Court Jury awarded two women over $150,000 in total damages and fees against DeKalb County Commissioner Stan Watson as a result of an incident at the Tanqueray Lounge in Decatur. Zarinah Ali and Sheneeka Bradsher v. Stan Watson (13A47805).
According to testimony in the case and other records, Watson met Ali and Bradsher in the bar on July 12, 2012. After the three spent some time together, an argument ensued, and Watson repeatedly accused the two women of stealing his wallet. Several DeKalb County police officers later arrived at the bar to investigate and questioned Ali and Bradsher. Eventually, Watson found the wallet in his car, and neither Ali nor Bradsher was arrested.
Ali and Bradsher subsequently filed the current lawsuit against Watson, alleging battery, slander, and false imprisonment during the incident. The jury's verdict consisted of $75,000 in compensatory damages for Bradsher, $25,000 in compensatory damages for Ali, $5,000 in punitive damages for each woman, $39,000 in attorney fees and $1,500 in litigation expenses, for a total award of $151,500.
The jury deliberated for approximately two hours before awarding the amount of compensatory damages requested by Bradsher's attorney Maurice Bernard in his closing statement. After Judge Dax Lopez charged the jury on punitive damages and attorney fees, the jury deliberated for an additional 30 minutes before making its final award.
Courtroom View Network will provide clips from the trial as soon as they are available, along with further coverage. Steve Silver can be reached at ssilver@cvn.com.
---
Related information:
Attorneys involved in the case include Charles Vrono of Forest Park's Steinberg and Vrono for Zarinah Ali, Maurice Bernard III of Chamblee for Sheneeka Bradsher, and Pamela Stephenson of the Stephenson Law Group of Decatur for Stan Watson.
Watch on-demand video of the trial as soon as it becomes available.
Not a Subscriber? Learn more about CVN's unparalleled coverage of top Georgia trials.