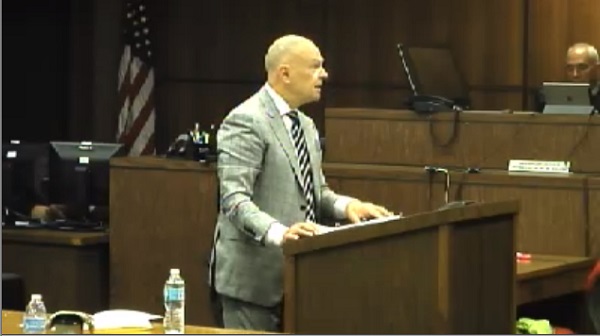 Walter Cofer delivers closing arguments on behalf of Philip Morris in the punitive phase of Gertrude Marchese's suit for the cancer death of her husband, Salvatore. Jurors imposed a $500,000 punitive award split between Philip Morris and R.J. Reynolds for their role in Marchese's death. Click here to watch the closing arguments.
---
Fort Lauderdale, FL—The nation's two largest tobacco companies were each hit Tuesday with $250,000 punitive awards for their role in the death of a Florida man who smoked for more than 50 years. Marchese v. Philip Morris, 2013-CV-002849.
The punitive verdict against R.J. Reynolds and Philip Morris follows last week's award of $1 million to Gertrude Marchese, whose husband Salvatore died from lung cancer in 2004. Jurors in the trial's first phase found Salvatore, who began smoking at 13, was the victim of a tobacco industry-wide conspiracy to hide the dangers of smoking, which caused his nicotine addiction and eventual respiratory disease and cancer.
Tuesday's punitive verdict took the trial's total award to $1.5 million and capped a two-day long second phase in which attorneys debated whether tobacco industry changes warranted limiting punishment against the companies.
The defense argued that today's Philip Morris and Reynolds were radically changed companies working in a different regulatory environment than the corporations accused of intentionally driving smokers into nicotine addiction and falsely denying the dangers of cigarettes for much of the 20th century.
During Tuesday's closing arguments, Shook Hardy's Walter Cofer reminded jurors that Peter Lipowicz, a scientist with Altria, a Philip Morris affiliate, detailed wholesale changes in the tobacco company's leadership and strategy over the last two decades. Philip Morris "conducts itself much differently than it did 40, or 50, or 60 years ago," Cofer said. "The people that plaintiff argued are part of the conspiracy are gone. They've been gone for a very long time. They're not with the company anymore."
Cofer contended imposing punitives against today's Philip Morris for its past conduct was illogical. "Why punish Philip Morris' current employees for decisions they didn't make, for decisions that occurred decades ago by other people?" Cofer asked. "What purpose would that serve?"
Cofer also argued that federal regulations, including FDA oversight of the tobacco industry, helped prevent a recurrence of deceptive marketing tactics that jurors found caused Salvatore Marchese's death in the first phase of trial. "There's no question, members of the jury, that Philip Morris operates in a much more transparent, restrictive, and controlled environment than at any time in the past," Cofer said. "It's not necessary to award punitive damages to get Philip Morris to change, because they have changed."
However, Motley Rice's Lance Oliver told jurors that FDA oversight of the tobacco industry didn't begin until years after Salvatore Marchese died, and tobacco companies avoided earlier regulation by hiding the addictiveness of nicotine for decades. "FDA regulation is just a set of rules they have to follow, that frankly they avoided for decades. That's not punishment," Oliver said. "FDA doesn't have anything to do with the goals of punishment in Phase II of this trial. And even if it did I don't think they deserve much credit for something they intentionally avoided for decades."
"They don't get to say, 'Hey you caught me, so I get special credit for that.'"
In requesting jurors impose $5 million in punitives to each company, or $10 million total, Oliver argued "They were in a conspiracy. Reynolds got (Marchese) started (smoking), Philip Morris kept him smoking, and both their cigarettes contributed to (Marchese's) death."
The Marchese suit is one of thousands of so-called Engle progeny suits in Florida. The cases arise from a 2006 Florida Supreme Court decision decertifying Engle v. Liggett Group Inc., a class action suit by smokers for the illnesses they say were caused by tobacco companies and their cigarettes. The state's supreme court decision requires each Engle plaintiff establish class membership individually, by proving nicotine addiction that caused a smoking-related illness. Once plaintiffs prove class membership, they can rely on certain jury findings in the original verdict, including the determination that tobacco companies sold a dangerous, addictive product and conspired to hide the risks of smoking.
Neither the parties' attorneys nor tobacco company representatives could be reached for comment following Tuesday's verdict.
Email Arlin Crisco at acrisco@cvn.com.
---
Related Information
Read more on phase I the trial and its verdict.
Gertrude Marchese is represented by Motley Rice's Lance Oliver and Michael Pendell. R.J. Reynolds is represented by Jones Day's Jose Isasi and Michael Quinlan. Philip Morris is represented by Shook Hardy's Walter Cofer.
Watch gavel-to-gavel coverage of the trial.
Not a subscriber?