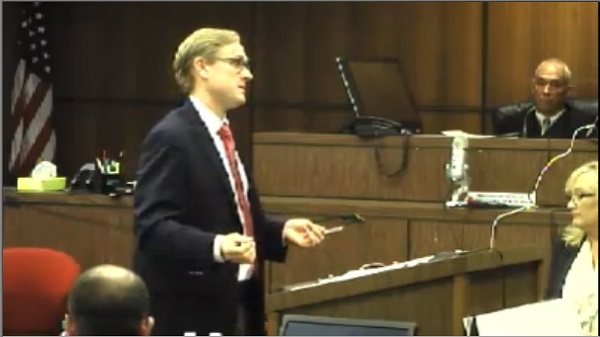 Lance Oliver delivers closing arguments in Gertrude Marchese's suit against R.J. Reynolds and Philip Morris for the lung cancer death of her husband, Salvatore, a smoker for more than 50 years.
---
Fort Lauderdale, FL—Jurors Friday awarded $1 million, plus potential punitives, to a Florida widow who claimed two of the nation's leading tobacco companies were responsible for her husband's death following a half-century of smoking. Marchese v. Philip Morris, 2013-CV-002849.
Gertrude Marchese sued Philip Morris and R.J. Reynolds, claiming the companies' concealment of smoking's health risks caused her husband Salvatore's nicotine addiction and the respiratory disease and cancer that followed. Salvatore Marchese, who began smoking at about 13, died from lung cancer in 2004 after more than 50 years of smoking Reynolds and Philip Morris-brand cigarettes.
The verdict, reached after a full day of deliberations, found Salvatore Marchese's smoking addiction was furthered by a decades-long tobacco industry conspiracy to hide the dangers of cigarettes. Jurors apportioned 55% of liability to Marchese with the remaining 45% split evenly between the two defendants. However, the decisions in favor of plaintiff on the suit's fraud and conspiracy elements mean the $1 million compensatory award will not be reduced.
During Thursday's closings, Marchese's attorneys had requested up to $11 million in compensatories.
The Marchese suit is among thousands of similar Florida cases against the nation's tobacco companies. The cases stem from a 2006 Florida Supreme Court decision decertifying the class action suit Engle v. Liggett Group Inc. The state's supreme court decision requires each Engle plaintiff establish class membership individually, by proving nicotine addiction that caused a smoking-related disease. Once plaintiffs prove class membership, they can rely on certain jury findings in the original verdict, including the determination that tobacco companies sold a dangerous, addictive product and conspired to hide the risks of smoking.
The driving force behind Marchese's smoking decisions served as a central issue in the nine-day trial, with evidence focusing on a tobacco industry-wide agreement to market a product tobacco companies knew was dangerous and addictive. Jurors heard evidence that tobacco companies backed endorsements from physicians to cartoon characters, while they also secretly funded studies designed to counter the growing evidence that smoking was dangerous.
During Thursday's closing arguments Shook Hardy's Walter Cofer, representing Philip Morris, noted Marchese began smoking years before the 1954 tobacco industry agreement to hide smoking's health risks, and he contended nothing tied defendants' allegedly deceptive conduct to Marchese's smoking choices. "There was not a single shred of evidence that Mr. Marchese ever heard or relied on anything the companies said or didn't say," Cofer argued. "He wasn't confused. He wasn't waiting for the tobacco companies to tell him something he didn't already know."
However, Motley Rice's Lance Oliver, representing Gertrude Marchese, argued tobacco industry messaging was so pervasive it influenced Salvatore Marchese through those around him. "There is no requirement that Philip Morris and Reynolds ever made a direct statement directly to Mr. Marchese," Oliver said. "Sal Marchese's whole family was smoking, and all of his friends were smoking; 75% of people in Sal's generation were smoking.
"If Sal Marchese didn't get that message directly from Reynolds and Philip Morris, I guarantee you the evidence shows that he got it from his family, and his friends, and his peers, and that environment that (the defendants) created."
Phase 2 of the trial, on punitive liability, is scheduled to begin 9 a.m. Monday.
Neither the parties' attorneys nor tobacco company representatives could be reached for comment.
Email Arlin Crisco at acrisco@cvn.com.
---
Related Information
Gertrude Marchese is represented by Motley Rice's Lance Oliver and Michael Pendell. R.J. Reynolds is represented by Jones Days' Jose Isasi and Michael Quinlan. Philip Morris is represented by Shook Hardy's Walter Cofer.
Watch gavel-to-gavel coverage of the trial.
Not a subscriber?