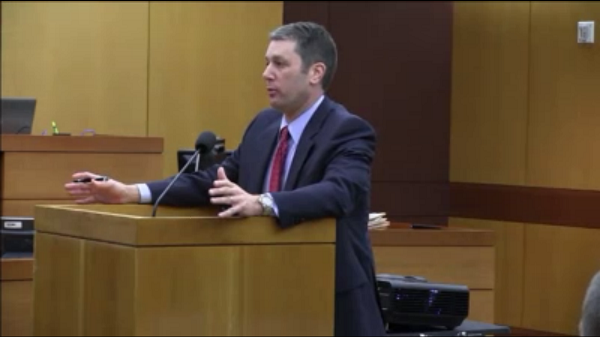 Pete Law delivers closing arguments before jurors in Wells v. Aslan Commons. Fulton County State Court judge Eric Richardson reduced the jury's $47.9 million punive awrad in the case to $250,000 under Georgia's statutory cap on punitive damages, O.C.G.A. 51-12-5.1, setting up a potential constituional challenge to the statute.
---
A Georgia trial court ruling reducing a jury's $47.9 million punitive verdict in a personal injury suit to $250,000 under Georgia's puntive damage statute may set the case up as a prime candidate to challenge the controversial law.
Earlier this month, Fulton County State Court Judge Eric Richardson reduced the punitive award, originally rendered last month in Wells v. Aslan Commons, a personal injury suit stemming from severe burns Stephen Wells sustained when a gas line at his apartment complex, owned and operated by defendants, exploded. Judge Richardson's decision, rendered pursuant to O.C.G.A. 51-12-5.1, which caps punitives at $250,000 except in certain narrowly outlined circumstances, reduced the overall jury award from $73 million to $25.4 million. That award includes $17.9 million in compensatories and $7 million in attorney fees.
Wells' attorneys, including Pete Law, of Atlanta's Law & Moran, said they intend to appeal the ruling, arguing that the cap is unconstitutional, but declined to comment in detail.
Georgia is one of a growing number of states that cap punitive damage awards. However, there is no uniformity when it comes to the maximum amounts, nor how they are determined. Some states, like Georgia, have a clear maximum, while other states determine the maximum based on some combination of evidentiary standards, the defendant's earnings, and/or the type of injury sustained in the case. Critics argue that caps reduce defendants' accountability and deprive plaintiffs to their trial rights under the constitution.
Constitutional challenges to statutory caps on non-economic damages in general have met mixed results across the country. However, Georgia is one of a minority of states to overturn a non-economic damages cap. In Atlanta Oculoplastic Surgery, P.C. v. Nestlehutt, 691 S.E.2d 218 (2010), the state's supreme court ruled that a $350,000 stacked statutory cap on hedonic damages violated the state constitution's right to trial by jury.
Even supporters of punitive damages caps argue for changes in current caps. The American Tort Reform Association argues generally for federal legislation creating a national standard for punitives and addresses the issue of multiple punitive damage awards. The organization, one of the largest advocates of caps on punitives, contends that federal legislation "would protect against unfair overkill, guard against possible due process violations, and help preserve the ability of future claimants to recover basic out‑of‑pocket expenses and damages for their pain and suffering," according to the organization's site.
Wells' attorneys believe that the Georgia law, enacted in 1987, needs to be changed, and they are prepared to take their case to the state's highest court in order to try to make that happen.
---
Related information
Watch Wells v. Aslan Commons.
Not a Subscriber?Learn more about CVN's unparalleled coverage of top Georgia trials.