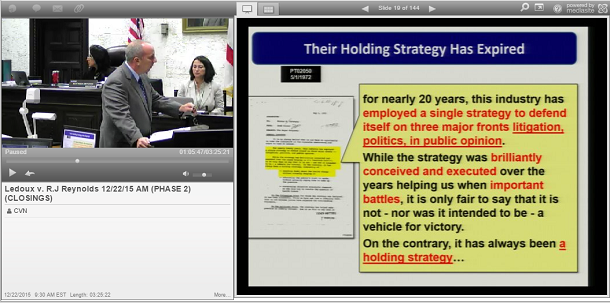 Gary Paige tells jurors federal oversight and settlements should not mitigate against imposing punitive damages for Philip Morris and R.J. Reynolds' role in the lung cancer death of Patricia Ledoux.
---
Miami—Jurors awarded $35 million to the widower of an airline worker after finding the nation's two largest cigarette manufacturers responsible for her fatal lung cancer. Ledoux v. R.J. Reynolds, et al., 07-CA-43991.
The award includes $10 million in compensatory damages issued last Friday and Tuesday's $25 million punitive award, divided equally against R.J. Reynolds and Philip Morris USA, makers of the cigarettes Patricia Ledoux smoked for more than 40 years.

Ledoux, a long-time airline industry employee, allegedly began smoking at 14, and continued to smoke up to two packs of cigarettes a day until her 1995 death from lung cancer. Her husband, Roland Ledoux, claims Reynolds and Philip Morris hid the dangers and addictiveness of smoking for decades, fueling Ledoux's nicotine addiction and eventually causing her cancer.
The Ledoux case is one of thousands of similar Florida suits against the nation's tobacco companies. The cases stem from Engle v. Liggett Group, a 1994 class action claim involving Florida smokers. A jury in that case found tobacco companies knowingly produced dangerous, addictive cigarettes and hid those dangers from the public. The Florida Supreme Court subsequently decertified the class on appeal, but its holding allows individual plaintiffs to rely on the jury's conclusions in the original trial if they can prove the smokers at the center of their cases suffered a smoking-related disease caused by a cigarette addiction. Plaintiffs such as Roland Ledoux are also eligible to recover punitive damages if they prove class membership and a link between the smoker's disease and tobacco conspiracy or concealment.
Attorneys Spar Over Addiction, Responsibility
Much of the two-phase, 13-day trial focused on why Ledoux smoked and the cigarette makers' role, if any, in her smoking decisions.
The defense maintained Ledoux smoked by choice rather than because of addiction, and contended she did not make a serious effort to quit smoking. During Friday's closing arguments in the trial's first phase, Arnold & Porter's Jonathan Stern, representing Philip Morris, told jurors Ledoux continued to smoke while throughout her claimed attempts to quit. "Mr. Ledoux himself told you that there were times when Ms. Ledoux would talk about efforts to quit or cut down on smoking, and he thought she was telling a fib," Stern said. "It doesn't count as a meaningful attempt to quit if you keep smoking."
By contrast, Stern noted Ledoux overcame what he described as Valium "abuse" in the 1980s after a stay at a rehab clinic. "That's the evidence that proves to you, that when Ms. Ledoux was motivated, she was able to beat even prescription drug abuse," Stern said. "We know that she succeeded. We know that when she came out she never had a problem with Valium again."
However, Roland Ledoux's attorney, Gordon & Doner's Gary Paige, told jurors Ledoux's alleged Valium "overuse" supported a theory that Ledoux was genetically predisposed to addiction. Paige reminded jurors of evidence the tobacco industry believed some smokers to be genetically more likely to become addicted to nicotine. "Some of the internal (tobacco company) documents talk about how some people are hereditarily predisposed to nicotine addiction over others," said Paige. "That's what their own documents say."
Paige argued evidence proved Ledoux was considered "heavily addicted" to cigarettes under a variety of tests, which considered her daily smoking behavior. "Does that make sense, that somebody who is heavily addicted, who has the highest score under the Fagerstrom Test (for Nicotine Dependence), is not addicted to nicotine? That's what (the defense wants) you to believe," Paige said.
Paige claimed Ledoux's nicotine addiction was driven by a decades-long conspiracy to hide the dangers of smoking and a campaign of "misinformation," such as allegedly false claims that the filtered cigarettes she smoked for years were safer than unfiltered cigarettes. "Do you think Patricia Ledoux, back in the '60s and '70s, would have liked to have known that the filters didn't work? Do you think she's entitled to know that, that the smokers should know that, that the filters don't work, and (the tobacco companies) know they don't work?"
But the defense unsuccessfully argued the concealment and conspiracy claims were built on generic evidence with no proof of whether they influenced Ledoux's smoking decisions. Noting jurors knew "zero" about Ledoux's smoking behavior when the trial began, King & Spalding's Ursula Henninger, representing R.J. Reynolds, said "We've sat here now, listened to the evidence. The plaintiff brought you evidence, and what do you know about her smoking decisions, sitting in those chairs today? It's still zero."
The Punitive Phase: Should Wholesale Industry Changes Reduce Punishment?
The jury's conclusion Friday that punitive damages were warranted set up a battle in the trial's second phase over whether industry-wide changes mitigated against imposing a large punitive award.
During Tuesday's closing arguments, Stern noted the tobacco industry was now more transparent and tightly regulated than ever. Stern reminded jurors the Food and Drug Administration, or FDA, now exercised strict oversight of the industry. "The FDA now controls . . . what goes into a cigarette, what comes out of a cigarette, and what can be said about cigarettes," Stern said.
Stern also detailed a 1998 "Master Settlement Agreement," or MSA, between the tobacco companies and state governments nationwide, which heavily curtailed tobacco advertising and required annual payouts to each state. "Those payouts have to be made in perpetuity. Forever. Or at least for as long as (the tobacco company) is in the cigarette business," Stern said of the payouts, which have run into the billions of dollars.
Paige countered that the decades-long conspiracy to hide the dangers of smoking was merely a "holding strategy," and subsequent tobacco industry regulation and payouts were forced on the companies. "Why are they bringing you evidence of the MSA and the FDA? Because they want you to believe that that's mitigating evidence, that they should get some credit for it," Paige said. "But how can they get credit for it when it was forced upon them after their holding strategy finally expired?"
The jury's $35 million award equaled what Paige requested during the trial. It's the second highest award among 34 CVN-covered Engle progeny trials this year.
Email Arlin Crisco at acrisco@cvn.com.
---
Related Information
Roland Ledoux is represented by The Trop Law Group's Adam Trop and Gordon & Doner P.A.'s Gary Paige.
Arnold & Porter's Jonathan Stern represents Philip Morris.
King & Spalding's Ursula Henninger represents R.J. Reynolds.
Watch Ledoux v. R.J. Reynolds, et al. on demand.
Not a subscriber?
Learn more about CVN's unrivaled tobacco litigation library.