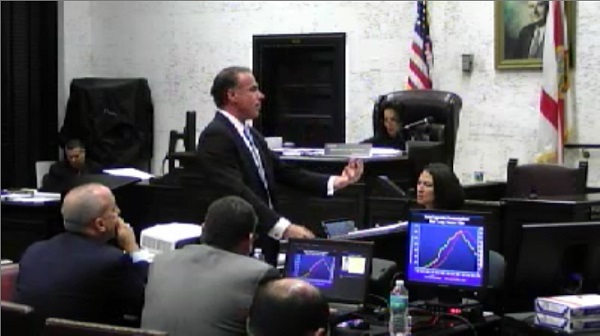 Adam Trop delivers opening statements in Roland Ledoux's suit against Philip Morris and R.J. Reynolds for the lung cancer death of Ledoux's wife Patricia Ledoux.
---
Miami—Attorneys for a Florida widower whose wife died from lung cancer told jurors her disease was caused by a tobacco industry conspiracy that addicted her to nicotine for more than 40 years, as trial opened Monday against the nation's two largest cigarette makers. Roland Ledoux v. R.J. Reynolds, et al. 2007-CA-43991.
Patricia Ledoux, who allegedly had her first cigarette at 14, was the unwitting target of a scheme involving R.J. Reynolds and Philip Morris to market cigarettes to children while hiding their dangers and addictiveness, said the Trop Law Group's Adam Trop. "They sold this product for decades knowing it was deadly and not disclosing it," Trop, who represents Ledoux's widower, Roland Ledoux, said Monday.

"More than that, they took a special interest in targeting children as their chief consumers, their most important consumers," Trop said.
Ledoux, a long-time airline industry employee, allegedly smoked up to two packs of cigarettes a day for more than 40 years. She died at 55 from lung cancer on Thanksgiving Day, 1996. Roland Ledoux claims R.J. Reynolds and Philip Morris, makers of the cigarettes Ledoux smoked, are responsible for his wife's nicotine addiction and cancer.
During Monday's openings, Trop highlighted internal company documents detailing the cigarette makers' efforts to hide the dangers of smoking through much of the 20th century while they discussed how best to market their product to youth. "'The base of our business is the high school student,'" Trop quoted one internal document as stating. "And that was Ms. Ledoux. She was the example."
The defense argues tobacco industry marketing never influenced Ledoux. During Monday's openings, Arnold & Porter's Jonathan Stern, representing Philip Morris, acknowledged internal documents detailing "clearly inappropriate" tactics. "There's going to be evidence of (tobacco industry) statements that we can all agree are just plain wrong," Stern said, while urging jurors to question whether those documents have any direct connection to Ledoux. "We expect the answer will be that Ms. Ledoux did not rely on tobacco company statements in making her smoking decisions."
Stern told jurors Ledoux chose to smoke despite knowing the dangers of cigarettes. "She knew for decades before she was diagnosed with lung cancer that cigarette smoking causes lung cancer and other diseases," Stern said.
King & Spalding's Ursula Henninger, representing Reynolds, agreed, telling jurors Surgeon General's warnings regarding the dangers of smoking appeared on packs of cigarettes throughout most of the years Ledoux smoked. "When Mrs. Ledoux saw these warnings, she said, 'These things are going to kill me.' Confused? Doubt? No. She knew exactly what those warnings meant," Henninger said.
"You cannot conceal something from someone who already knows."
Henninger also noted Ledoux did not meet specific medical diagnostic criteria for nicotine addiction. "Not a single medical doctor will come in here and tell you that Mrs. Ledoux was addicted to nicotine in cigarettes," Henninger said. "No medical doctor ever diagnosed her as addicted to nicotine."
The Ledoux case is one of thousands of Florida suits against the nation's tobacco companies that stem from 1994's Engle v. Liggett Group. A jury in that class action case found tobacco companies knowingly produced dangerous, addictive cigarettes and hid those dangers from the public. The Florida Supreme Court subsequently decertified the class on appeal, but its holding allows individual plaintiffs to rely on the jury's conclusions in the original trial if they can prove the smokers at the center of their cases were Florida residents whose cigarette addiction caused a smoking-related disease.
Trial is expected to last through next week.
Neither the parties' attorneys nor the companies' representatives could be reached for comment.
Email Arlin Crisco at acrisco@cvn.com.
---
Related Information
Roland Ledoux is represented by The Trop Law Group's Adam Trop and Gordon & Doner P.A.'s Gary Paige.
Arnold & Porter's Jonathan Stern represents Philip Morris.
King & Spalding's Ursula Henninger represents R.J. Reynolds.
Watch Ledoux v. R.J. Reynolds, et al. live and on demand.
Not a subscriber?
Learn more about CVN's unrivaled tobacco litigation library.