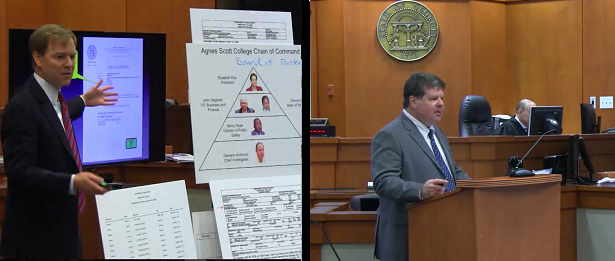 Lloyd Bell and David Ladner deliver closings at trial against Agnes Scott College over claims Amanda Hartley was falsely arrested and imprisoned on groundless sexual assault charges. Judge Johnny Panos declared a mistrial in the case Thursday after reports a juror conducted outside research during the trial.
---
Decatur, GA—Reports of juror misconduct Thursday scuttled a $21-million trial during deliberations over the claim that an Atlanta-area women's college was responsible for the false arrest and imprisonment of a woman on baseless sexual assault charges. Hartley v. Agnes Scott College, 11A36461-4.
After a report that a juror performed outside research on the case, DeKalb County State Court Judge Johnny Panos declared a mistrial a day-and-a-half into deliberations on Amanda Hartley's claim that Agnes Scott College police recklessly investigated a student's 2009 claim Hartley sexually assaulted her.
Hartley, who was arrested on the charges in Tennessee before being transferred to Georgia, spent weeks in jail and contends she endured solitary confinement and abuse at the hands of inmates and Lt. Gaetano Antinozzi, the Agnes Scott police officer who led the investigation and sought the warrant for Hartley's arrest.
Evidence showed Hartley, a University of Tennessee student at the time, was not in Atlanta when the Agnes Scott student claimed the assault occurred. Hartley, who contends the student is mentally ill and fabricated the claims after Hartley spurned her romantic advances, was never prosecuted in the case, and her arrest was eventually expunged.
Before the mistrial, jurors signaled their struggles reaching a decision in the case. Thursday morning, about seven hours into their deliberations, the jury asked Judge Panos what would occur if they could not reach a consensus. Soon after, allegations of improper juror behavior led the judge to individually question the jurors. Deliberations then continued until the claim of outside research surfaced.
In declaring the mistrial, Judge Panos noted the jury foreperson reported that another juror, who may have been an ex-police officer, performed outside research on issues that likely included probable cause in the case. "This court finds the foreperson to be credible, and the court cannot envision how this one juror has not contaminated the rest of the jurors," Judge Panos said.
Thursday's mistrial followed a week of testimony that focused largely on the sufficiency of Antinozzi's investigation into the sexual assault claim and his conduct in seeking an arrest warrant. During Wednesday's closings, Hartley's attorney, The Bell Law Firm's Lloyd Bell, told jurors Antinozzi violated several fundamental investigative principles, including failing to question Hartley before seeking an arrest warrant. "It was frustrating to have to spend time arguing stuff that we all know. Of course you get both sides of the story before you publicly accuse somebody of something as horrible as a violent sexual assault," Bell said, reminding jurors Agnes Scott police officer Gregory Scott testified he considered the practice a general investigative principle.
Bell said Antinozzi then compounded the damage of the reckless investigative work by withholding potentially exculpatory evidence when seeking an arrest warrant from DeKalb County Magistrate Alex C. Harvey. Bell noted Antinozzi failed to disclose medical records showing the student suffered no injuries consistent with the brutal sexual assault she described, and he failed to notify the magistrate of email and text messages that were arguably inconsistent with the assault claims. "If [Antinozzi] had only done that, the judge said he would not have issued these [arrest] warrants," Bell reminded jurors.
Bell requested $21 million in damages during closings, or $1 million for every day Hartley was jailed, plus an award of attorney fees and a finding punitive damages were warranted. In his request, Bell said Hartley continued to suffer emotionally from the jailing, which allegedly included time in a Tennessee isolation cell where she was forced to drink from a toilet. "You have the power to do something that is extraordinary, and that is to stand up to a police officer, to stand up to a police force that abused its power, to stand up to the police force's employer [and] enabler," Bell said. "You have the chance to speak so that they have to listen."
But Bendin, Sumrall & Ladner's David Ladner, representing Agnes Scott, dismissed Bell's claims of improper police conduct as "conspiracy theories" and argued Antinozzi had no motive to conduct a reckless investigation or withhold evidence. "He doesn't know Amanda Hartley from Adam's housecat," Ladner said during Wednesday's closings.
Ladner told jurors Antinozzi had probable cause to seek an arrest warrant against Hartley, given the student's claim of sexual assault stemming from an abusive domestic relationship and her alleged fear Hartley would kill her. "[Antinozzi's] been a police officer for 15 years, he's investigated hundreds of sexual assault cases. This has no particular interest to him, other than to take the allegations seriously and to act appropriately, which is exactly what he did," Ladner said, adding two judges and a district attorney testified Antinozzi acted properly in seeking an arrest warrant without speaking to Hartley first.
Ladner acknowledged there was no physical evidence supporting the sexual assault the student described, but he noted photographic evidence of bruises on the student's arm supported her claims of physical abuse and Antinozzi's decision to seek an arrest warrant. "You've heard a lot of explanations about a lot of things but nobody's explained these," Ladner said, as he showed photographs of the bruises. "This is real evidence, ladies and gentlemen, and it's corroborative evidence. It doesn't corroborate everything. You're not going to be able to corroborate everything at this stage of the investigation. But, it corroborates the allegations of physical abuse and it authorizes the seeking of [the] warrants [for arrest] and the probable cause that existed."
Agnes Scott, a Decatur, Georgia women's liberal arts college with an enrollment of about 900 students, was the only defendant at trial in the case.
The parties' attorneys could not immediately be reached for comment.
CVN will provide gavel-to-gavel video of the trial, on demand, as soon as possible.
Email Arlin Crisco at acrisco@cvn.com.
Related Information
Read about opening statements in the case.
Amanda Hartley is represented by The Bell Law Firm's Lloyd Bell.
Agnes Scott College is represented by Bendin, Sumrall & Ladner's David Ladner and Brian Trulock.
CVN will provide gavel-to-gavel video of the trial, on demand, as soon as possible.
Not a subscriber?
Learn how you can see the best attorneys in action, in Georgia and across the country.