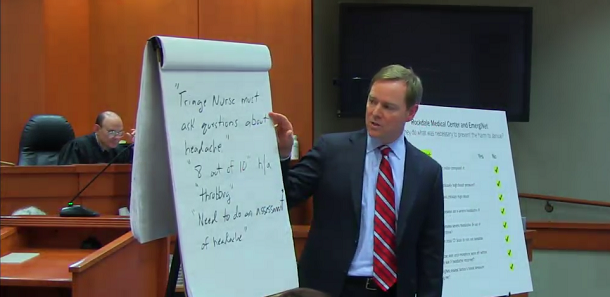 Lloyd Bell delivers closing arguments in trial of Shawn Evans' claim that ER staff failed to appropriately care for his wife Janice Evans, leading to strokes that left her permanently disabled.
---
Update: 3/1/16
Decatur, Ga—Jurors Monday awarded $1.2 million to a Georgia couple for the strokes that left a woman permanently disabled, but found the woman 49% responsible and cleared the doctor who treated her of liability. Evans v. Sutton, et al, 13A48465-4.
The jury's verdict followed nearly two days of deliberations and found Rockdale Hospital LLC 51% responsible for the brain damage Janice Evans suffered from a series of strokes about January 21, 2012, five days after she visited the the company's Rockdale Medical Center emergency room with nausea, vomiting, and a severe headache. The strokes have left Evans unable to speak, walk, or care for herself.
Evans' husband, Shawn Evans, claims ER staff failed to diagnose his wife's brain aneurysm, which ultimately caused the strokes.
While jurors found Rockdale Hospital LLC's nursing staff 51% responsible, it cleared Evans' attending emergency room physician, Dr. Tamaurus Sutton, of fault.
Monday's award includes nearly $1.196 million for Evans' past medical expenses, but nothing for future medical expenses or lost wages. The verdict also finds Janice Evans 49% responsible, likely reducing the award to approximately $644,000.
During Thursday's closing arguments, Evans' attorney, The Bell Law Firm's Lloyd Bell, requested more than $19 million in damages, including more than $4.4 million in economic damages and $15 million for Evans' non-economic losses.
Following the decision, Bell told CVN he was disappointed in the verdict, but "grateful that several of the jurors hung in to fight for Jan."
The week-long trial focused in large part on whether Sutton and ER nurses properly questioned Evans about her symptoms and tailored appropriate care and tests to her complaints.
During Thursday's closings, Bell argued evidence showed nursing staff followed a diagnostic "template" of care for medical efficiency that failed to follow up on key symptoms of the aneurysm, including Evans' high blood pressure and severe headache. "It was a templated, assembly line-style medicine. Here's the template, follow the template, get you out of triage," Bell said. "Speed, speed, speed. Patients deserve more than speed. They deserve care."
Bell argued evidence showed Sutton compounded the nursing staff's error by ordering morphine to numb Evans' headache without properly questioning her about the headache's details or exploring its potential link to her high blood pressure and vomiting. "He has got to go see the patient and assess that headache," Bell said. "You've got to ask questions if you're going to be treating folks. People come to you and trust you with their care."
Bell argued appropriate questions from the medical staff, along with a follow-up CT scan of Evans' brain on January 16 could have minimized the damage caused by the aneurysm. Bell reminded jurors that neurologist Dr. Michael Cawley explained patients with a brain bleed equivalent to what Evans had while in the ER stood a "well over a 50% chance of a good outcome, and (returning) back to normal," with appropriate treatment.
However, the defense argued ER staff acted appropriately in treating Evans' immediate complaints. During Thursday's closings Weathington Smith's Heather McGrotty, representing Sutton, said staff went beyond questions in the triage template and conducted a complete evaluation of Evans and her symptoms. "If we were locked in on a template, if all we were focusing on was the abdomen, why in the world did Dr. Sutton do a complete review of systems, go head-to-toe with her, starting with the head and going all the way to the toes, and go through every organ system, and asking her 'What is going on with you'?" McGrotty asked.
Huff Powell Bailey's Daniel Huff, representing Rockdale Hospital LLC, agreed, noting nurses double-checked with Sutton about Evans' high blood pressure, and were told Evans would be following up with a primary care physician because the condition was chronic. "That has nothing to do with any template," Huff said. "That's good patient care provided by a team."
Huff contended evidence established the ER fulfilled its treatment role. "The truth is, Ms. Evans came to the hospital with nausea and vomiting, and whether she had a headache at 9 o'clock or 11:06, or she'd been having a headache the whole time, these (symptoms) were all treated, and she was fine at the time of discharge," Huff said.
"And that's what emergency rooms do. Patients come in there with acute problems, (staff members) take care of them, they stabilize the patient, and they discharge the patient with instructions."
Attorneys for Rockdale Hospital and Sutton could not immediately be reached for comment.
Email Arlin Crisco at acrisco@cvn.com.
Related Information
Read about openings in the case.
Shawn Evans is represented by The Bell Law Firm's Lloyd Bell, Wilson Law's James Wilson, and Schlachter Law Firm's Lawrence Schlachter.
Dr. Tamaurus Sutton is represented by Weathington Smith's Paul Weathington and Heather McGrotty.
Rockdale Hospital LLC is represented by Huff Powell Bailey's Daniel Huff and Sharonda Barnes.
CVN recorded the trial in its entirety and will provide video on demand as soon as it is available.
Not a Subscriber?
Learn more about CVN's unparalleled coverage of top Georgia trials.