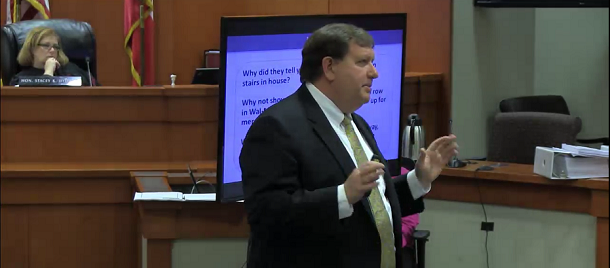 John Hall delivers his closing argument for Emory Healthcare at trial over the fall that paralyzed Cris Nelson. Jurors awarded Nelson and his wife, Deborah, $15 million.
---
Decatur, GA—Jurors Monday found Emory Healthcare liable for $15 million in damages for its role in the fall that paralyzed a patient during a routine blood draw. Nelson v. Emory Healthcare, 14A53202E2.
With Emory admitting liability for the fall that paralyzed Cris Nelson, and the trial restricted to damages alone, jurors needed less than two hours to award Nelson $12 million and his wife, Deborah, $3 million for Nelson's 2012 fall from an examining room table.
Nelson, now 55, passed out and fell from an Emory medical clinic exam table while having blood drawn as part of a routine wellness exam. Nelson, who was seated upright without support during the blood draw, fractured his neck, rendering him a quadriplegic. Although he can now drive and use crutches at times, he continues to need a wheelchair, suffers from ongoing muscle spasticity, and requires assistance performing basic self-care.
The Bell Law Firm's Lloyd Bell requested between $22 million and $48.5 million during Monday's closing arguments. "Those are big numbers. They're shockingly big numbers," Bell said. "There is shockingly big harm in this case."
Monday's decision capped a three-day trial that turned on the cost of Nelson's care and the extent of his physical limitations. During closing arguments, Hall Booth Smith's John Hall, representing Emory, criticized plaintiffs' experts, including life care planner Nancy Gragg-Smith, whom he accused of inflating medication and other costs. "Nobody doubts that Mr. Nelson has a severe, tragic injury. Emory believes that he should get several million dollars to be able to live his life as normally as possible," Hall said. "The question is being fair to both sides, which is what the law requires."
In recommending jurors award $4.54 million, Hall noted evidence Nelson had improved significantly since the accident. Nelson, he said, could now drive and used arm crutches to walk. Hall said his recommended amount, which included $1 million for Nelson's pain and suffering, adequately compensated the couple for their losses. "You can't put [Nelson] back in [his pre-injury] position," Hall said. "God knows if we could do that, we wouldn't have court systems, we'd have prayer meetings, and we would get people back in their [pre-injury] position. But instead of emotion, we have to be fair and just and [give] full compensation."
While Bell acknowledged Nelson had improved since Gragg-Smith's life care plan was first completed, he reminded jurors Nelson's treating physician, Dr. Angela Beninga, believed Nelson would still need all the items the plan outlined. "Emory says they are, and we agree, they are, responsible, 100 percent… for the harms and losses. And yet they refuse to be held fully accountable for what they've done to these folks," Bell said.
Bell argued Nelson, who worked as a commercial driver and enjoyed a variety of outdoor activities with his family before the fall, would never be able to return to his old lifestyle, would continue to need the daily care of his wife, and would suffer continued anguish from his disability struggles. "There is not a truck big enough to carry the money that Cris would take to give up what he's given up, to lose what he's lost," Bell told jurors. "But the only thing you can do to make up for these harms and losses is to put a dollar figure beside each one of them."
Neither of the parties' attorneys could immediately be reached for comment.
CVN recorded the trial and will provide gavel-to-gavel video on demand as soon as it is available.
Email Arlin Crisco at acrisco@cvn.com.
---
Related information
Read about the trial's openings.
Cris and Deborah Nelson are represented by the Bell Law Firm's Lloyd Bell.
Emory Healthcare and Emory Specialty Associates are represented by Hall Booth Smith's John Hall, Jeffery Saxbe, and Christina Hadley.
CVN will offer gavel-to-gavel footage of the trial on demand as soon as it is available.
Not a Subscriber?
Learn more about CVN's unparalleled coverage of top Georgia trials.