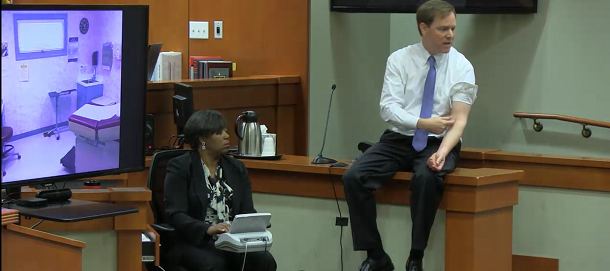 Lloyd Bell details events leading to Cris Nelson's fall during a blood draw at an Emory Healthcare clinic. Emory has admitted negligence for the fall, which paralyzed Nelson. Jurors will decide damages, which run into the millions.
---
Decatur, GA—Jurors will determine the amount Emory Healthcare owes a man for a paralyzing fall he suffered during a routine blood draw, as trial opened Tuesday against the healthcare provider. Nelson v. Emory Healthcare, 14A53202E2.
Cris Nelson, 55, passed out and fell while having blood drawn as part of a 2012 wellness exam at an Emory medical clinic in Covington. Nelson, who was seated upright without support on an exam table while having his blood drawn, fractured his neck, rendering him a quadriplegic.
Emory admits liability for Nelson's injury but disputes the amount of Nelson's damages.
During Tuesday's opening statements, Nelson's attorney, the Bell Law Firm's Lloyd Bell, detailed Nelson's rehabilitation and the ongoing side effects of his paralysis, including the inability to perform daily activities. "Cris still spends most every waking hour in his wheelchair, he is still dependent on others to do the most basic bodily functions that we all take for granted," Bell said. "And Cris is going to be dealing with that for the rest of his life."
Bell told jurors evidence, including testimony from a life care planner, would show Nelson will incur nearly $5 million in economic damages alone, including medical bills and lost wages.
Beyond the economic loss, Bell said a key for the jurors was the valuation of Nelson's non-economic damages for the next 30 years, and the loss his wife Deborah, who gave up her dance studio to care for her husband, incurred. "Dance studio? Gone." Bell told jurors. "She can't do it anymore. She's a full-time caregiver, and that's a weight on Cris' mind, that his wife can no longer do what she loves."
But the defense contends Nelson's condition has improved in the years since the injury. During Tuesday's openings Hall Booth Smith's Jeffery Saxbe told jurors evidence would show Nelson can now move his legs, walk with crutches, and drive. "You're going to hear a lot about what Mr. Nelson can't do, but you've got to think about what he can do," Saxbe said. "And what we're here to do today is … to provide a means for him to enjoy the things he can continue to do for the rest of his life."
Saxbe told jurors the defense would call its own life care and economic damage experts and contended a $4-7 million total award to the Nelsons was fair compensation. "Mr. Nelson has lost things that cannot be given back," Saxbe said. "No one disputes that."
CVN is recording the trial and will offer gavel-to-gavel coverage, on demand, as soon as it is available.
Email Arlin Crisco at acrisco@cvn.com
---
Related information
Cris and Deborah Nelson are represented by the Bell Law Firm's Lloyd Bell.
Emory Healthcare and Emory Specialty Associates are represented by Hall Booth Smith's John Hall, Jeffery Saxbe, and Christina Hadley.