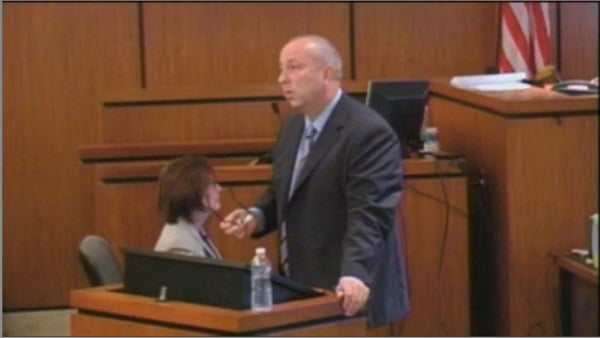 Gary Paige delivers closing arguments in Duignan v. R.J. Reynolds. Watch the trial.
---
St. Petersburg, FL—The family of a 42-year-old man who died after smoking for more than two decades won a $12 million verdict this week in their suit against the nation's two largest tobacco manufacturers. Duignan v. R.J. Reynolds, 13-010978-CI.
Douglas Duignan, who started smoking at about 14, smoked up to two packs of cigarettes a day for more than 25 years, continuing the habit even after he was diagnosed with cancer. He died in 1992, at age 42, from the disease. His son, Kevin Duignan, sued Philip Morris and R.J. Reynolds, makers of the cigarettes his father smoked.
The jury's decision ended a 15-day, bifurcated trial that included a $6 million compensatory award delivered Thursday afternoon and $6 million in punitive damages imposed Friday.
In awarding $4 million in compensatory damages to Douglas Duignan's widow, Martha Duignan, and $1 million each in compensatories to his children, Kevin and Christina, jurors sided with plaintiffs' claim that Duignan's lung cancer was linked to his nicotine addiction and a tobacco industry agreement to conceal smoking's health risks.
Friday's $6 million punitive verdict imposed $3.5 million against Philip Morris and $2.5 million against Reynolds.
The Duignan suit is among thousands of similar Florida cases brought against the nation's tobacco companies. The cases arise from a 2006 Florida Supreme Court decision decertifying Engle v. Liggett Group Inc., a class action suit originally filed in 1994. The ruling requires each Engle plaintiff establish class membership individually, by proving nicotine addiction that caused a smoking-related disease. Once plaintiffs prove class membership, they can rely on certain jury findings in the original verdict, including the determination that tobacco companies sold a dangerous, addictive product and conspired to hide the dangers of cigarettes. To win punitive damages, typically determined in a separate phase of trial, plaintiffs must link the smoker's disease to tobacco defendants' participation in an industry-wide conspiracy to deceive the public.
Tobacco marketing's influence on Douglas Duignan's smoking decisions played a key role in the case, as the defense claimed Duignan knew the risks of cigarettes yet chose to smoke. During Thursday's closings, Goodwin Procter's Paul Ware reminded jurors of media reports detailing the dangers of cigarettes throughout Duignan's youth. He also reminded jurors of testimony that Duignan, while in his early 20s, ignored a doctor's warning that he would be "dead within five years" if he continued to smoke. "There is no material information which he could have been given, which would have changed his decisions," Ware said. "He smoked for the reasons we know, not because of the (tobacco industry) conspiracy or the agreement."
However, the Duignan family's legal team successfully argued Duignan was duped by a decades-long tobacco industry campaign to confuse the public and create doubt about smoking's health risks. In Thursday's closings, Gordon & Doner's Gary Paige argued the alleged doctor's warning to a 20-something Douglas Duigan showed the power of nicotine addiction and tobacco industry marketing. "What does that conversation tell you? It tells you that maybe he was an addict, maybe he was in doubt, maybe he was confused, maybe he thought filters (on cigarettes) were safer," Paige said. "But he certainly didn't know more than (tobacco industry executives) knew."
Following Thursday's verdict, Friday's second phase centered on whether tobacco industry changes over the last two decades mitigated against a punitive award.
During Friday afternoon's closing arguments, Ware reminded jurors of evidence showing broad changes to the tobacco industry in the last 18 years. Ware noted cigarettes were now regulated by the federal government and tobacco companies agreed to pay billions of dollars to state governments while significantly restricting their marketing. Ware argued limiting a punitive award would encourage continued change. "The fact is, the focus here ought to be… on the future and on the conduct of the company in the last 20 years."
The Duignan family's attorneys argued the lion's share of tobacco industry changes were imposed by the federal government or stemmed from state government lawsuits. "The FDA regulation and the payments to the states have nothing to do with the Duignan family and the harms caused to them," Searcy Denney's James Gustafson said in closings. "It does nothing to account for that."
The jury ultimately delivered 1/5 of the $30 million total punitive award Gustafson requested in closings.
Friday afternoon's verdict closed a week that saw juries award more than $51 million in Engle trials throughout the state. A Pensacola jury awarded $34.7 million, including $20 million in punitives Friday, to the family of a Vietnam veteran who allegedly died from lung cancer caused by years of smoking. On Tuesday, an ex-smoker who has fought larynx, neck, and lung cancer for nearly 20 years was awarded $4.5 million on her Engle progeny claim.
Email Arlin Crisco at acrisco@cvn.com.
Related Information
Kevin Duignan is represented by Gordon & Doner's Gary Paige and Robert Gordon and Searcy Denney's James Gustafson. R.J. Reynolds is represented by Jones Day's Jack Williams. Philip Morris USA is represented by Goodwin Procter's Paul Ware and Shook Hardy's Daniel Malony.
Watch gavel-to-gavel coverage of the trial, on demand.
Not a subscriber?