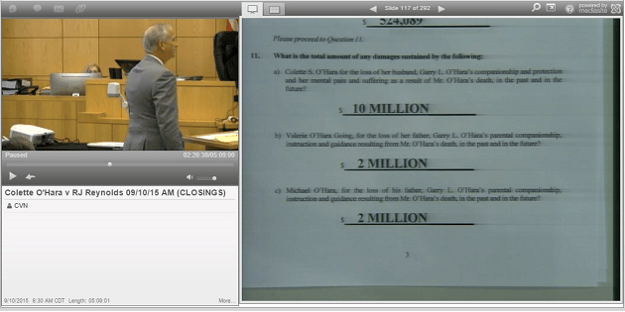 Mark Avera recommends jurors award nearly $14.7 million to the family of Garry O'Hara, whose cancer death Avera claimed was caused by R.J. Reynolds. Jurors Thursday awarded that amount in compensatories and found Reynolds liable for punitives to be determined in the trial's second phase. Watch the trial.
---
Breaking News Update 9/11 3:04 p.m.: Jurors awarded $20 million in punitive damages in the trial's second phase Friday afternoon, bringing the total award against R.J. Reynolds to $34.7 million.
This article details the compensatory verdict in the trial's first phase. Click here to read the latest coverage of the punitive verdict.
---
Pensacola, FL—Jurors Thursday found R.J. Reynolds liable for $14.7 million in compensatory damages, plus potential punitives, for its role in the lung cancer death of a decorated Air Force veteran. O'Hara v. R.J. Reynolds, 2007-CA-003065.
Garry O'Hara, a Bronze Star recipient and Vietnam veteran, was diagnosed with cancer in 1995, two years after his military retirement. O'Hara, who ultimately died from the disease, smoked up to 3 packs of cigarettes a day for more than 22 years, but had quit more than a decade before his cancer diagnosis. His widow, Colette O'Hara, claims R.J. Reynolds caused her husband's death by hiding the dangers of cigarettes and designing them to be addictive.
The jury's verdict, reached Thursday evening after less than three hours of deliberations, found Garry O'Hara died from primary lung cancer caused both by his addiction to nicotine and Reynolds' part in an industry-wide conspiracy to deceive the public about smoking. The award included more than $10.5 million in compensatory damages to Colette O'Hara, $2 million each to Garry O'Hara's children, Valerie and Michael, and found Reynolds liable for punitives to be determined in the trial's second phase, beginning Friday.
The $14.697 million compensatory award was the exact amount O'Hara's attorney, Avera & Smith's Mark Avera, requested in closings.
The original site of O'Hara's cancer and its potential link to his smoking served as a central point of dispute in the 11-day trial. Reynolds argued medical evidence failed to show whether O'Hara's cancer began in his lungs or spread from a gastrointestinal tumor unrelated to smoking. During closings Thursday, Jones Day's David Monde, representing Reynolds, argued expert testimony established that pathology reports were inconclusive as to the primary location of O'Hara's cancer. Monde also noted medical staff never performed tests that could more accurately have determined the disease's origin. "(The tests) were not done because it would not have mattered to the care and treatment of Mr. O'Hara at that point, and we don't argue with that," Monde said. "But now we're in a court of law, and plaintiff has the burden (of proof), and the fact that those tests were not done is additional reason the plaintiff has not met the burden in this courtroom."
However, Colette O'Hara's legal team successfully claimed the weight of medical evidence established her husband's cancer began in his lungs and stemmed from decades of smoking. During Thursday's closings, Avera & Smith's Rodney Smith reminded jurors of reports from at least three physicians who described the disease as primary lung cancer. "That's the medical records, that's the only organ that's been identified (as the cancer's primary location)," Smith said. "Every doctor ultimately reached the same conclusion. It was lung cancer."
Jurors rejected the initial publication of Thursday's verdict, after the court's clerk read the verdict form, as written, awarding "$10" to Colette O'Hara and "$2" to each child. Judge Michael Jones permitted the jury to correct the form, which it returned after indicating the dollar figures were intended to be in the millions.
The O'Hara suit is among thousands of similar Florida cases brought against the nation's tobacco companies. The cases arise from a 2006 Florida Supreme Court decision decertifying Engle v. Liggett Group Inc., a class action suit originally filed in 1994. The state's supreme court ruling requires each Engle plaintiff establish class membership individually, by proving nicotine addiction that caused a smoking-related disease. Once plaintiffs prove class membership, they can rely on certain jury findings in the original verdict, including the determination that tobacco companies sold a dangerous, addictive product and conspired to hide the dangers of cigarettes.
The trial's punitive phase is scheduled to begin at 8:30 a.m. Central time.
Neither the parties' attorneys nor Reynolds representatives could immediately be reached for comment.
Email Arlin Crisco at acrisco@cvn.com.
---
Related Information
Colette O'Hara is represented by Avera & Smith's Mark Avera and Rodney Smith. R.J. Reynolds is represented by Jones Day's David Monde.
Click here to read the latest coverage of the punitive verdict.
Watch gavel-to-gavel coverage live and on demand.
Not a subscriber?