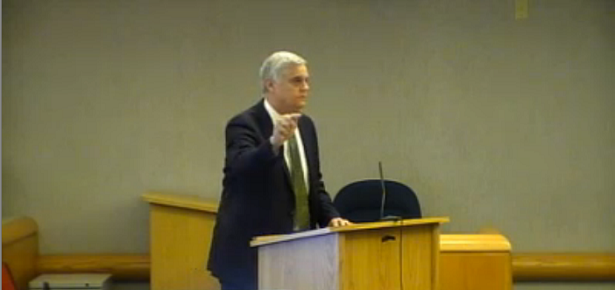 Alex Alvarex delivers his closing argument during the punitive phase of trial against Philip Morris and R.J. Reynolds over the cancer and respiratory disease Mary Howles claims was caused by the companies' deceit. Jurors Tuesday imposed a $6 million punitive award, following the $4 million in compensatories they awarded a day earlier.
---
Fort Lauderdale, FL—A South Florida jury imposed a $6 million punitive verdict on R.J. Reynolds and Philip Morris yesterday, completing a $10 million damage award against the tobacco giants for their role in a former nurse's cancer and respiratory disease. Howles v. R.J. Reynolds, 2007-CV-034919.
The 17th Circuit Court jury split the punitive award evenly between Reynolds and Philip Morris, makers of cigarettes Mary Howles, 74, smoked for 34 years. Howles, a former surgical nurse, began smoking at 15 and continued until 1991, when she quit because of breathing difficulties. In 1995, doctors diagnosed her with lung cancer, which was successfully treated, and chronic obstructive pulmonary disease, or COPD, an incurable respiratory disease.
Howles claims the tobacco companies' conspiracy to hide the dangers of smoking caused her nicotine addiction and, eventually, her cancer and COPD. On Monday, jurors agreed, awarding her $4 million in compensatory damages. Their conclusion Monday that punitives were warranted sent the trial into its two-day-long second phase.
The punitive phase focused largely on what weight tobacco industry changes over the last two decades had in mitigating punishment for a scheme to hide the risks of smoking for much of the 20th century. The defense offered evidence to argue sweeping changes in both companies, from strict restrictions on marketing to billions in payouts to state governments, ensured the days of tobacco conspiracies were over.
During his closing argument Tuesday, Shook Hardy's Walter Cofer, representing Philip Morris, told jurors the Philip Morris of today bore little resemblance to the company accused of duping millions of smokers, including Mary Howles about the risks of cigarettes. "One question you'll have to decide as a juror is whether it's appropriate to punish the people who are at Philip Morris today for things that were done by different employees decades ago," Cofer said. "What purpose would it serve?"
King & Spalding's Cory Hohnbaum, representing Reynolds, added strict federal oversight kept a tight reign on tobacco company compliance with federal regulations. "There is not an industry in this country that is more heavily regulated than the tobacco industry," Hohnbaum said. "Not a single one."
However, Howles' attorney, The Alvarez Law Firm's Alex Alvarez argued changes to the tobacco industry did nothing to help Howles and the companies bore the responsibility for failing to prevent or end the conspiracy earlier. "It's simply too little, too late for Mary Howles," Alvarez told jurors. "They could have done all of this stuff decades before, and changed history for her. They could have done it."
In requesting $16 million in punitives, Alvarez said "hearing the verdict is not enough [for the tobacco companies]. They have to feel it in order for it to be real punishment."
The Howles case is one of thousands of similar Florida lawsuits against U.S. tobacco companies. The cases arise from a 2006 Florida Supreme Court decision decertifying Engle v. Liggett Group Inc., a class-action tobacco case originally filed in 1994. Although the state's high court ruled Engle cases must be tried individually, it found plaintiffs could rely on certain jury findings in the original verdict, including the conclusion tobacco companies had placed a dangerous, addictive product on the market and had hidden the dangers of smoking. To rely on those findings, individual Engle progeny plaintiffs such as Howles must establish a causal link between deceptive tobacco marketing, addiction, and smoking-related disease.
Read more about the first phase of trial and its $4 million compensatory verdict.
Email Arlin Crisco at acrisco@cvn.com.
Related information
Mary Howles is represented by The Alvarez Law Firm's Alex Alvarez and Philip Holden.
Philip Morris is represented by Shook, Hardy Bacon's Walter Cofer and Michael Walden.
R.J. Reynolds is represented by Cory Hohnbaum.
Not a subscriber?
Learn how you can watch CVN's unequaled tobacco litigation coverage.