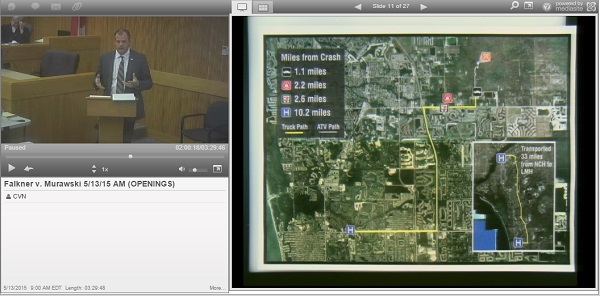 Gene Odom tells jurors in openings that a delay in getting his client, Brittany Falkner, emergency care following an ATV accident led to her permanent brain and back injuries. Falkner is suing the driver of the ATV, Edward Murawski, for more than $100 million.
---
Fort Myers, FL—As trial opened Wednesday in a suit by a woman who suffered catastrophic brain and spinal damage in a late-night ATV accident, attorneys debated whether the ATV driver's failure to get quicker medical attention following the crash left him responsible for her injuries. Falkner v. Murawski, 09CA004033.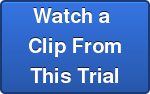 Brittany Falkner struck a tree head-first when she was thrown from an ATV driven by Edward Murawski in July 2007. However, Falkner's attorney, the Martinez-Odom Law Group's Gene Odom, told jurors Wednesday that Murawski's attempt to take Falkner from the secluded, heavily wooded crash site to the wrong hospital more than 10 miles away without calling 911 aggravated whatever damage the collision caused, leaving her with lifelong brain and back injuries.
Falkner, who Odom says suffers from a variety of cognitive disorders and is unable to walk without help, is suing Murawski for more than $100 million, including up to $79 million for pain and suffering.
According to Odom, Murawski and two companions, Brandon and David Markovich, carried the semiconscious and bloody Falkner on an ATV across more than a mile of uneven terrain before driving her in Murawski's pickup truck to Naples Community Hospital, which lacked the resources to handle Falkner's rapidly deteriorating condition. Odom told jurors that physicians would testify that Falkner was "on the doorsteps to vegetation or death" by the time she arrived at the hospital. Although she was stabilized and ultimately transported to a hospital with appropriate trauma facilities, Odom told jurors the delay in appropriate emergency care left her permanently disabled.
"Everything has changed from the way she used to be," Odom said.
However, Murawski's attorney, John Wilke, told jurors that his client and the Markoviches, panicked under the stress of the accident and that Murawski should not be held liable for any delay in getting Falkner appropriate medical care.
"The only thing that permeated that scene and underscored their decision-making process, unlike the benefit that we all have in this courtroom eight years later, was panic and abject fear. And, they did the best they could under the circumstances that they were presented with," Wilke said. "The evidence will show that they saved [Falkner's] life in doing that."
Wilke also contended that Falkner's collision with the tree and her decision not to wear a helmet prior to the crash, rather than any delay in receiving emergency care, caused her injuries. "When this girl dropped at the base of this tree unconscious, all of the injuries had already occurred at that point," Wilke said.
However, during his opening statement, Odom challenged that contention. "Our case starts and ends with what [Murawski] did after that accident," Odom, who does not claim Murawski caused the crash, said. "If apropriate medical care was administered at the base of that tree she would have had a broken back; she would have had some minor brain contusions that did resolve and heal ultimately... and we wouldn't be here."
The trial is expected to last two weeks.
Arlin Crisco can be reached at acrisco@cvn.com
---
Related Information
The Martinez-Odom Law Group's Gene Odom abd the Romano Law Group's John Romano represent Brittany Falkner. John Wilke represents Edward Murawski.
Read the complaint in the case.
Watch gavel-to-gavel video of the trial.
Not a subscriber?
Learn how you can watch CVN Florida's unparalleled coverage of the state's key trials.