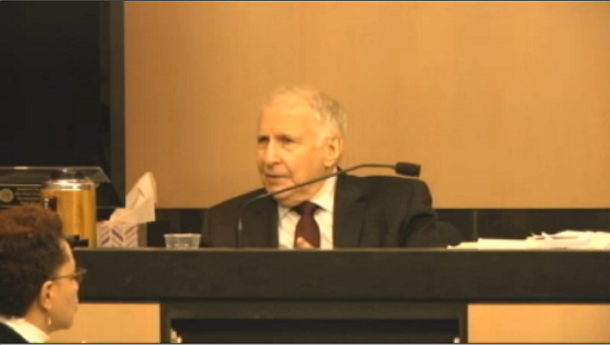 Dr. Peter Breggin tells jurors he believes electroshock therapy caused Dr. Shaul Dadi's brain damage during trial against Dr. Praturi Sharma, the psychiatrist who oversaw the electroshock treatment.
---
West Palm Beach, FL—A cardiologist who claims he suffered career-ending brain injuries from botched electroshock treatments incurred up to about $29 million in economic damages, an economist told jurors Monday, as the cardiologist's attorneys rested their case in chief at trial against the psychiatrist who delivered the electroshock therapy. Dadi v. Sharma, 2011CA16027.
Frederick Raffa, an economic analyst and head of Raffa Consulting, told jurors his forecast included up to about $21 million in lost earnings and $7.3 million in medical expenses for Dr. Shaul Dadi, who contends electroshock therapy overseen by Dr. Praturi Sharma left him with permanent brain damage that has destroyed his memory and cognitive abilities.
Dadi, now 58, was hospitalized in 2010 for depression, and was treated with electroshock therapy, often called electroconvulsive therapy or ECT, overseen by Sharma. Dadi's attorneys claim he did not give informed consent for the treatment and Sharma delivered much higher doses of electricity than standard treatment protocol advised.
The defense counters Dadi was informed of ECT's risks, that Sharma delivered the treatment appropriately, and that ECT was properly recommended based on evidence Dadi was a suicide risk.
Raffa, who testified the low-end of economic damages topped $14 million, walked jurors through economic tables accounting for estimates that Dadi, now 58, would work until he was 66, and his stated plan to practice until he was 75. Raffa also told jurors medical expenses were calculated only to provide care for Dadi through his 81-year life expectancy, according to mortality tables. If Dadi lives beyond that "There will be no funding," Raffa said. "There will be absolutely no funding beyond age 81.2"
Raffa added his analysis considered economic damages alone and not pain and suffering.
However, the defense argues Raffa's figures are based on numbers biased in favor of Dadi. On cross exam, Raffa acknowledged his conclusions came from data provided by plaintiffs' experts and Dadi's legal team. "Input, output, that's how that works." Raffa said.
Raffa's testimony came six days into trial, which has focused in part on the severity of Dadi's brain damage and its link to Sharma's treatment. Early last week, a psychiatrist, Dr. Peter Breggin, told jurors he believed ECT damaged the frontal lobe of Dadi's brain, destroying a range of higher level functions, from cognitive thought to empathy.
Breggin told jurors his examination of Dadi found the alleged damage, sometimes called frontal lobe syndrome, robbed Dadi of memories, the ability to multitask, and caused him to engage in unusual behavior, such as compulsively carrying bags of random objects wherever he went.
He added that, while much of Dadi's ability to engage in complex thought functions was lost, he still has "flashes of it because he is such an intelligent, or was such an intelligent, highly trained person."
The case is expected to go to the jury by the end of the week.
Email Arlin Crisco at acrisco@cvn.com.
Related Information
Dr. Shaul Dadi is represented by Jeffery Fenster, of Fenster & Cohen P.A. and Nancy La Vista of Clark, Fountain, La Vista, Prather, Keen & Littky-Rubin.
Dr. Praturi Sharma is represented by Cole, Scott & Kissane's Michael Brand and Jami Gursky.
Watch the trial live and on demand when it begins.
Not a subscriber?
Learn how you can watch the best attorneys in the biggest trials, in Florida and across the country.