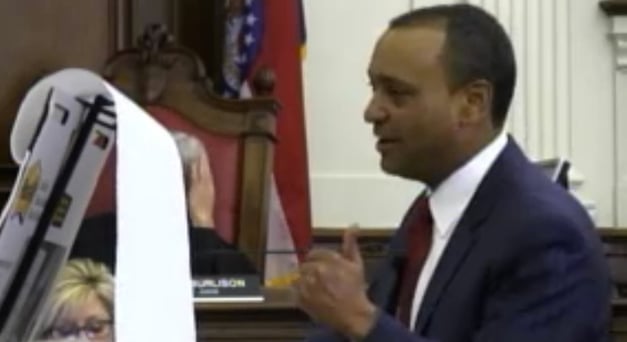 Courtroom View Network screenshot of Johnson & Johnson attorney Bart Williams delivering his opening statement.
St. Louis — Reeling from three consecutive losses in trials over the alleged cancer risks associated with popular talc powder-based personal hygiene products, Johnson & Johnson deployed a new defense firm on Thursday as opening statements began in the fourth such case to go to trial in Missouri state court.
In an opening statement largely devoted to attacking the credibility of scientific studies cited by plaintiffs claiming a link between application of talc powder to the genitals and ovarian cancer, Bart H. Williams of Proskauer Rose LLP aggressively defended J&J's Baby Powder and Shower to Shower products as being "entirely safe."
RELATED: Click here for exclusive analysis of talc litigation expert witness testimony in St. Louis
Proskauer follows mega-firms Nelson Mullins Riley & Scarborough, which represented J&J at a talc trial last fall that ended in nearly $70 million verdict, and Butler Snow LLP, which took the lead at another trial last spring ending in a $55 million verdict. This third consecutive reshuffling at J&J's defense table is a sign the company still hopes to tweak its courtroom strategy and put a damper on more potential high-profile plaintiff wins that have spawned thousands of similar lawsuits.
The team representing plaintiff Nora Daniels also experienced a potentially significant shakeup, after the attorney who delivered key opening and closing statements at the previous three Missouri talc trials suffered a medical emergency earlier in the week.
On Tuesday Allen Smith of the Mississippi-based Smith Law Firm became unsteady at his podium approximately five minutes into the start of his opening statement and left the courtroom to receive medical attention. St. Louis Circuit Judge Rex Burlison ordered the selection of a new jury, and on Thursday Ted Meadows of the firm Beasley Allen, who has worked as co-counsel with Smith at the three prior trials, delivered the opening statement for the first time.
A spokesman for the plaintiffs told Courtroom View Network on Tuesday that Smith's prognosis was good, but there was no response to additional inquires on Thursday about Smith's absence or his current condition.
Only three talc cases have gone to trial in state court, all before Judge Burlison. A lone federal trial ended with a negligence finding against J&J but no award of damages. The current trial is being webcast and recorded gavel-to-gavel by CVN.
In cases mostly centralized in Missouri, California and New Jersey, thousands of women allege that J&J for years ignored compelling scientific evidence showing talc powder applied to the genitals could travel to the ovaries and cause cancer, and that the company wanted to protect the profits generated by brands consumers had purchased for decades even as safer cornstarch-based body powders became available.
"The love of money results in all manner of evil," Meadows told the jury. "You're gonna see it."
Meadows specifically cited a 1982 study by Dr. Daniel W. Cramer, who heads the Obstetrics and Gynecology Epidemiology Center at Brigham and Women's Hospital in Boston, which he said showed talc could be a carcinogen.
Cramer, who is expected to testify later in the trial, is one two expert plaintiff witnesses that a New Jersey state court judge ruled last October used insufficient scientific evidence to reach their conclusions about talc. The rejection of testimony from Cramer, along with epidemiologist Graham Colditz, who has also testified in the Missouri litigation, led to the canceling of what was to be the first talc powder trial in New Jersey. That decision is currently being appealed.
Meadows told jurors that evidence of the cancer risk from talc powder was so strong that condom manufacturers stopped using it, and that by 1994 at least nine additional published scientific studies raised similar concerns.
Meadows referenced a letter written to J&J top brass in 1997 by a paid consultant warning that the company could face accusations similar to those leveled against the tobacco industry if they knowingly ignored those studies. "Doing so will be perceived by the public like it perceives the cigarette industry: denying the obvious in the face of all evidence to the contrary," Dr. Alfred Wehner wrote at the time.
In a pre-emptive strike on the credibility of critical expert witness testimony in the trial, Meadows told jurors that the plaintiffs' experts studied the links between talc and ovarian cancer for decades, while the defense would use experts who only began studying the issue once litigation began.
"They're all Johnny-come-latelys," he said.
In an opening that stretched considerably longer than Meadows', Williams argued to jurors that all of the studies cited by plaintiffs have been reviewed by numerous regulatory and watchdog groups and that none of them support the studies' connclusions.
"None of the scientific agencies in America whose job it is to monitor cancer causing substances has listed talc currently as a contributor to ovarian cancer," Williams said, noting that the Centers for Disease Control to this day suggests the use of talc powder as a treatment for genital warts.
"This lawsuit is about plaintiffs lawyers and their paid consultants trying to get you scared using studies that are normally only used as a first step, as a piece of the puzzle, that begins the analysis of whether or not a substance causes cancer," Williams said.
Williams explained that Daniels' cancer could be the result of numerous factors, comparing attempts to link it to talc powder to claiming that hats cause bald men to lose their hair based on the observation that more bald men wear hats than men with hair.
"Wearing a hat does not make your hair fall out. There is an association and correlation, but it's not the cause," Williams said, adding that Daniels, 56, was more likely than the average person to develop ovarian cancer for a variety of reasons, including never using birth control, never having children, and having a history of colon cancer in the family.
Closing out the day's proceedings was an opening statement on behalf of Imerys Talc America, J&J's talc supplier and a co-defendant in the case. Anne Field of Gordon & Rees largely echoed Williams' arguments attacking the credibility of the plaintiffs' scientific studies. Two previous state court talc trials resulted in no liability assigned to Imerys, although a jury in October assigned the company a 10 percent share of the verdict for the first time.
Keeping with the day's theme, Fields also gave her first talc opening after fellow Gordon & Rees attorney Nancy Erfle did so at the previous two trials.
The current trial is expected to take weeks to complete, and CVN will be webcasting and recording the full proceedings gavel-to-gavel.
The case is captioned as Valerie Swann, et al. v. Johnson & Johnson, et al. case number 1422-CC09326-01 in Missouri's 22nd Judicial Circuit Court.
Email David Siegel at dsiegel@cvn.com